The command of the Syrian government army reports on the progress of battles with terrorist groups in the metropolitan province of Damascus. In the city of Marj al-Sultan, this is an eastern suburb of Damascus, near which a military airfield is located, only in the past 24 hours about three dozen militants from the Jash al-Fath and Jaish al-Islam groups were liquidated. Support troops provided helicopters Syrian Air Force.
Recall that the military airfield "Marj al-Sultan", located in 18 km from Damascus, came under the control of the Syrian troops 14 December. Militants do not leave attempts to return a military object, striking at positions of the SAR. On the eve of the Syrian army conducted an operation against groups that bombarded the positions of the military SAR.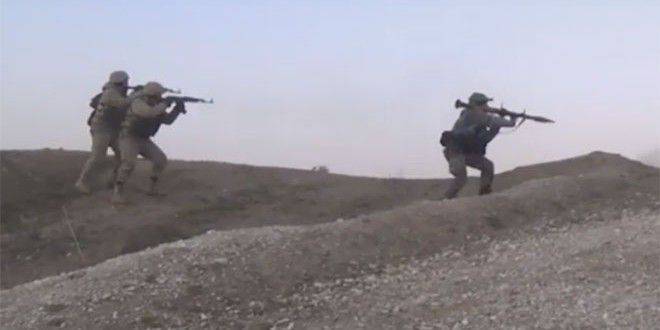 The counterterrorist operation continues in other provinces of Syria. Thus, in Aleppo, the SAR Air Force destroyed several command posts of terrorists in the areas of Al-Bab and Sharba. Information Agency
SANA
reports a large number of militants destroyed during airstrikes. In the province of Hama, the Syrian military attacked the positions of terrorists of the Front al-Nusra, eventually destroying at least 5 militants and the TOW anti-tank missile system. In the same province (in the area of ​​Latmin and Skeik), 14 militants were also destroyed, along with two equipped off-road vehicles and large-caliber machine guns.
In the province of Homs Syrian
aviation
inflicted a series of attacks on the positions of Daesh (ISIS) and Front al-Nusra militants, resulting in the destruction of several observation posts and machine-gun points of terrorists in the areas of Gneman, Tafha, Gzela and others. In the Ar-Rastan area, the militants left their positions and made an attempt to retreat, but the group of several dozen militants overtook the Syrian aviation, completely destroying it.
In the province of Idlib, the militants of several militias were eliminated at once by the Syrian army, including Dzhebhat Al-Nusra, Ahrar Al-Sham, Jund Al-Aqsa and Jaish Al-Fath. In social networks, the terrorists reported the death of one of the leaders of the local cell Khattab al-Ansari.