The Ukrainian side expresses indignation at the fact that individual European companies are looking at the observance of anti-Russian sanctions. So, the Ukrainian portal
ZN.ua
publishes material that the German industrial giant Siemens is allegedly going to participate in the program of reorientation of the Crimean peninsula from the Ukrainian energy system to the Russian one. It is reported that Siemens experts are ready to sell their gas turbines to the peninsula. Such installations, according to the statements of Kiev, are ready to purchase Russian Gazprom from the German company.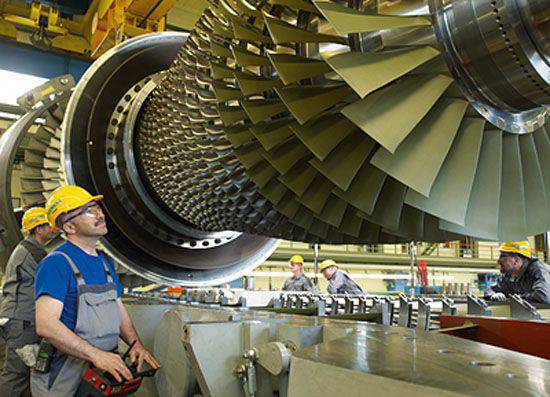 From the material of the "concerned" non-observance of the sanctions of Ukrainian journalists:
It is gas that should become the main resource for the production of electricity on the peninsula. At the same time, it is planned to lay two gas pipelines from the territory of Russia through the Kerch Strait, in which both Gazprom and Power Machines with Siemens are interested, since it is highly likely that their gas turbine equipment will be ordered by the Russian gas monopolist.
It is reported that we are talking about the readiness of Siemens to sell the gas turbine units of the gas turbine unit SGT5-2000E to Russia, the capacity of which in a single-shaft version is 253 MW. The submission also states that 4,2 billion rubles were allocated from the federal budget of Russia for the purchase of gas turbines in Germany to Crimea. At the same time, the Ukrainian media are indignant not only by the "probable" supplies of the installations themselves, but also by the fact that Siemens allegedly indicates in the documents about the delivery of the installations not to the Crimea, but to the Taman Peninsula.