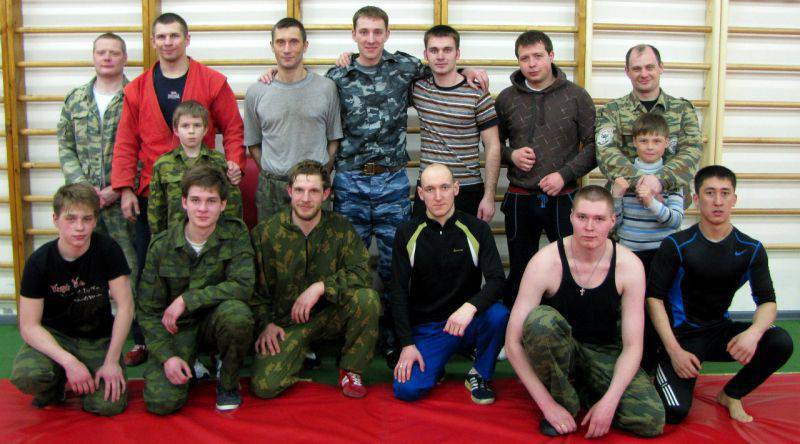 The disciples of Nikolai Ivanovich Borisov say that after learning from him they could no longer learn from anyone else - they could not find a more competent coach. On the one hand, Borisov was a trained hand-to-hand man with experience in different countries of the world, on the other hand, a teacher with physical education and pedagogical education, and on the third, an intelligent and interesting person. About the direction N.I. Borisov was told by his pupils - Valery Valentinovich Volostnykh and Vasily Gennadievich Egorov (the successor of Nikolay Ivanovich's business).
1. Characteristic style (school, direction) in one sentence
- The applied system of combat sambo, based on biomechanics and natural movements.
2. Style motto (schools, directions)
- "It's necessary to live and kill merrily!", "You shouldn't strain yourself!", "There will be no fight!" (N.I. Borisov) means that you can't spend time fighting, because there can be several opponents. It is necessary to neutralize the enemy as quickly as possible. The second meaning is leaving the line of attack, so that the enemy will fly past you, failing.
3. The origins (beginning) of the direction (when and who founded)
- From Nikolai Ivanovich, who was taught by the state, and from his father, who was an instructor for the famous V. Margelov. Margelov was tasked with creating mobile troops that would solve tactical issues in the shallow rear of the enemy. And he began to pick up instructors who passed the "civil", know how to kill and quickly learn to kill others.
Borisov first practiced sports sambo by the instruction of his father, then he was noticed by "war strategists" and took over. He passed 5 counter-revolutions: in Hungary, Poland, Czechoslovakia, Romania and Yugoslavia, performing special tasks for collecting and delivering information. Then I realized that it was not him and began to slowly move away, returning to sports sambo, in which he achieved the titles "Honored Master of Sports of the USSR" and "Honored Trainer of the USSR".
He was invited to train personal bodyguards in Laos, Cambodia, Vietnam.
In 1990, Nikolai Ivanovich opened the first school of combat sambo.
The second basis is biomechanics, the nature of motion. No tense blocks, just an understanding of the movement and yourself. Will you perform the movement with thoughts of fear, or with thoughts of dexterity? How will you manage your inner strength? Tighten up - you break up. You will limp as drunk - you will not break.
The system is closer to front-line "illegals" who worked within 150 km from the front line.
The system was practiced on living people, it was studied which blows of which force could do the most harm. The task was to create such a technique, with the help of which you can teach especially talented people for the 3 month.
4. The ultimate goal of the class (the ideal to which the student is going), the physical and mental qualities that he must acquire
- A softer, free, "dance" attitude towards oneself and towards the world. When all is easy. When a person is difficult, he can not dance. It will "bump", growl and swear.
Still calm instead of twitching and hysterical. The ability to hurry without hurrying. If you work calmly, you will calm down any tense situation. We must learn to think, rock the situation, and not be clever. A person learns to make instant decisions.
To be able to maintain balance - physical and mental. Glide through life easily and naturally. Without unnecessary emotions.
To be able to feel the movement, control your body.
Attitude to the life of Borisov was drawn by those who studied with him.
Externally, the fighter may not be inflated. It's invisible
weapon
. Nikolai Ivanovich himself was short, puffy, with a thick neck.
5. Teaching methods
- The monkey method - Borisov showed the students repeated.
The stress method was used for reflex training.
For example, a person makes a tumble, jumps up and his partner immediately attacks him. Moreover, the partner can really beat on the instructions. Then there is a mini-stress.
6. Used equipment (shock, wrestling, zalomnaya, etc.)
- Beats with time should become less sweeping, shorter and less noticeable. The main goals are "face and egg" (in the words of N.I. Borisov). Everything should be elementary.
7. Direction tactics
- The system is attacking strategically. The attacker only thinks he is attacking.
There are principles:
- departure from the line of attack
- maintaining balance - managing your balance, you will learn to control the balance of the enemy
- sticking - if you work in a battle at a distance, this is a defensive technique; it is necessary to "stick" to the enemy - and for this you need to get closer to him, that is, to attack him. It is necessary to form with the enemy a single center of gravity.
- variability - thinking, action.
And other principles. To do this, in training, they try to diversify their movements as much as possible, to increase the intelligence of movements. You can do it beautifully, like in a ballet, and you can chopped up like criminals.
For the development of improvisation, the spontaneity of actions in battle, there is a special gymnastics in which combat ligaments are interspersed.
8. The presence of training battles (sparring). In what form, according to what rules are held?
- No sparring. Those who wish to participate in the competitions of the Federation of Combat Sambo in Russia.
9. Physical training (general and special) - including work with weights, free weights, your weight
- An hour of warm-up (special gymnastics), then working out the technique (ideally in high-intensity mode).
Standard work with weight. Weight - 32 kg., For example. Do not overdo it with the number of repetitions, so as not to enslave and not injure the spine.
TFP is included in the warm-up, held in a common complex.
10. Work against the group
- The principle is simple - you can work with one, you can manage with a group. If the attack is not sudden, of course. The strategic principle in this case is maintaining balance. It is carried out by tactical methods, which, again, are developed during a warm-up. At the same time removing opponents off balance.
11. Work against weapons / with weapons
- You know how to defend yourself from a knife, you can work with a knife without thinking. To work with weapons and unarmed work using the same movements of limbs and body. General biomechanics, general motor skills.
12. Work on the ground (in the stalls)
- There are (nodes and levers). Only without sports restrictions, which makes the technique highly traumatic.
13. Work in non-standard conditions, from non-standard opponents (in water, in darkness, confined space, from a dog, etc.)
- Direction N.I. Borisov is a reel work, on the axis of rotation, with tychkovymi blows. It is the same, that on land, that in water. And so any situation is non-standard. Standard are given when learning as an example. Opponents are usually vile and cunning. You need to be able to think in a varied, diverse manner. Wins the one who thinks wider.
14. Psychological training
- In special units, animals were slaughtered to temper the psyche. And they watched if a person could do it. It's simple. As a result, a person is ready to fulfill any order. If not, deduct it. That is, the selection is made.
We do this through competition.
15. Other effects from occupations (improving, developing and etc.)
- In any case, there will be an effect if the coach does not just do commerce on this. In general, micro-breaks occur in training, and if a person does not pay attention to this, the body produces more testosterone, which is good for health.
In any case, physical activity is good for health. A person becomes more agile, coordinated.
16. Unique features of the direction (style, school)
- The fact that the only open school, which is taught according to this method. This direction is wider than the struggle. Sometimes life puts in such a situation, when either you or you. And this direction helps to learn how to defend their interests.
17. Use in life (a case of self-defense, when the student was able to protect himself in this area)
- Usually the student can not explain how it all happened. This is in our opinion the best. When you did, it worked as it should, and the knife or pistol of the attacker is in your hand. And then you yourself stand and think - how did it happen?
One of the students, Anton Gopats, was even shown on the TV Center after he had defended himself on the street, in the square near the Orekhovo metro station.
The guys used to bring knives taken away from the aggressors. They went against three. And they always said that the Borisov school is working.
More about school N.I. Borisov can be found here:
https://vk.com/schoolofborisov