The creation of the National Center for Defense Management (NUAU) does not create a threat of the destruction of the entire leadership of the Armed Forces of the Russian Federation, as it is a distributed network structure, it reports
TASS
Post Deputy Center Andrei Matyukhin.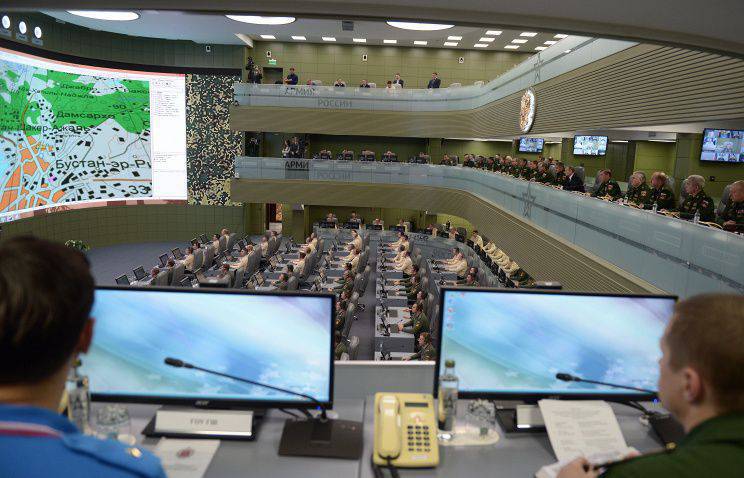 "By creating the National Center, we have never violated the system of remote control points for various purposes, including the state, where we also have organized operational duty shift shifts, which even on unoccupied control points of the operational staff in the daily mode support the operation of all technical means of information transmission, combat signal on management, are always in readiness to accept operational structure, in order that they worked, as public authorities, the head state and controls the Ministry of Defense and the Armed Forces "
- said Matyukhin on the radio "PCN".
"In the event of any emergency situation, the duty officer, who is on duty at the National Defense Control Center of the Russian Federation, is given no more than 5 minutes to sort out the situation and issue proposals for the application of priority measures," he explained.
"At the same time, he has the right to give instructions on the implementation of the developed measures to eliminate abnormal situations. Within no more than 30 minutes, he should provide the Defense Ministry with information on this situation processed by a certain order, so that officials, who must arrive at their workplaces at that time, can start to fulfill their duties, "said Matyukhin.
According to him, "in no more than 1-2 hours should be complete information with the adoption of all necessary decisions that will be carried out by the troops."
"At the same time, the necessary signals about bringing the troops into the necessary state for response will be parallel, including at the command of the duty general," added Matyukhin.