Prime Minister of Ukraine Yatsenyuk announced that Ukraine is introducing a so-called "moratorium" on debt payments to the Russian Federation. The 3 billionth debt to Russia was declared "Yanukovych-Azarov's debt". This is despite the fact that the IMF officially recognized the Ukrainian debt not as private, but as state debt, which is the responsibility of the Ukrainian state.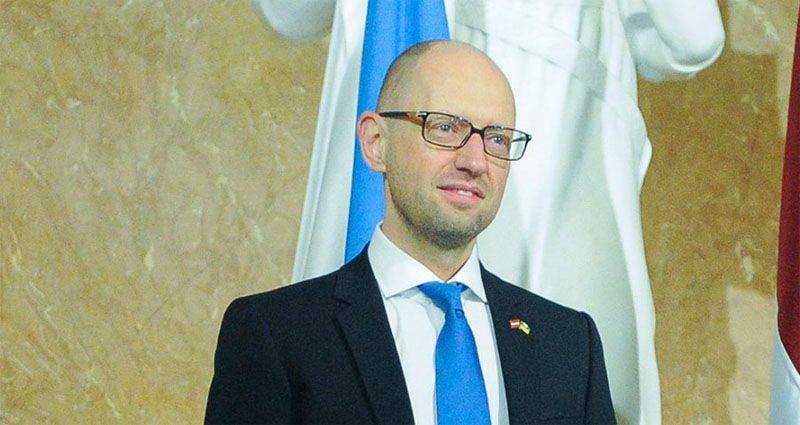 As it turns out, the "moratorium" of Yatsenyuk also extends to the debts of Ukrainian companies to Russian banks. So, Yatsenyuk "allows" not to pay debts to such Ukrainian companies as Ukravtodor and the design bureau Yuzhnoye.
UNIAN
cites a fragment of a statement by the head of the Ukrainian Cabinet of Ministers, which until recently had been tried to bring out from the rostrum of the Verkhovna Rada in a piquant pose:
The Ukrainian government imposes a moratorium on the payment of the so-called "Russian debt". Once again I remind you that Ukraine restructured debt obligations with adequate creditors, who accepted the conditions and proposals of the Ukrainian side. Due to the fact that Russia refused, despite our numerous attempts to sign a restructuring agreement, to accept our proposals, the Cabinet of Ministers introduces a moratorium on payments of $ 3,075 billion on "Russian" bonds and additionally introduces a moratorium on payments of $ 507 million. of companies Yuzhnoye CB and Ukravtodor, which are the debts of these companies to Russian banks.
The appearance of quotes in the word "Russian" - apparently, the initiative as ukropravitelstva and ukroSMI.
The decision of the Government of Ukraine once again proves that it is impossible by definition to have any business relationship with the so-called "elite" of this state. Criminals in the grip of blood cannot be subjects of bilateral relations. Allowing ourselves not to pay debts, since loans from the IMF have long been stolen - this is a vivid example of inadequate perception of reality by Kiev jumpers.