Turkish Prime Minister Ahmet Davutoglu has once again announced that the fighters DAISH (ISIL) attacked the Turkish "camp of military instructors" in Iraqi territory. At the same time, official Ankara reports injuries sustained by four Turkish soldiers who were taken to a Turkish military hospital. If you believe the Turkish General Staff, the militant attack on Bashik's camp in northern Iraq took place the day before.
RIA News
cites statements by the official representative of the General Staff of the Armed Forces of Turkey:
Today at 15.10 local time during the fighting between the Peshmerga forces (the Kurdish militia) and the terrorist organization of the IG, volley fire was fired at the training base in Bashik, where the Turkish military are located. As a result of the shelling of the training base, four soldiers of the Turkish Armed Forces were wounded. The injured were taken to the наırnak city hospital (in south-eastern Turkey). There were retaliatory strikes on the positions of the IG. This case clearly showed how important it is to ensure the security of the Turkish contingent in Bashik.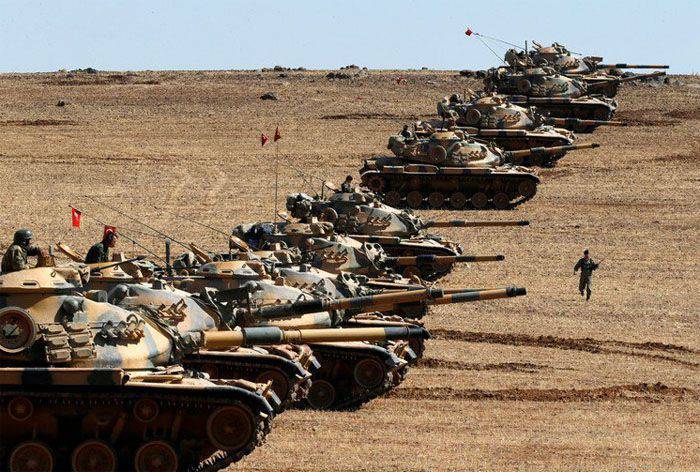 Attention is drawn to the fact that the military camp in Iraq, earlier, the Turkish authorities called the training camp of training precisely the Kurdish militiamen to counter the IS. And the very fact of a strange attack on a military camp is more like a deliberate staging to raise the profile of Turkey's military presence in Iraq.
Another fact that attracts attention is due to the fact that just a couple of days ago, the Western and Turkish media announced the withdrawal of Turkish troops from Iraqi territory. And here lies.
Prior to his visit to Brussels, Davutoglu said that the attack on the Turkish contingent "proves the necessity of his presence in Iraq."
Turkish Prime Minister:
To our great regret, one Iraqi officer was killed, four Turkish soldiers were slightly injured. They were delivered to Turkey, they receive the necessary medical assistance. We discussed the situation with the chief of general staff. Our military gave a decent response, the positions of the IG destroyed. This is very important in terms of demonstrating our overwhelming power. Our presence there is necessary until the Iraqi government has established legal authorities.
As you can see, Davutoglu's peshmerga's actions are already silent, but he adds:
Hence comes the threat of Turkey, we warn of possible risks. Military presence is part of this policy. Our armed forces have the full right to act in accordance with the real situation.
Full right? And in what act is such a right - the right to occupy a part of the territory of a foreign state without the mandate of the UN Security Council and an official invitation of the authorities of this state - is it written? ..