Last week syrian
aviation
has attacked 563 terrorist targets in various provinces of the country, reports
RIA News
message from the representative of the Syrian Armed Forces Ali Mayhuba.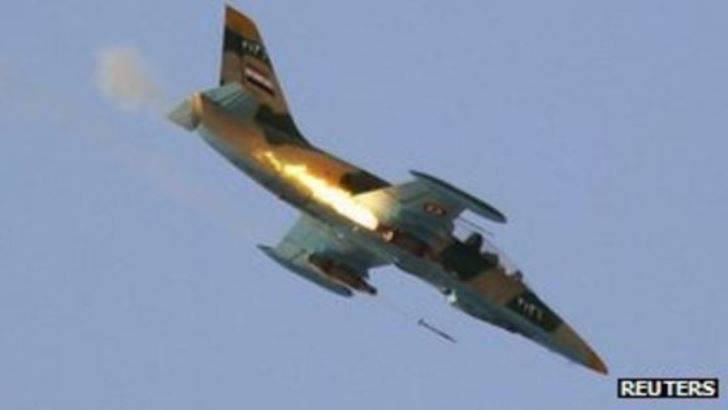 "The Syrian Army Air Force carried out 10 on 16 on December 2015 on 193 on the 563, the targets of terrorist organizations in the provinces of Damascus, Homs, Hama, Idlib, Aleppo, Lattakia and Deir-ez-Zor," the general told journalists .
"As a result, terrorist control points and various objects of terrorist organizations were destroyed," he continued.
"Two control points of the Daishe terrorists were destroyed in the north of Al-Mahs, the provinces of Homs and Al-Meray in the city of Deir-ez-Zour," said Mayhuba. - Two fortified control points of terrorists from the Front of Nusrah were destroyed in the areas of Al-Lathamne and Jib Al-Mraadi in the province of Hama. The supply center and two ammunition depots were destroyed in the Darizza area in the province of Aleppo and Al-Lathamn in the province of Hama. "
Also, according to him, "two columns of military equipment were destroyed in the direction of the settlements of Eyisha and Sarkhan in the province of Aleppo."
In addition, in the province of Hama and Homs liquidated about 130 militants.
"As a result of an ambush successfully carried out by the Syrian army units between the Zhualk and Al-Mahatta areas in the north-west of Homs province, more than 30 terrorists were destroyed, including the leaders of the Al-Daar al-Habir and Al-Nahrah Front this area. In the eastern part of the province of Homs ... a large number of IS terrorists were destroyed, as well as dozens of vehicles with machine guns and other military equipment installed on them, "said Maykhub.
"The units of the Syrian army liberated the village of Znuba, its northern and southern outskirts, and the village of Al-Kattchi in the east of Hama province. They thwarted the attempts of terrorist organizations to penetrate military installations in the areas of Al-Bueda, Al-Masasna, Zlin, Al-Mahruka, Zur, Al-Zaliaqiat in the north of the province of Hama. As a result, more than 100 terrorists were destroyed, two armored vehicles and many vehicles with machine guns mounted on them were destroyed, "he said.
"The precise strikes inflicted on the air forces of the SAR and the Russian Aerospace Forces caused significant damage to the infrastructure and sources of supplies of terrorist organizations, which led to the retreat of terrorists in different directions and mass desertion in their ranks. The units of the Syrian army, in cooperation with the militia units, continue to carry out combat missions against terrorist organizations and the pursuit of their remnants until their complete destruction and ridding the country of their crimes. "
declared the general.