You should recognize his face even under the guise of "his" and by characteristic habits!
Meet the Russian-speaking agent of the State Department!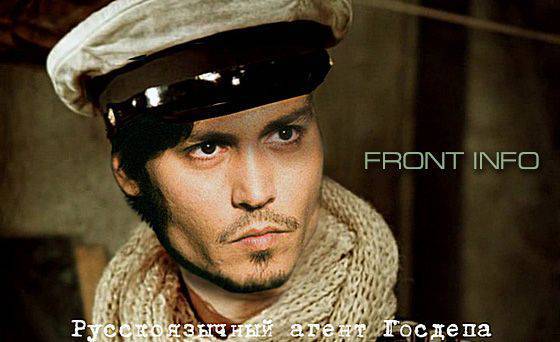 Here, the memo, which is used by all sorts of Alexandra Matrosovs, on ANNA-NEWS and not only from myself, I'll add to it that they are, as a rule, on all resources with avatars of any cosmonauts, Russian tank-type helmets, or "USSR" inscriptions on avatars, what should we hint that he is KGBE "his own" ..
...
Also, they use racially correct nicknames, for it is difficult to imagine that a thread "hero of the USSR" or a person who has taken this glorious name for itself will advise you something bad, isn't it ...? )

When you read these cute tips, you will see this manipulative logic in many posts here and on the Internet, they are always very similar.
..and even as you read, you will notice that you have already seen these constructions in other people's texts in different places, and more than once.
So:
Pa m I t to the Russian-speaking agent of the State Department. This.

In order to convey the idea to the audience as best you can, you need to take a few preliminary steps for the patriots of Russia to take you for their own.
1. At every opportunity, mention in a positive way the USSR and its leaders, especially I.V. Stalin. This will give you the widest possibilities in the future. Publish memories of veterans,
stories
from the lives of heroes, links to military history topics.
2. Always compare the achievements of today's Russia with the achievements of the USSR. During the 70 years of the USSR, he had a mighty industrial growth in the 30-s, and serious scientific achievements in the 70-s. Combining this in one text, it is easy to prove the nullity of any attempts to produce something in modern Russia.
3. If in modern Russia something was nevertheless managed to be developed or produced, immediately indicate that in the USSR it would be better, more, and already produced.
For example, the best comment about the first flight of the PAK FA looks like this: "Under Stalin, this plane would already be in the army."
He is patriotic, it can not be refuted and, most importantly, he completely levels Russia's achievement in the eyes of the reader.
4. Compare all production in Russia with a well-chosen example from Soviet times. For example, a message about the number of new aircraft or
tanks
Feel free to compare with the release of aircraft and tanks in 1942.
5. Always mean that all our neighbors want to attack us immediately. Remember the year 1941 more often. If you are considering a threat from China, unobtrusively hint that NATO will not stand aside.
6. Having earned a reputation as a patriot, you can move on to more courageous actions. For the smallest reason, demand the resignation of a minister, government, or president. The phrases "And under Stalin they would have already been / well-shot"
7. Often accuse of lying. It is possible as unaddressed, such as "There are liars in the government", and it is targeted, in the style of "Putin - on 90% a liar."
After such training, you will be trusted by significantly more people.
If you just write something like "Ares is about to take off, and Angara will never fly," or "T-80 is being scrapped due to corruption," you can just kick it off the forum.
If you preface this phrase with a story about the successes of the Soviet cosmonautics or the Red Army in the Second World War, even knowledgeable people will believe you.

DEFINITIONS AND TERMS:
_______________________
1.
Definitions and terms
Russia is a country that illegally owns mineral reserves on its territory, which belong to the whole world.
"Paid agent of the Kremlin" - any opponent who uses facts and figures to answer
"Edinoros on salary" - anyone who does not criticize the government at the forum
"Western democracy" is an unattainable model, an ideal society to which a country that illegally owns world's mineral wealth should strive
General recommendations:

2.
Try to use less numbers. Unfortunately the numbers can be checked and it will undermine your position. Do not use comparisons as a percentage - you can get confused.
2.1
If you still use the numbers, never use the Russian statistics - it cannot be correct by definition. Correct happens only American, Japanese and European statistics.
2.2
Always use the saying that "statistics is one big lie."
If the statistics in Rush shows something bad, then it is correct, but underestimated at least ten times.
It is impossible to refute this statement, so use these objections whenever you can say it.
If you use American statistics, then you are saying exactly the opposite. Prove nothing. It is enough to call the opponent "paid United Russia party hirer".
2.3
If your opponent does not provide links - then call it an unsubstantiated chatter. If the opponent uses links, he is a "copy-paste" and cannot say anything with his head. Do not forget to insert the saying that statistics is one big lie, so there is no point in believing its numbers.
If your opponent responds briefly - accuse him of superficially highlighting the problem, and not knowing the topic. If the opponent answers in detail and in detail, then he is a boring pedant, and "there's no need to post such enormous footcloths here - no one reads them anyway" (C)
2.4
Do not forget to call your opponent "amateur". Man rarely has encyclopedic knowledge in all areas. Therefore, if the opponent defeated you in the weapons issue, then in the economics topic instead of answering the question about the growth of Russia's foreign reserves, you can call him an expert on T-34 tanks and change the discussion topic because of his incompetence - "my name is too known for me to tell you about it "(C).
It does not matter that you understand the economy even worse than your opponent - the burden of justification lies on the accused.
2.5
If the opponent still presses you with some figures or facts, there is always a universal remedy. Blame the opponent that he did not see it with his own eyes. And only on the Internet or in photos. If the opponent saw with his own eyes the Russian new tanks or aircraft, then he didn't see all the submarines.
(they are located in different seas thousands of kilometers apart).
So, boats exist only on paper! Similarly, the opponent could not see Russian missiles and nuclear
weapon
, it does not have, and can not be admitted. And I will have to agree that he did not see them. You won the argument! If I didn't see, it means they are rusting and rotten.
We remind you that even a very versatile opponent cannot personally observe dozens of types of weapons, ships, aircraft, air defense. So, there will always be a hundred types of weapons and equipment that he has not seen!
That is, against his testimony on several types of weapons, you always have in opposition to hundreds of types of weapons that he did not see, and where exactly all the "horror" is.
The method is suitable not only for weapons. If the opponent is familiar with animal husbandry, then he probably doesn't understand the cement industry, and if he does (still out of luck), then there are still dozens of technologies in radio electronics.
In principle, you can enumerate all types of industries in a row using a brute force method; in some of your opponents you will not find something to object to (or get tired of it). So you won the dispute again.
2.6
Do not forget to announce your victory. It is desirable many times in a row. Later, you can always insert a reminder of this "victory" in any other topic, for example GLONASS. Let the opponent again refutes and argues that in the topic about export tanks T-90 a month ago, he could not prove with the documents that Turkish cement does not take 40% of the market in Russia, but only 1%.
2.7
Any positive statement about Russia, about its army or
navy
it should be commented: "They licked notably, bravo!" Perfectly infuriates any decent person, especially if you repeat this often and without reason.
2.8
Be sure to remind you that Mace, the PAK FA did not fly (delete the irrelevant, enter the current, the list is updated).
3. METHODS and technologies of productive flood.
If, however, it is difficult to deny anything because of blatant evidence, the following methods and methods of discussion should be applied:
3.1
If something still works in Russia, then these are old Soviet developments, factories, technologies. Russian to the Soviet have nothing to do, so they have no moral right to be proud of Soviet developments. All design development in the USSR was made by Jewish designers, and it was all created mercilessly exploited by national republics.
Military aircraft made in Tashkent and Tbilisi - is this not proof! And the spaceport in general was in Kazakhstan.
3.2
Always say that Russia sells only raw materials! And if this is not a raw material, then it is something harmful, like nuclear power plants or weapons.
Be sure to note that only third world countries buy Russian weapons. Neither the United States nor England buy this useless weapon because it is of poor quality. Even if the T-90 tank is ten times cheaper than the best Abrams American tank of the 1990 model of the year, it will not be bought anyway. Because he is much worse.
It is only underdeveloped India, China, Saudi Arabia, Indonesia and more 50 backward countries are buying this useless technique.
And in general, Russian exports of aircraft, tanks and ships with submarines brings miserable 8-10 billion dollars a year. With only one and a half times the annual budget of Lithuania.
3.3
Any question about the modernization of the Russian industry is reduced to the example of AvtoVAZ (a win-win series).
If Irkut Corporation launches an automated production line for Yak-130 aircraft and promises to produce 5 airplanes per month, declare that they cannot even make Lada (C), it means that they will not even make an airplane. However, this argument must be applied carefully, unfortunately, after a few months, when production begins, it will be harder to say. But there is always another project or plant that has not yet started production.
This method is even more convenient when discussing plans for the construction of large NPP-type facilities and large plants.
In this case, construction preparation, design, commissioning, etc. take from 2 to 3-5 years. During this entire period, you can compare the future project with AVTOVAZ with impunity - the method works flawlessly. The problems that you will remember your words - do not exist, according to objective data you will be banned from ip much earlier, even in the most tolerant forum.
Message
This is spam..
3.4
In the case of a discussion of the military-industrial complex, the comparison with VAZ is not as effective. Unfortunately, witnesses of the Soviet times are alive who know about the achievements of the Soviet defense industry with the disgusting quality of the Soviet "Muscovites" and "Zhiguli".
In this case, the method of discussion is desirable to translate the construction time. Building a large modern ship takes 5-7 years, designing and testing any complex weapon system from 5 to 10 years. A great reason to prove the inefficiency and "degradation" of the Soviet defense industry.
Again, beware of comparisons with foreign counterparts. If, nevertheless, the opponent says that the F-35 fighter is being developed from 2000, and will be mass-produced only from 2017, if the program is not closed at all, immediately stop the discussion and proceed to the next item.
3.5
If something is being built, developed or sold for export in Russia, this is done only for the sake of cutting. Russian weapons are bought only for bribes in all countries of the world, even if it costs five times cheaper than the American or European counterpart. At the same time, kickbacks and cuts reach 90% of the cost. The issue of the cost of such weapons is desirable to avoid.
---------------------------------
Here, here is a school of how to resist this Abwehr fall, read, even if not at one time.
Also, as in 41 in the USSR, they shouted in the rear that "Russia is dead", and so now.
Turn on at work, in the office, or while washing the floor. Give links to those acquaintances who are often, as they say, infuriated by what they read on websites, who take it to heart, but, alas, do not fully understand what is happening on Runet's network.
]