The Chinese blog "Chusyao", specializing in military subjects, published an article that describes Beijing's attempts to gain access to various models of foreign aircraft in the 70-90-e years of the last century. This is reported by the blog.
bmpd
.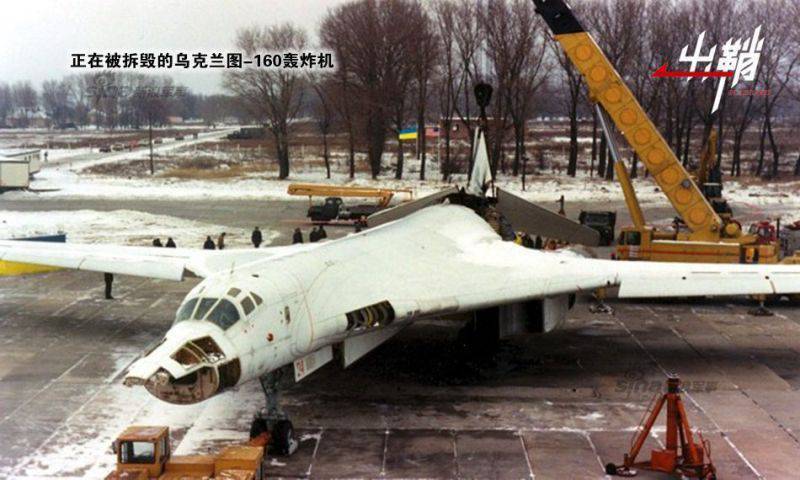 In particular, the blogger told about the attempt of the Chinese in 1990 to buy strategic bombers Tu-160 from Ukraine, which remained in Priluki after the collapse of the USSR. (In total, Ukraine received 19 machines).
A delegation was sent to Kiev for negotiations. However, Russia was the first to stop the deal, which itself was interested in acquiring bombers and was afraid of a leakage of technology in the PRC.
And by the end of the 90's, the United States intervened. They had their own task: to prevent the movement of aircraft either in the PRC or in Russia. The Americans provided Ukraine with the necessary funds, and Kiev in 1998 gave the command to dispose of the bombers.
Still, Russia, as they say, managed to "drop into the last car" and in 1999, they bargained 8 aircraft from Kiev for gas supplies. The remaining 11 machines were, alas, sawn. China was left with nothing at all.
"Thus, judging by the Chinese publication, the Ukrainian Tu-160 had not one, but two serious potential buyers. If the situation dragged on to 2004-2005, when Russia had oil dollars, and the military budget in China increased dramatically, the stakes in the fight for airplanes could rise sharply, "bmpd writes.
It is worth noting that only 10 bombers were completely destroyed, the eleventh was decided to be sent to the museum.