At one of the ranges of the main defense department in the Arkhangelsk region, test launches of cruise missiles were conducted. As a result of one of the test launches, the rocket deviated from the predetermined course and fell near the town of Nenoks (approximately in 40 km from Severodvinsk). If you believe the press service of the Ministry of Defense of the Russian Federation, then there are no victims and destructions, fortunately.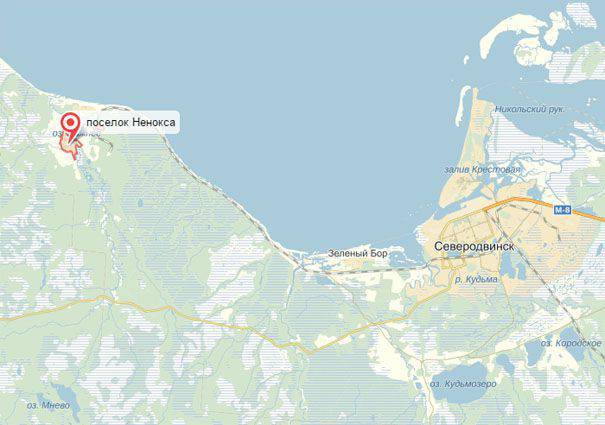 RIA News
leads a summary of the main defense department:
15 December 2015 of the year in the Arkhangelsk region at the Russian Defense Ministry's test site by industrial experts (NPO Mashinostroenie) conducted a test shooting of a cruise missile. After the launch, as a result of an emergency situation, the rocket deviated from the given trajectory and fell near the village. Nenoksa (Arkhangelsk region). At the site of the fall of the rocket, a commission of representatives of industry (NPO Mashinostroenie) operates.
NPO Mashinostroenie is a military-industrial corporation, one of the leading industrial complexes of the rocket and space industry of the Russian Federation. The NPO Mashinostroenie provides the Armed Forces of Russia with the latest types of military equipment (primarily missiles). The head office of the military-industrial corporation is located in the town of Reutov, Moscow Region.