Russian President Vladimir Putin launched the launch of the second line of the energy bridge from the Krasnodar Territory to the Crimean Peninsula. The launch command was given by Vladimir Putin in the space bridge mode. The new string of the energy bridge will allow the peninsula to receive another 230 MW of electricity, which will significantly reduce the energy shortage that persistent Crimeans face.
RIA News
quotes words of gratitude expressed in connection with the start of the second line of the energy bridge:
I want to thank all of you for the shock pace of the work that was completed in the shortest possible time, and I hope that with due quality. There is still to be equipment. But I presume that if any problems arise, they will be quickly eliminated.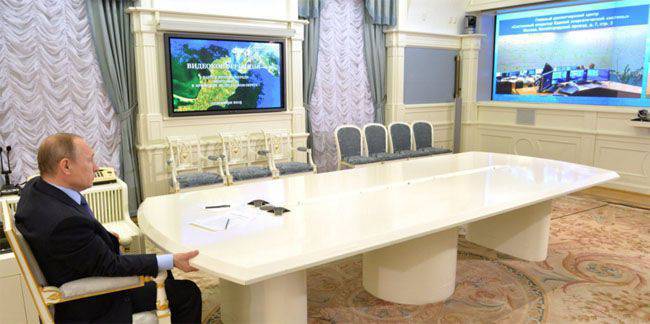 The second (and final) stage of the Crimean energy bridge (two more lines) should be launched in April-May next year. It will allow to fully meet the needs of the Crimean Federal District for electrical energy.
TASS
cites the statement of the President of Russia:
I know that these plans of power engineers and networkers should be compared with the efforts of the Russian government to develop the economy of the Crimea, and with the government of the Crimea and Sevastopol. I hope that all of you together will complete this task and do it in the right time.