The representative of the press service of the main defense department of Russia on the Naval
the fleet
Igor Dygalo told the media that on December 18, a solemn laying ceremony of the nuclear submarine rocket carrier Emperor Alexander III of the Borey-A project is scheduled. The event will be held in Severodvinsk. Submarine cruisers of the Borey-A project are capable of carrying 16 Bulava-30 ICBMs on board.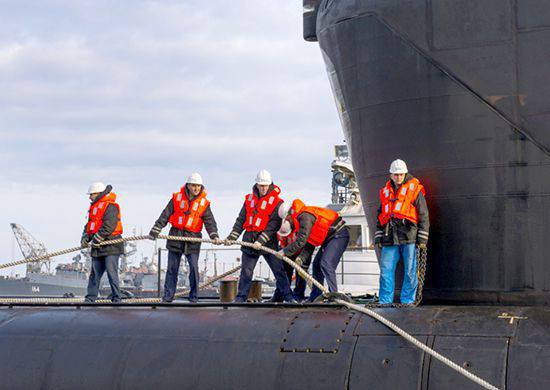 Press office
fleet:
The ceremony will be attended by representatives of the leadership of the Ministry of Defense of the Russian Federation, the main command of the Navy, the command of the Northern Fleet and the White Sea naval base, representatives of the administration of the Arkhangelsk region and Severodvinsk. The three nuclear submarines of this project, Prince Vladimir, Prince Oleg, Generalissimus Suvorov, are already at various stages of construction on the stocks of OAO Sevmash.
It should be noted that the head submarine of the project "Borey-A" "Prince Vladimir" was laid 30 July 2012 of the year. At the moment, there is a slipway period. The second submarine of the project (the first serial) - "Prince Oleg." Her bookmark date is 27 July 2014 of the year. The third submarine missile cruiser "Generalissimo Suvorov" began to be built on the Sevmash 26 December last year.
The project "Borey-A" became the development of the project "Borey". The development of nuclear-powered submarine missile cruisers is conducted in St. Petersburg at OAO TsBB MT Rubin.