In the Western media, the incident that happened on the eve between the Russian and Turkish ships in the Aegean Sea is being vigorously debated. Recall that the Russian "Sharp-witted" patrol ship, anchored in the Aegean Sea, was flown by a Turkish seiner, without reacting to any signals and warnings about a possible collision. When there was no more than 600 meters left between the Turkish ship and the Russian guard, the commander of the Sharp-witted decided to open a warning fire.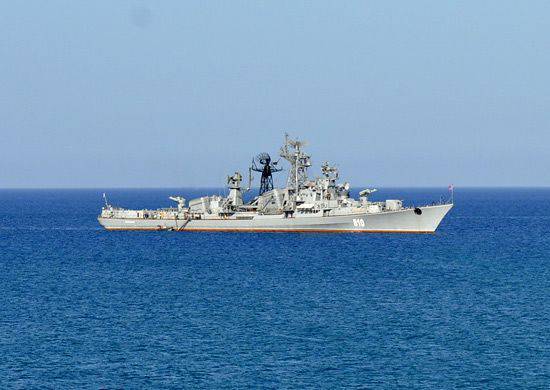 From the message
Ministry of Defense of the Russian Federation
:
In 9.03 Moscow time, the ship's watch-keeping service discovered a Turkish vessel at a distance of about 1 thousand meters, approaching the "Sharp-witted" patrol ship anchored from the starboard. Despite numerous attempts by "Sharp-witted", the crew of the Turkish seiner did not make radio contact with Russian sailors and did not respond to special visual signals of the light semaphore and signal rockets.
When the Turkish seiner approached the Russian patrol ship at a distance of about 600 meters, in order to prevent the collision of the ships, in the direction of the Turkish ship at a distance of guaranteed non-defeat, a small
weapon
. The Turkish ship abruptly changed course and, without coming into contact with the Russian crew, continued to move past the "Sharp-witted" at a distance of 540 meters.
In connection with the incident, the Ministry of Defense of the Russian Federation called in the military attache of the Turkish Embassy in Russia. The Turkish military attache was given information about the possible consequences of such provocations.
At the same time, the captain of the Turkish seiner stated that he "did not know" about the state ownership of the warship. According to him, he "thought it was a NATO ship." As if the Turkish fishing vessels are going full speed every day to NATO ships, not responding to the warnings ...
Remarks in the comments of readers of Western media that Turkey is playing "Russian roulette" with Russia. One of the users of the FOX channel (information
RIA News
) suggested that the Turkish seiner could end up being a ship with weapons on board, which was planned to be used for a provocative attack on a Russian patrol ship.