It becomes terrible to read reports from the fronts of the fight against LIH. The whole world community has fallen upon a grouping up to 100 thousand of militants as the main global threat. This is a peculiar honor for her! Extremist Islamists should be responsible for the crimes committed, and the emphasis should be placed on the fact that it is a crime against humanity, but another thing worries ...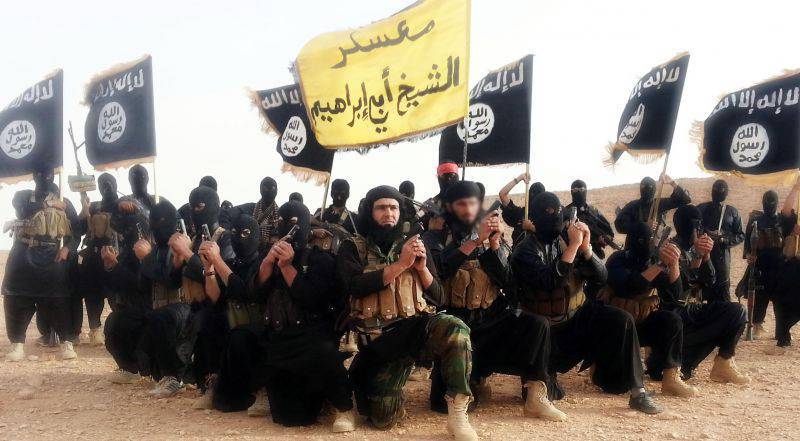 Obama and Putin, Hollande, Merkel and all civilized humanity are talking about the threat from ISIL to the civilized world. King Abdullah of Jordan declares that "ISIS is unleashing World War III against humanity." "Wild bandits" provoked the war "inside Islam" and turn Muslims into fanatics. What is it: 100 thousandth militant group represents a danger to all mankind? Really? Here we all feel a lack of agreement that this fight against "obvious evil" clearly has a second bottom.
In Syria and Iraq today a whole herd of elephants is marking time. Very soon, they will crush ISIS, and then they can start pushing each other, these big elephants in the Syrian and Iraqi oil shops. So many lies have been piled up in the fight against ISIS, that the fate of Caliph al-Baghdadi and his companions is predetermined: they know too much. Unless they manage to be captured by the Russians.
Syrian President Bashar Assad wonders: how can France fight ISIS while remaining an ally of Qatar and Saudi Arabia, the main sponsors of ISIL? He has even more questions for Turkey: "Some countries support Djabhat al-Nusra" associated with Al-Qaeda and others LIH, while Turkey supports both groups and other gangs. It supports them with human resources, arms militants, finances, helps them with intelligence and all the necessary data ... ISIL sells oil to Turkey "...
But the most serious questions are addressed to the United States, starting with the fact that al-Baghdadi became the caliph, successfully released from the American prison, in just two years! Such a career as an American prisoner is very similar to the career of Bin Laden, who was a CIA agent when he created his al-Qaida. The main threats in their policy documents the United States call Russia and China, and not at all ISIS, which is then the second edition of al-Qaeda, directed against Russia and China.
It turns out that ISIS is just an American tool, first for the destruction of the legitimate government of Syria, Bashar Assad and other Middle Eastern leaders, and then the main threats to America. Therefore, Russia and Iran stood up for Assad, and began to destroy this American instrument in an adult way, "not sparing it," as the Americans did for the whole year, according to Sergey Lavrov.
But ISIS will indeed be able to unleash World War III: it can begin as a struggle for the right to finish off ISIS in order to appropriate the laurels of a victor and bury the secret of the birth of this terrorist organization. Or as an incident between the great powers in the Syrian and Iraqi deserts. After all, the US again wants to lower the "iron curtain" in front of Russia, and, according to Foreign Minister Sergey Lavrov, "inadvertently can pinch something".
After the defeat of ISIS, somewhere in Europe or America, a new terrorist attack may occur, and ISN 2.0 will appear. Since, unlike Al-Qaida, ISIS is also a Salafi "pure" fanatical Islam virus, it can mutate and spread completely independently of the will of its creators among the Muslim population of the world, turning it into fanatics, according to Jordanian King Abdullah II.
When SSCHA and Europe demolished secular regimes in Iraq, Libya, destabilized Syria and partially Egypt with "color" coups, this "pure" Islam broke out of the fetters with which it was "authoritarian dictators" and with streams of migrants fell into Europe, scattered throughout the world.
Most of them are infected with the Middle East, Europe, Africa, but all regions of the world are affected to a greater or lesser extent. The virus of Salafi Islam is especially terrible for modern hedonistic, tolerant, lost immunity and moral foundations of Europe, which has no experience of historical traditional Islam. Now it spreads across Europe with migrants from Arab countries, and amazes the whole society.
Secular regimes in the Middle East could restrain this Islamic fanaticism, albeit by authoritarian means, because others are simply not suitable. And Europe will now have to become authoritarian if it can and will have time to do it. Indeed, in Europe, a deep rift has already formed between the hedonistic top and the Islamic, traditional and extremist-prone bottom of society.
For Russia, the Salafi virus is also dangerous, but less so, since Russia has traditional Islam. Multinational and multi-religious Russia has an advantage here, you just need to be able to use it.