The ships of the Russian Navy and Indian Navy during the next stage of the joint exercise "Indra Nevi - 2015" completed several combat missions, reports
MIC
with reference to the press service of the Pacific Fleet.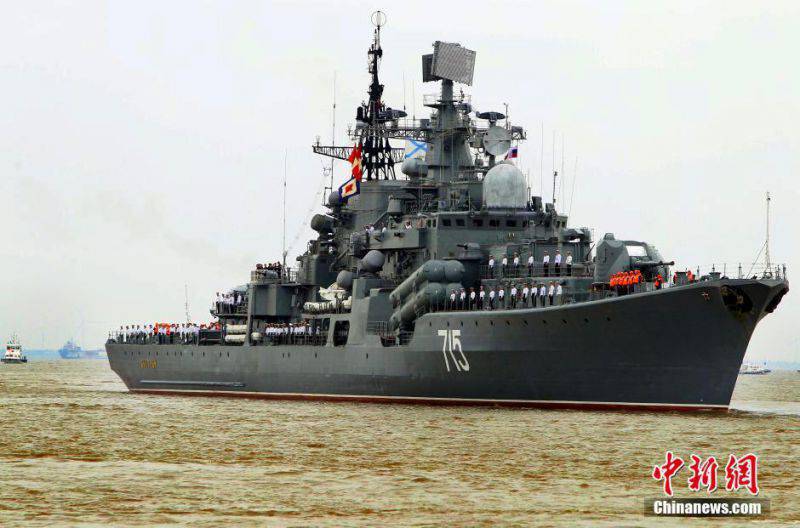 Destroyer "Fast"
"According to the plan of the exercise, the ships performed joint firing of a conventional submarine with jet depth charges, and then conducted artillery firing at a real air target, the role of which was performed by an unmanned aerial vehicle," the release said.
"The first combat task was to carry out inspection operations," the press service specified. - For this, auxiliary vessels from both sides were involved. Groups of marines of the Pacific Fleet and naval special forces of the Indian Navy from the cruiser Varyag and the frigate Sakhyadri carried out a joint inspection of the tanker Shakti, and from the destroyers Fast and Ranvir similar groups landed on the large sea tanker Boris Butou. " .
"The actions of the participants in the exercises were based on the experience gained by Russian and Indian naval sailors during the anti-piracy watch in the Horn of Africa," the report says.
Helicopter exercises also took place at sea: "The Ka-27 and Chetak helicopters flew off the Varyag cruiser and the destroyer Ranvier. After photographing the joint warrant, the Russian helicopter landed on the destroyer Ranvir, and the Chetak on the helicopter landing pad of the Varyag cruiser. "
"From the Russian side in the maneuvers take part the missile cruiser" Varyag ", the destroyer" Bystry ", the big sea tanker" Boris Butoma "and the rescue tugboat" Alatau ". From the Indian side - the frigate Sakhyadri, the destroyer Ranwir, the tanker Shakti and the diesel-electric submarine Sinduvir, as well as to 10 aircraft and helicopters. Summing up the results of the exercise will be held on December 12 on board the frigate of the Indian Navy Sakhyadri, "the press service recalled.