Pravosekov leadership announced the end of its participation in the "civil blockade" of the Crimean peninsula, reports
Look
with reference to the representative of the nationalist organization Alexey Byk.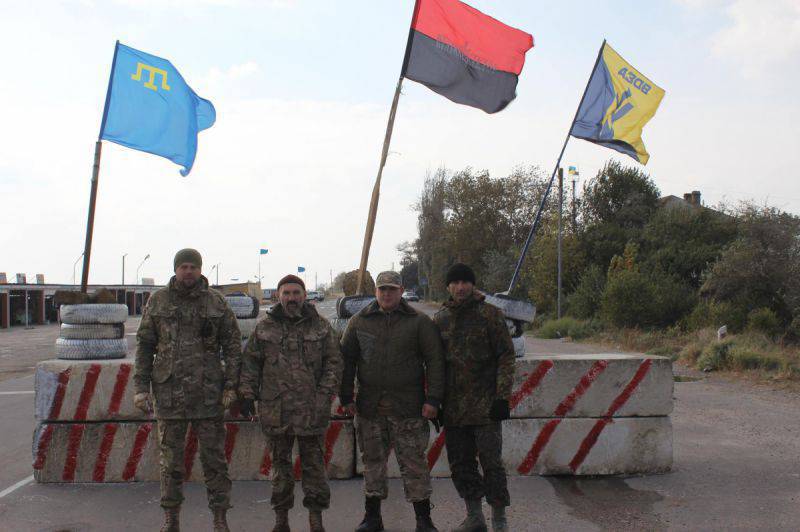 "The operational headquarters of the" Right Sector "on the blockade decided that due to the fact that our blockade partners allowed electricity to start, they actually eliminated us from making decisions, we change the format of our presence at the border with Crimea. We will no longer take part in the Crimean Maidan, block roads, stand at roadblocks. We have completed our participation in the blockade of the Crimea "
- said the Bull.
At the same time, the PS "does not exclude the likelihood of a return to the share of the blockade of the peninsula, but this implies additional approvals, negotiations, and changes in the format of relations within the blockade," he added.
However, a representative of the "Right Sector" in the headquarters of the action still remains. This was announced by one of the initiators of the "civil blockade" Lenur Islyamov.
"The Right Sector leaves civilian posts, which now have no meaning anymore. We also leave these roadblocks now, because we are reformatting them. We have no problems with the "Right Sector". We are reformatting the civil action itself, "he explained.
Earlier, OSCE observers noted that PS members left a number of posts on the border with the Crimea, and "in this connection, activists of the Azov Civil Corps are increasing their presence there."