On Saturday, a successful launch of the Sinev ballistic missile was launched from the submarine submarine cruiser Verkhoturye, reports
RIA News
message of the Ministry of Defense of the Russian Federation.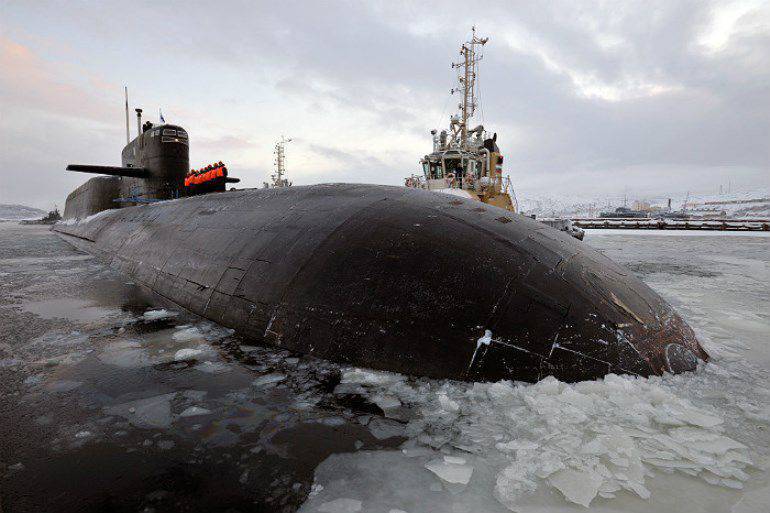 The launch was made from the waters of the Barents Sea from a submerged position.
"On December 1th, the crew of Captain XNUMXst Rank Dmitry Zelikov on a strategic missile submarine cruiser North
fleet
Verkhoturye successfully launched the Sineva intercontinental ballistic missile (ICBM) from a designated area in the Barents Sea along the Kura test site in Kamchatka, "the release said.
"The parameters of the flight trajectory of the Sinev ICBM were developed in a regular mode. According to confirmed data of objective control, the missile warheads successfully arrived in a given area of ​​the Kura battlefield on the Kamchatka Peninsula, "the press service noted.
It is reported that "the launch of the intercontinental ballistic missile" Sineva "was carried out within the framework of testing the reliability of the naval system of strategic nuclear deterrence."
Help Agency:
"Strategic missile submarine" Verkhoturie "- a modernized ship project 667BDRM" Dolphin ". It was built at the shipbuilding plant "Sevmash" in Severodvinsk and in 2012 there was a deep modernization there. Currently, the ships of this project, armed with the Sinev intercontinental missiles, form the basis of the naval nuclear deterrence forces of the Russian Navy. "