The deputy head of the Ministry of Internal Affairs of the LPR, Yuri Govtvin, revealed some details of the death of the commander of the 6 Cossack regiment Pavel Dremov.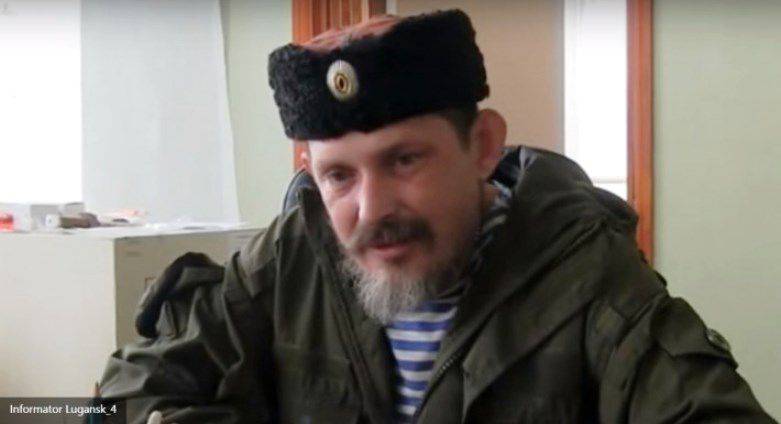 Earlier, the republican prosecutor's office reported that the ataman was blown up in his own car. The Interior Ministry said that behind the crime are the Ukrainian special services. Together with Dremov the driver of the car was killed.
The explosion occurred on Saturday near 13: 20 in Pervomaisk, near a gas station. The explosive device was inside the car.
"An explosion occurred in the car in which Dremov Pavel Leonidovich was located. As a result of the explosion, the car was badly damaged, all the doors of the car, the roof of the car were broken, the windows were broken, the seats in the cabin were torn from the explosion. As a result, the driver was thrown out of the cabin by a strong blast wave, and the passenger (Pavel Leonidovich Dremov) died on the spot ",
quotes Govtvina
RIA News
.
"The driver was given first aid, but he died on the way to the hospital," he added.
"For the objective investigation and solving of the crime in the republic, the operational plan" Sirena "was introduced, - the deputy minister stressed. "The entire structure of the Ministry of Internal Affairs has been transferred to enhanced duty, the investigation is led personally by the head of the Ministry of Internal Affairs."
Earlier, the prosecutor's office voiced several versions of what happened: "the attack of Ukrainian saboteurs, the settling of accounts on the basis of personal hostility, the elimination in the face of the Cossack commander of a competitor, and the careless handling of ammunition."
The case was initiated under Art. 113 of the Criminal Code of LNR - "the deliberate murder of two or more persons in a socially dangerous way".