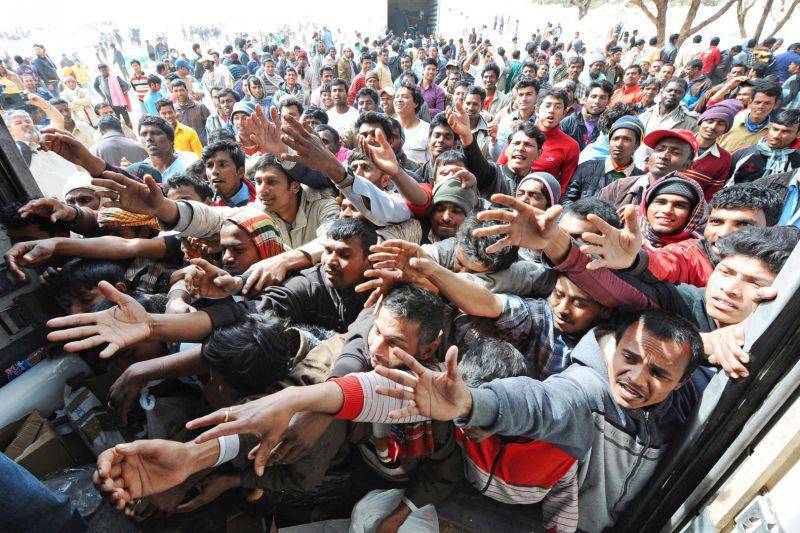 In late summer - early autumn 2015, Europe shuddered under the onslaught of hundreds of thousands of migrants from the Middle East, who broke through all possible borders, striving for a European social paradise. This was a real shock for both European government institutions and local societies. The states did not know and still do not know what to do in a situation for which there are no written instructions. Rather, they, of course, are there, but not for such a scale. In the meantime, local societies have experienced and are experiencing the test of their tolerance.
The latter circumstance is of great importance, because such an influx of migrants causes an increase in protest and anti-immigrant sentiments in the societies of Western countries. In turn, they are theoretically capable of causing an increase in ultra-right sentiment. For example, the last elections in Poland clearly demonstrated a lurch to the right. In particular, for the first time in the parliament of this country there will not be a single left-wing party.
Today in European societies there is a serious public split over the refugee issue. Because along with those who believe that it is necessary to help them out of humanitarian considerations, there are also many who oppose it. The latter think that refugees, firstly, create too much pressure on social funds and on government spending. Secondly, that Muslim refugees by their appearance threaten the identity of the population of European countries, which is primarily regarded as Christian and democratic.
But these two groups, in fact the extreme points of view, represent a very active minority in European countries. The first go to rallies in defense of migrants and for providing them with maximum support. The second rally against the reception of migrants and for tightening policies against them. But still there are not so many of them.
Much more important is a moderate conservative majority in European countries. These people agree in principle with a humanitarian approach and not against tolerance. But at the same time, they think pragmatically. Of course, they feel sorry for refugees from dysfunctional countries, but then the question arises whether Europe can in principle help and accept all the unfortunate people in Asia and Africa, or at least a substantial part of them. This follows from humanitarian and liberal logic, which should be helped by those who have problems. In addition, does not follow the humanitarian policy to the fact that people in Asia and Africa perceive the softness of European countries for their weakness. Then all the hundreds of thousands of people that Europe accepts, objectively provoke other hundreds of thousands, and maybe more to try to reach the European coast.
While the conservative part of the public opinion of most European countries has not yet come into motion, it cannot decide on its attitude to the processes taking place. Still, in movements both in defense of migrants, and against them, a rather limited number of citizens come forward. But the question does not just remain on the agenda, it burns with a huge question mark on the map of Europe.
Its first consequences are already being felt in Germany, where the rating of Chancellor Angela Merkel, which declared its readiness to accept migrants, fell. In some European countries, politicians who are always sensitive to the situation have already begun to make statements about possible negative consequences for the European Union. In this spirit, spoke Austrian Chancellor Werner Fayman. In Eastern Europe, increasingly harsh statements are being made. Here, many do not agree with the idea of ​​the European Union to place migrants in all countries according to a quota that will be determined based on the size of GDP.
Many politicians and observers, both in Europe and, in particular, in Russia, emphasize that Europe itself contributed to the emergence of this crisis when, through its participation in hostilities, it helped liquidate the regimes of Muammar Gaddafi in Libya, Saddam Hussein in Iraq and weaken the regime of Bashar Assad in Syria. Actually, most of today's migrants to Europe are just refugees from Syria, Iraq, and African countries, who easily penetrate from the south through the chaotic territory of Libya.
Of course, this logic is quite obvious. The same Gaddafi did not miss the refugees, including in the framework of their tacit agreements with European politicians. In Syria, a long civil war led to the fact that a significant part of the country's population became refugees. Many of them have been living in refugee camps in Turkey for the fourth year. And, of course, that nothing prevents them from getting to the Turkish coast of the Aegean Sea, and then going to the Greek islands.
Although the Europeans may say in response that this Assad in Syria creates conditions for the emergence of refugees, that in Libya they supported the local rebels, who opposed a very strict regime. Accordingly, all that happened later is a consequence of the inability of local forces to agree with each other. Further, Europeans usually do not go, because here you can approach the dangerous line, beyond which discussions begin that the Western model of democracy does not work in the Eastern world.
Naturally, for the majority of people from the West, especially politicians, this is an almost blasphemous statement ideologically. Democracy is never questioned under any circumstances. Therefore, it is more logical for Western European observers to divide the modern
history
the same Middle East on separate blocks. For example, the regimes of Gaddafi, Assad and Saddam Hussein and their policies, separately - intercommunal and intertribal contradictions that begin after their fall, and so on are considered separately.
In this logic, refugees are first of all a block from the field of humanitarian problems. Therefore, it is precisely this aspect that is dominant when considering this problem. It cannot be said that in Europe nothing is done to stop the flow of refugees.
But in the developed countries of old Europe they try to stay within the framework of the procedures. Therefore, Germany, for example, facilitates the procedure for the expulsion of illegal migrants. The same can not be said about the countries of Eastern Europe. They are trying to build fences, to mobilize the army to protect the borders. A part of the tactics of some countries is also the early passage of migrants entering Europe into other countries so that they do not remain in the territory. That is, trying to shift responsibility for them to the neighbors.
Although Eastern European countries are not pioneers in the use of this tactic. For example, it has long been actively used by Italy, whose authorities redirect migrants from Africa to the rest of Europe.
In fact, the current crisis with migrants is not a private one for Europe, but a systemic one. That is, it is not a question of who will pay for the maintenance of migrants, where they will live, and not even a question of what security problems in European cities can arise because of them. Although the latter circumstance is of great importance. Because it is not clear how many among the hundreds of thousands of refugees from Syria and Iraq are former military, militants of various organizations, from tribal militias to immigrants from, relatively speaking, the "Islamic State". All this people are very decisive and ready for a lot in case of problems. Even if we do not assume that among them there are those who could have been specifically sent to Europe by various "bad" people or organizations.
The main question is different. Within the framework of globalization, Europe in terms of employment, health, public safety and social issues is, without any doubt, the most attractive place to live. At the same time, globalization drives the mass of people in Asian and African countries. They move from village to city, they get a lot of information. And this is irrelevant to conflicts that occur very often. Naturally, the image of Europe always looks attractive to many, including those who received an education.
Of course, the United States looks attractive, and Japan. But only Mexicans and other Hispanics can get to the US relatively simply. While Japan is an extremely closed country for migrants. In addition, in the United States and Japan, social policy is less ambitious than in Europe, with its victorious social approaches to public policy.
In this sense, Europe is very close to Africa. It has a generally liberal policy, which makes it easier for migrants if not to obtain political asylum, then at least a safe entry into its territory and, importantly, being here. That is, despite the illegality of the stay of migrants, the state actually closes its eyes to the fact that they are on its territory. At the same time, her social policy is very ambitious and also very liberal in relation to visitors.
This creates conditions for potential migrants who understand that all their efforts to penetrate Europe will be justified. Of course, there is always a risk, after all, someone is drowning in the sea, but this is a very small percentage.
That is, Europeans cannot prevent migrants from arriving in Europe, for that they are too liberal. And they cannot but contain migrants who have already appeared in Europe, for this they are too social.
In general, the current crisis is a systemic problem for Europe. The sharp increase in the number of migrants from the Muslim East is superimposed on the large number of Muslims who already live in European countries. The level of integration of these people is noticeably lower than the level of integration of immigrants, for example, from the territory of the former USSR. Muslim societies have a communal pattern of residence. This is in conflict with the individualistic nature of the organization of Western European society.
Eastern communities are primarily focused on their interests. Today in Europe, they are mostly religious in nature and exist at the local level. Therefore, they rarely, almost never have political significance. The democratic system in Western Europe, whether it is a majority election system, as in the UK, or proportional, as in France and Germany, has immunity against the potentially existing community interests of people from the East.
First, partly political parties integrate immigrants from various communities into their membership. They can hold positions up to ministerial portfolios, such as Arab Rashid Dati in the government of Nicolas Sarkozy in France. But these people are part of the establishment, inside they are the same Europeans. Secondly, no local community of immigrants from Eastern countries today has the opportunity to enter the political space. That is, it is impossible to form, for example, a Muslim or Turkish party. Even if they make up an impressive percentage of the electorate. In particular, Muslims in France are made up of many ethnic communities.
In addition, in the case of a majority electoral system, the old elites always have an advantage over newcomers to electoral politics. For example, in the UK, a party can score a large percentage nationwide, but get a minimum of seats in parliament, because in majority districts, the one who gets the most votes wins. Therefore, in European countries there are not so many Muslim deputies, despite the fact that there are many of them in the composition of the country's population.
But despite the effectiveness of such a system, it has its limits. As the number of people from Muslim countries grows in the population structure, it is only a matter of time, they will begin to formulate their questions about the policies of the country of residence. Accordingly, when the quantity starts to pass into political quality.
That is the danger of the current migration crisis for Europe. This million of migrants, or perhaps more, is able to play the role of the straw that broke the camel's back. As the masses of refugees from the Middle East integrate into the European space, they will increasingly influence relations between the local population and Muslim communities. European politicians will find it increasingly difficult to contain the contradictions that arise.
They will have to solve the fundamental question: should we protect the identity with all forces and build walls on the borders with the outside world or agree that this is no longer possible?
Modern Europe is increasingly reminiscent of the late Roman Empire, which was attractive to the masses of people from around the then ancient world. People sought to achieve its civilization. First, as migrants, moving families and one by one. Then, as a community, moving whole tribes. Then there were conquests, but that's another story.