Russian Helicopters Association has delivered five military transport helicopters Mi-171Sh to Bangladesh, reports
MIC
with reference to the press service of the company.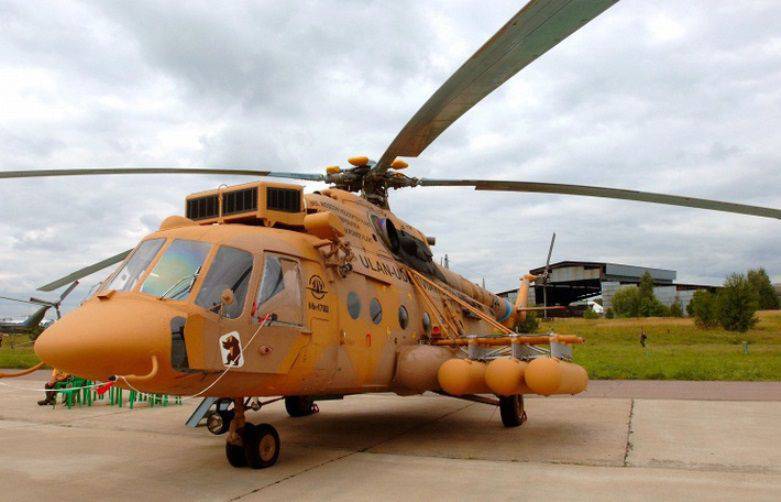 "The new Mi-171Sh, along with the traditional tasks of cargo transportation and border security, are planned to be used in the UN humanitarian missions and tasks in areas with difficult criminal situations," the release said.
The press service explained that "Bangladesh received Mi-171Sh helicopters as part of the state credit for the purchase of Russian military products." The contract is 2013.
"All the Mi-171Sh supplied are equipped with modern flight-navigation equipment, which allows you to safely fly at any time of the day and in all weather conditions," the message says.
"The geography of deliveries of various modifications of the Mi-171 type helicopters is expanding every year," said the general director of the holding, Alexander Mikheev. - Today, these helicopters are used in China, Ghana, Indonesia, Peru, Brazil, Kazakhstan and other countries. We can talk about the real prospects for further deliveries of the Mi-171Sh to Bangladesh. "
"The choice of partners is absolutely reasonable and clear," said Leonid Belykh, director of the Ulan-Ude Aviation Plant. - Mi-171Sh is ideally suited to perform tasks in the natural and climatic conditions of the Republic of Bangladesh. In addition, our car is distinguished by high reliability and ease of maintenance. The capabilities of the Mi-171 helicopters are constantly expanding due to ongoing modernization. "
Manufacturer Help:
"Mi-171Sh is a military transport helicopter developed on the basis of the Mi-171 (Mi-8АМТ) helicopter. Designed to combat armored ground, surface, fixed and mobile small-sized targets, to destroy enemy personnel, for the transport of military cargo, airborne troops, day and night, in simple and complex meteorological conditions, in different climatic zones. The helicopter can be equipped with the most modern complexes of small arms, rocket, cannon and bomb weapons, protection systems from destruction. It is also designed to transport paratroopers to 37, transport cargoes weighing up to 4 000 kg, transport injured people to 12 on stretchers, and perform search and rescue operations (including CSAR). "