Once again, the Verkhovna Rada of Ukraine made an attempt to circumvent the 90-s sample of the number of fights and obscene expressions to the State Duma of the Russian Federation. This time, within the walls of the IU meeting hall, a scuffle broke out at the moment when Prime Minister of Ukraine Arseniy Yatsenyuk appeared at the podium with a bouquet of flowers from "parliamentary fans". One of the deputies of the VRU broke through to the podium, on which Yatsenyuk climbed to make a fiery speech, and grabbed the prime minister for intimate places. The scuffle video, during which Yatsenyuk himself called the coupled deputies "moron", presented by the Ukrainian TV channel "112".
Meanwhile, in Kiev, another protest action against the policy of the Ukrainian Cabinet headed by Yatsenyuk is taking place. Protesters demand immediate resignation, which, in fact, is unlikely to happen, as Joseph Biden, who had recently arrived in Kiev, "blessed" Yatsenyuk to continue the "reforms leading Ukraine to a brighter future."
In the hands of the protesters carry posters on which from the censor to Yatsenyuk can only be called "Run, rabbit, run!", "Biden, take Senya!" And "Yatsenyuk - the second Yanukovych."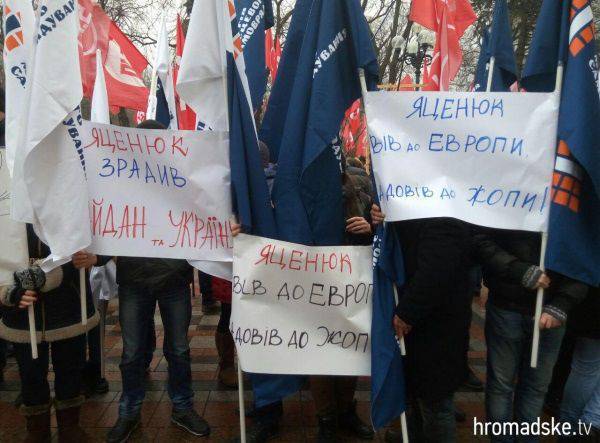 It should be noted that today in Ukraine the so-called term of government immunity is expiring, and the Rada is given the right to pass a vote on a vote of confidence.
Yatsenyuk himself, commenting on what is happening, said that he was not holding onto the premier's chair.
Портал
"Correspondent"
quotes Yatsenyuk statement:
You have all the constitutional powers to raise the question of the resignation of the Cabinet of Ministers of Ukraine - put and vote! I will take the decision of the Ukrainian parliament, I do not hold on to that chair.
Apparently, Yatsenyuk understands perfectly well that the Ukrainian parliament without a pointer from the American embassy does not itself take important state decisions.