According to a publication in the Ugandan newspaper The Independent, the UN is investigating the facts of Uganda's secret supply of military equipment to Uganda, including 4's Mi-24 helicopters purchased in Russia.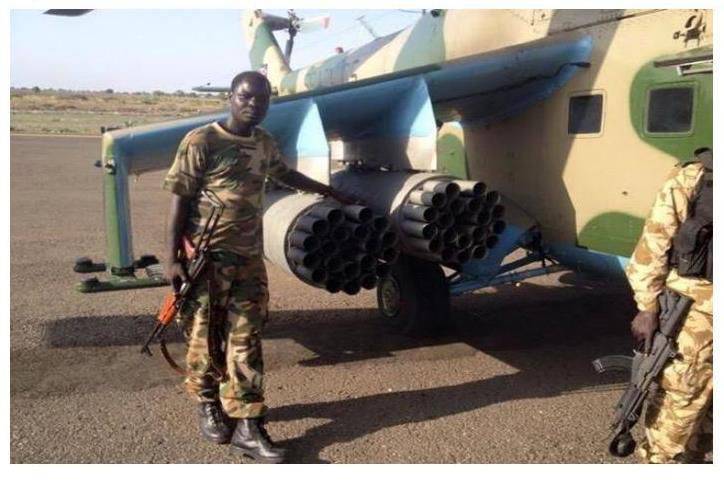 "The purchase of weapons was made by the Ugandan government as part of a loan of 170 million dollars received from a certain Russian bank. In February 2015, the Ugandan Finance Ministry received approval from the parliamentary committee on the economy and finance of the country in a Russian bank 170 million dollars (484,5 billion Ugandan shillings) for the purchase of secret military equipment from Rosoboronexport, "the article quotes blog
bmpd
.
Four Mi-24 helicopters (modifications of the Mi-24В and Mi-24К), which were among the purchased equipment, were spotted in South Sudan in August 2015 with NAO (People's Liberation Army of Sudan) markings on them.
"Earlier in the South Sudan helicopters MI-24 series was not", - says the publication.
According to the newspaper, "The Ministry of Defense of South Sudan, in March-April, 2015 transferred 40 million euros in two tranches through the Kampala branch of the Kenyan Commercial Bank of Africa (CBA), which is controlled by the current president of Kenya, Uruho Keniata. ".
Formal prohibition of supplies
weapons
in Sudan, but "under pressure from the UN, all parties to the South Sudanese conflict pledged to refrain from acquiring weapons", the newspaper writes, noting that "in recent years, the Organization has been actively pressing neighboring countries of South Sudan to reduce the amount of weapons entering the country ".