The Security Service of Ukraine today noted at once several reports about the detention and liquidation of the "terrorists". First, the message came about the destruction of the "sabotage group" in Kiev. Then in the reports of the Security Service of Ukraine there appeared information that 85 people were detained already in the village of Krasnogorovka near Donetsk, whom the counterintelligence of the Security Service of Ukraine considers involved in the activities of "terrorist organizations" (as the people's republics of Donbass are called in Kiev).
From the message
press service of the SBU
:
A special operation to prevent terrorist acts was carried out by counterintelligence of the Security Service of Ukraine in Krasnogorovka, Donetsk Region. The operation was carried out according to the principle "to each room", as a result of which 85 people, allegedly involved in the activities of the terrorist organization DNR / LC, were detained. More than 600 officers of the Security Service of Ukraine, employees of the National Police, soldiers of the National Guard and the Armed Forces of Ukraine took part in the special events. Urgent operational investigations continue.
Further, a sentimental video is offered for viewing about how representatives of the SBU detained a whole company of "agents and saboteurs":
As follows from the video, "agents and terrorists" walked around the city with battle grenades in their pockets and even tried (using secrets by signs) to incite a pack of mongrels against the "special forces" ...
It remains a mystery why the "terrorists and saboteurs" did not use their explosive arsenal against the valiant fighters of the SBU?
In order to consolidate the phenomenal information success, the SBU counted on the "prevention of the terrorist attack on the Luhansk region".
From the SBU message:
In the Luhansk region, the Security Service of Ukraine, jointly with the police and military personnel of the Armed Forces, warned of a terrorist act.
Near the village of Borovskoye, Severodonetsk district, during a test of the Borovskoe-Bobrovo road, which runs along the line of demarcation, law enforcement officers found a mine that was hidden under the support of the power line.
But on the part of the mines and landmines undermining power transmission towers, it would be better for esseushniki to turn to Dzhemilev and Islyamov ...
SBU:
The bomb (one kilogram in TNT equivalent) consisted of TNT sticks, a hand grenade and electric detonators with a remote-controlled fuse. According to experts, the power line support should provide a directional effect of the explosion, and the grenade - to further enhance the impressive force.

In the course of search actions, the "rookery" of the terrorists was discovered and two camouflaged tourist rugs were found that are not used in the security agencies of Ukraine. This type of camouflage is identical to that adopted in the Armed Forces of the Russian Federation.
This is an "evidence-based" photo: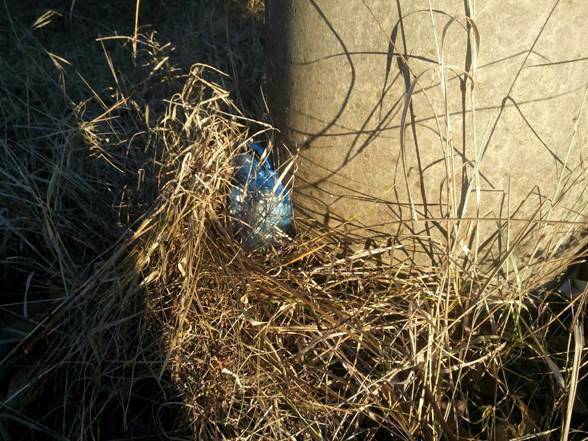 Found the "rookery of terrorists." And they didn't find terrorists "on grazing"? ..