He said, "I'll be back." In the presentation of the fantastic character performed by Schwazegger, it sounded promising. But we are not talking about the Terminator, but about Yanukovych. He also seriously excited the public with his statement on this topic.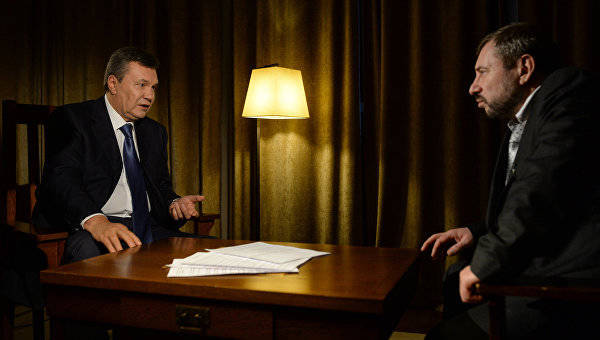 The statement of Ukrainian President Viktor Yanukovych, who fled in February 2014, about his return to politics plunged everyone into astonishment. Russians, residents of Ukraine, residents of Donbass. Everyone is trying to understand the quality and policy of Yanukovych. After all, the level of "love" for the former president is that those who are in Ukraine, that their opponents, are about the same.
Supporters of the Maidan, in fact, against Yanukovich and staged Maidan, and in the Donbass they will never forgive his betrayal, thanks to which the anti-Maidan forces could not consolidate even at a time when the Maidan could be nipped in the bud, which eventually resulted in .
In his interview, which was shown on Russian television channels, Yanukovych conducted many analogies between 2013 and 2015 over the years. Viktor Fedorovich compared the processes taking place in Ukraine. Naturally, in their favor. Here, as if there is absolutely nothing at all, there really is something to compare with. When Yanukovych was better.
However, if Viktor Fedorovich decided to play precisely this, then such hopes look, to put it mildly, utopian. Moreover, Yanukovych himself is to blame for this.
If, after his escape, Viktor Fyodorovich remembered that he came from the Donbass, if he had joined those who really decided to resist the regime that came to replace him, then one could hope for something.
As in the first weeks in the Donbass, they hoped that their countryman and the legitimately elected president would come to the Donbass to rally all the forces that could resist the junta.
However, Yanukovych at first Donbas preferred Rostov first, and then Moscow. Where it was quiet and peaceful. And all his activity was limited to a couple of vague statements in the media.
By the way, I remember how people waited for his words in the Donbas and how they spat later.
And for the past time, political and military leaders have grown in the Donbas. Whether it is good or bad is another question. But they grew up there. And Yanukovych is still here in Russia. In the rank of "no one can call." Even the Salvation Committee of Ukraine, headed by former Prime Minister Mykola Azarov, is more respected and attentive than the former president.
In his statement, Yanukovych mentions that he allegedly provides all possible assistance to those people who are persecuted in Ukraine and those who managed to leave. These are words about nothing. Nobody had ever heard of the Yanukovych Foundation, which would carry out such activities, nor of the people who Viktor Fedorovich would help out of the dungeons of the Security Service of Ukraine, nor of the humanitarian convoys to the Donbass, formed at his expense.
A means rather big, according to rumors. On a modest house on Rublevka enough. Well, yes, this is not Victor Fedorovich, this is his son bought it. Businessman and entrepreneur. However, Viktor Fedorovich, we also did not forget the video with loading boxes into helicopters from surveillance cameras in your former residence. And still weakly believe that there were documents of national importance. Something like this.
It is difficult to say that (or who) pushed Yanukovych to this speech, but today we can only say with confidence that VF Yanukovych - 100% political corpse. Both in Ukraine and in the Donbas. Yes, and in Russia too, although we have something to him?
In order for "I come back" to take place, it is no longer a resuscitation team, but an experienced necromancer. No one else can help Viktor Fedorovich. But nowadays necromancy is a slippery business.
So iron Terminator from Yanukovych did not work even then, in the burning Kiev. It will not work now, despite the fact that times have changed a lot. And to rely on the fact that, "having been stung" by the new authorities, the Ukrainian and Donbass peoples will rush into the arms of their former president, they are certainly not worth it.
Honestly, Viktor Fedorovich, why all this? Had stayed in Moscow in hot times, and keep up the good work. Memoirs can be written, the grandchildren engage again. Why do you need this policy? Moreover, it is not clear where and it is not clear with whom. And forget about necromancy, this is not a good thing.