In the Turkish edition there was a material in which it is told that the Russian troops "surround Turkey". It is noteworthy that the Turkish media
www.hurriyetdailynews.com
while trying to refer to the materials ... of the Russian Ministry of Defense. In particular, information is provided on the deployment of an additional batch of attack and transport-combat helicopters at the Erebuni airbase in Armenia.
In addition, Turkish journalists in paints describe to their readers how the considerable naval forces of the Russian Navy are concentrated near the southern sea borders of Turkey (the Ministry of Defense of the Russian Federation speaks of the sea borders of Syria)
fleet
including a missile cruiser and a submarine with Caliber cruise missiles on board.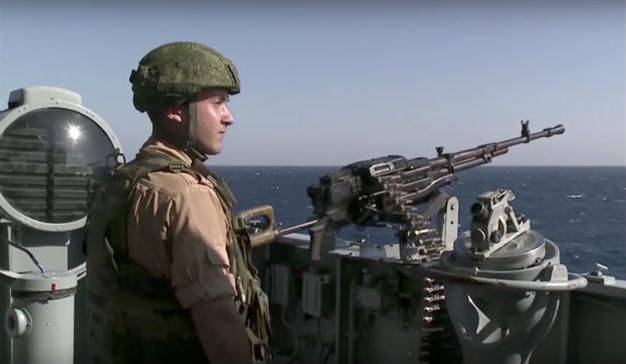 It is interesting that even the Khmeimim airbase in Syria is turks exposed as one of the "encirclements" of Turkey. Despite the fact that both Khmeimim and the same grouping of ships of the Russian Navy are used in the fight against the DAISh militants, Turkey sees this as a danger to itself. And this once again proves a certain kind of connection between the militants, whose pseudo-leader (Abubakr al-Baghdadi) is called the second man of the year along with Angela Merkel, and the Turkish elites. According to the logic of the Turkish media, Russia's strikes on Daesh are strikes on Turkey too? ..