Potential Republican presidential candidate Donald Trump called for a ban on Muslims from entering the United States. Some Western analysts have drawn a parallel between Trump's anti-Islamic sentiments and nationalist aspirations characteristic of some of the public in France and Hungary. Trump shares are shared by the majority of US citizens: YouGov's poll showed that 55% of Americans speak unfavorably about Islam. According to another poll whose results were summed up by Rasmussen Reports, 92% of American voters view Islamist terrorism as a serious threat.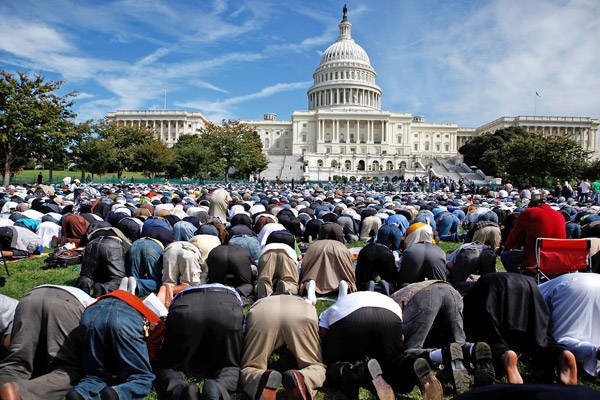 Recall the potential US presidential candidate from the Republican Party, Donald Trump, called for a ban on Muslims from entering the US.
Such a statement was related to the recent shooting in San Bernardino, California, which resulted in the death of an 14 man, indicates
"BBC"
.
The billionaire believes that Muslims hate America. They can put the nation in jeopardy.
According to Trump, the border should be closed until the authorities "understand what is happening."
The White House's reaction to Trump's shocking statement is already known. The Obama administration called Trump's words contradictory to national interests.
Observer Dan Bilefsky in
"New York Times"
collected reviews from around the world about the billionaire speech.
Basically D. Trump's statements were condemned.
The Arabs expressed concern about Donald Trump's anti-Muslim statements. For example, Hafez al-Mirazi of the American University of Cairo said that such statements can be expected only from some "Kukluksklanites or the like" figures.
Egypt's highest religious authority condemned Trump's statement and accused him of racism.
Rashid Tlemkani, a political scientist from the University of Algiers, believes that D. Trump, with his speeches, is able to push young people into joining the IG.
In Europe, Trump also has some fans.
Director of the Center for European Reform (London) Charles Grant said that for many Europeans Trump is an unacceptable figure, because his populism will soon slip towards fascism. Grant also believes that Trump is ignorant: according to the expert, the billionaire "demonstrates complete ignorance of the world."
French Prime Minister M. Waltz wrote in his microblog on Twitter that Trump "incites hatred."
However, there were an expressive billionaire and supporters.
Some analysts from France have noticed that D. Trump reflects the very nationalist sentiment that is characteristic in the EU for both France and Hungary.
Fans of "anti-Muslim" were found in China.
According to Dan Bilefsky, Trump's statements about Muslims on the Chinese social network Weibo have collected hundreds of approving comments. Many Chinese have their own fears of Uighur Muslims. Some of the latter are quite aggressive and violent. Professor of International Relations Shen Dingli (Shanghai) notes that many Chinese "understand Trump better than anyone."
How strong are anti-Muslim sentiments among Americans, the survey "YouGov" revealed. About him told Mona Chalabi in a British newspaper
«The Guardian»
.
Donald Trump's calls to ban Muslims from entering the US may seem outrageous. However, many Americans have an unfavorable opinion about Islam, the publication indicates.
According to a survey conducted by YouGov, 55% of Americans surveyed have an "unfavorable" opinion about Islam. Islamophobic attitudes are mostly common among Americans 45 years and older. Dislike for Muslims is primarily characteristic of Republicans and white people.
The article notes that Trump acted "clever", focusing his rhetoric on the issue of security. For example, if you take the British, then they, according to surveys, identify the word "Muslim" with the words "terror", "terrorism" and "terrorist". It is also curious that in the US, many who disapprove of the activities of black President Obama consider him to be a "secret Muslim". As of September 2015, 29% of Americans (among them 43% of Republicans) still believe that Obama is Muslim (data from a poll conducted by CNN and Opinion Research Corporation).
So the YouGov poll was also based on bias. Respondents were asked: "Do you have personal contacts or do you work together with those people who practice Islam?" And 74% of respondents said no. They were also asked if they had any friends among the Muslims. 68% said no. 87% never been to the mosque. Thus, the majority of survey participants are not familiar with Islam or with Muslims.
In November, 2015, D. Trump supported the idea of ​​creating a database to spy on Muslims in the United States. And here's the political result for his election campaign: his rating jumped almost 3 percentage points.
And another survey conducted
"Rasmussen Reports"
. His theme: "Can Americans for the sake of Security waive some of their rights?"
Americans very seriously value their rights, however, watching with alarm the growing threat of terrorism, they are ready to give up some of these rights in exchange for their security.
92% (!) Likely American voters consider Islamic terrorism a serious threat to the United States. Of these, 73% called it "a very serious threat." Moreover, these people believe that the United States whether the food is safer than before the 9 / 11 attacks. Almost half (49%) of voters believe that the federal government does not pay enough attention to the potential threat of Islamic terrorism inside the country.
Therefore, it is hardly surprising, according to sociologists, that the majority of Americans believe that restricting the use of the Internet due to "criminal intent" is more important than the assumption of "complete freedom" on the Internet. 57% of voters believe that it is much more important to protect the country from a possible terrorist attack than to protect the privacy of most Americans.
One of the three voters is convinced that control over "individual Muslims in this country" is a good idea.
Rasmussen Reports recalls that the survey was conducted prior to a mass execution in San Bernardino, California.
* * *
I must say a few words about what experts, observers, and sociologists have missed.
Islamist terrorists who arrange bloody slaughter and despise the interests of other people are doing a disservice to peaceful Muslims, who have no idea to defend the "faith" with a gun in their hands or explosives in their belts. As a result of the terrorist attacks in Paris and the killings in San Bernardino, anti-Islamic sentiments in the West only intensified. And some politicians who make a career play this skillfully.
Anti-Muslim slogans became famous not only for Trump. The French National Front Party, headed by Marine Le Pen, won the best results in the elections.
stories
. The Front now has a majority in six of the country's thirteen regions. After the second round, the game can win in four more regions. Recall that in October 2015, Marine Le Pen appeared before the court of Lyon for her words: earlier she compared the crowds of Muslims praying in the streets with the occupation of Paris by the Nazis.
Observed and commented on Oleg Chuvakin
- especially for topwar.ru