The TASS news agency has published information citing official sources in the Russian Ministry of Defense that confirms earlier information that the Varyag guards missile cruiser will head for the Syrian coast. At the moment, the flagship of the Pacific
fleet
The Russian Federation performs tasks in the framework of joint Russian-Indian exercises in the Indian Ocean.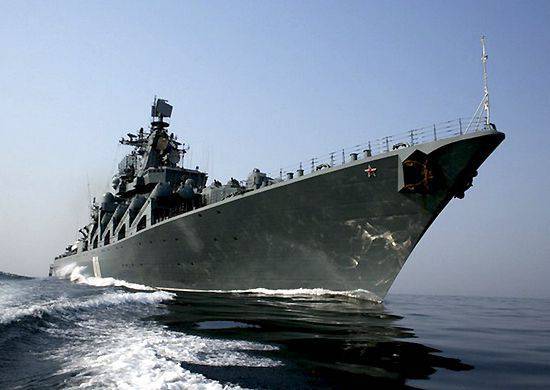 Source
TASS
reports that the Varyag Guards missile cruiser should change another Guards missile cruiser of the Russian Navy - Moscow, which performs the tasks of covering the Hmeymim base in Syria from the sea.
It is known that the Russian-Indian exercise ends on December 12. We are talking about their naval stage. Earlier, the land phase of the maneuvers was completed, during which the military personnel of the two countries coordinated their actions to eliminate conditional terrorist groups.
For reference: GRP Varyag has a displacement of 11490 tons, its crew is 480 people, cruising range is 7,5 thousand nautical miles, autonomy is 30 days. Rocket armament of the cruiser: 16 PUU SCRK P-1000 Vulcan, 64 pu ZRK S-300F Reef, 2 × 2 LAW Osa-MA, artillery and anti-aircraft artillery armament: 1-xNNNXXXNNXXXNNXX XNNXX XNNXX 2: AK-130, mine and torpedo armament: torpedo 6-mm vehicles.