Russian Defense Minister Sergei Shoigu reported to Supreme Commander-in-Chief Vladimir Putin on the progress of the counter-terrorist operation in Syria. The head of the defense department spoke about the progress in using front-line bomber and assault
aviation
, which strikes at the positions of terrorists under the guise of Su-30 fighters, rising from the Khmeimim airfield. In addition, Sergei Shoigu reported on the use of long-range aircraft in Russia and the first strike with Caliber missiles, launched from the Rostov-on-Don submarine, which was in an underwater position.
Sergey Shoigu (
quote is published on the website of the Ministry of Defense of the Russian Federation
):
For the first time they used the Caliber cruise missiles from the submarine Rostov-on-Don from the Mediterranean. Rocket salvo was made from a submerged position. The targets on which the strike was struck are destroyed.
The Minister of Defense presented to Vladimir Putin a parametric flight recorder shot down by Turkish Air Force fighter jets in the skies over Syria of the Russian bomber Su-24M. The "black box" was discovered on the eve of northern Syria. The head of the defense department said that the strikes on the territory over which the Russian plane was shot down continued.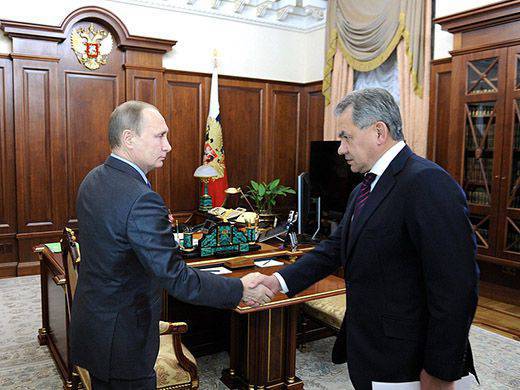 Sergey Shoigu:
We actively worked on the territory where militants are based who shot our pilot, I cannot find another word. As a result of this work, these territories were freed by special operations and special forces of the Syrian army to search for the crew, and the Syrian military, surveying the territory, discovered the place where our plane had crashed. The bandits energetically left this territory and did not manage to take anything off the downed aircraft.
The President proposed not to open the parametric recorder Su-24М before the arrival of foreign specialists for the joint work.
Vladimir Putin:
I ask you not to open it yet, and only open it together with foreign experts, fix everything thoroughly. That is, we will be able to understand where he was and where this treacherous blow was inflicted on him by the Turkish Air Force.
I would like to hope that these specialists will not be representatives of the Dutch "special investigative team", who even a year and a half was not enough to determine the real causes of the collapse of the MH-17 ...
The Supreme Commander thanked the servicemen for rescuing one of the crewmen of the downed Su-24М (navigator Su-24 captain Konstantin Murakhtin) and for finding the onboard parametric recorder:
Of course, we must thank our military from the special forces, from the crew's search and rescue team, and the Syrian military for getting this recorder, which will certainly help to figure out what happened.