What we need and what we don't
Russia needs a large army, including the conscription-oriented, war-oriented in the traditional sense. You can not repeat the mistakes of the West, even if they seem to someone advanced experience.
The idea that the classic army versus army is a thing of the past has become almost a commonplace in recent years. It is almost an axiom to say that there will never be a large-scale
tank
battles ". At the same time, the proof is essentially one: there have been no such battles for a long time. To put it mildly, unconvincing.
In fact, the situation is just the opposite: the classical war has not just not gone away anywhere, its significance only increases. As the experience of recent years shows, high-tech and network-centric warfare is the next stage in the development of the classic war. Its form is even more often taken even by oatmeal. As for the newfangled concept of hybrid warfare, it is clearly false. Hybrid war is synonymous with war in general, nothing more. This is described in detail in the article "High-Precision Shooting".
Numerous shots from Iraq and Yemen confirmed what we all guessed, but were afraid to say out loud: "Abrams" and "Bradley" burn and explode from an ATGM hit no worse than T-72 and BMP-2. At the same time, all the current wars in Ukraine, the Middle East and Africa have confirmed that, no matter how well the armor burned (regardless of where it was made), it is absolutely impossible to do without it. She does not even have any purely theoretical substitutes. What, too, could guess. During the Second World War, over one hundred thousand tanks were destroyed, but one conclusion was made from this fact: tanks need as much as possible and as good as possible. Since then, nothing has changed in this regard.

The thunder of fire, sparkling with the brilliance of steel
Recent military conflicts have shown: it's time to get rid of fetishization
aviation
, which became another common place after Desert Storm and Yugoslavia-99. The months-long operations of the air forces of the European NATO countries in Libya did not produce essentially anything, although several thousand high-precision munitions were spent, and the enemy had no air defense at all. Gaddafi managed to overthrow only with the help of a special operation. In civil wars in Ukraine and Syria, government troops have a monopoly on the use of aircraft, but this did not help them. Both formally had more than 500 combat aircraft and helicopters, but still Soviet-made, extremely worn out and vulnerable to ground air defense. Therefore, the Ukrainian Air Force dried up after four months of the war, although the Syrian still fly, their influence on what is happening is very limited. And even the Russian aviation has not yet provided a radical turning point, it only saved Assad from an imminent collapse. More modern aircraft of the NATO-Arab coalition, allegedly fighting against the "Islamic Caliphate," also did not ensure victory over this terrorist entity (however, they most likely did not intend to). Numerous and very modern American-made aircraft of the "Arabian coalition" (the United States itself F-15 and F-16 are much older than those of Saudi Arabia and the UAE) killed several thousand civilians in Yemen, but still have not defeated the Howsites (although the war has been going on for eight months already) and their own ground forces did not save from very serious losses in people and equipment. Of course, it does not follow from all of this that aviation is useless. It's just that wars are not won by her alone. They are won, as before, on earth.
In connection with all this, we need to forget forever the once very popular thesis that the Russian army should be "small, professional, focused on combating international terrorism under the guise of a nuclear umbrella." Fortunately, we did not have time to set foot on this suicidal path and become like Europe, which voluntarily deprived itself of military force, having decided that there would never be a major war. In fact, the Russian army, as always, should be large, conscription (or rather, mixed) and focused on the classical war, and in all azimuths. A nuclear umbrella, of course, is absolutely necessary, and at the same time it is no guarantee against anything (but this is a separate topic). The anti-guerrilla and anti-terrorist war must be waged on its own territory by internal troops (otherwise it is not clear why they exist at all). The Armed Forces must also be able to carry out such operations (especially the Airborne Forces, special forces and front-line aviation), but this is by no means their main task.
Fortunately, Russia did not have time to get sick with "aviation fetishism", so there is no need to cure it. The ground forces remain the basis of our usual forces. They should have a lot of tanks and infantry fighting vehicles on tank chassis. That is, it is necessary to develop the Armata family, sacrificing Kurgan and Boomerang for it, which are not necessary, has already been mentioned (Armatam on sanctions). Artillery, including reactive, remained the god of war, which was confirmed by the events in Ukraine, so it should also be a lot. Aviation provides ground operations, rather than replacing them. One can only rejoice at the fact that she gets the most valuable combat experience in Syria, where she does it.
As for high technology and network-centricity, here Russia has the "advantage of backwardness", that is, it has the ability to take into account other people's mistakes. In particular, to realize: quality in no case does not cancel or replace quantities, and ammunition should not be comparable in price to the target. The main thing is that we do not need high-tech and network-centricity to turn a war into a computer game and "beating up babies", that is, many times weaker opponents, but for a war with our own kind - armies also large, high-tech and network-centric. It is for such extremely difficult and cruel wars that personnel must be trained. At the same time, it is necessary to maximally develop and improve those classes of weapons in which we are the strongest and which will give us a very large asymmetric advantage in a high-tech war — ground defense and EW facilities (and in the Navy, submarine fleet). In general, it is very important not to copy any of the main potential opponents, but to be asymmetrical in relation to them, developing already existing advantages.

There is such a profession
In connection with all this, it is impossible not to touch upon the eternal question of manning the Armed Forces with private and junior command personnel. There are four options here: recruits, contract soldiers, mercenaries, volunteers. In the overwhelming majority of cases, regular air force recruits and recruits are recruited by recruits and contract servicemen, private security companies are recruited by mercenaries, and irregular formations leading to pastors are volunteers.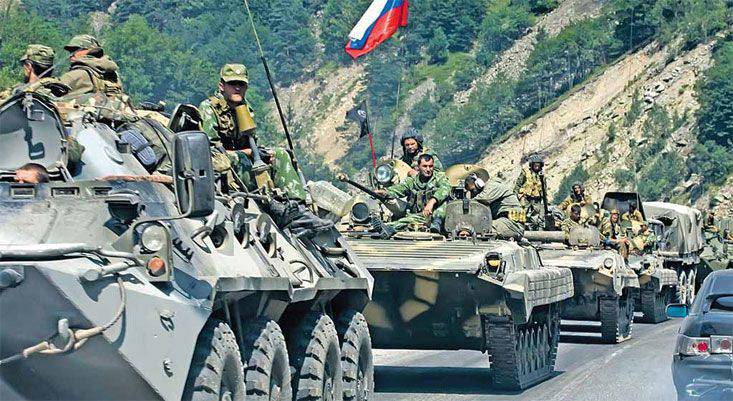 The level of combat training in the first place of these categories are, of course, mercenaries ("wild geese", "dogs of war"). They are the true professionals of military affairs. As for the other three categories, it is impossible to rank them by level of combat training, it all depends on the specific cases and conditions. In terms of motivation in the first place, of course, volunteers who go not only to serve, but to fight, and for the idea. The motivation of the mercenaries is also very high, but they fight solely for money, that is, you can simply outbid them, which is dangerous. The level of motivation of conscripts should also be high, they give a debt to the Motherland (although not always their self-perception is such). At the last place is obviously contract soldiers who come to serve for money. It is to serve, to get the money, but not to fight, at the risk of dying (why then money?). Mercenaries are consciously taking the risk of death because of a specific psychological device, for contract soldiers it is completely different: they are not going to die. Higher will be the motivation of the contractor, who previously served on conscription. Of course, one should not forget that only with the help of the recruiting system can a significant mobilization reserve be created in the country in case of a major war, especially when it comes to external aggression.
Frames from Yemen, demonstrating the defeat of Saudi columns by Housits, even cause some bewilderment: did the Saudis learn to fight at all? Needless to say, the Saudi army is "professional," that is, completely contractual. We have before us yet another confirmation that such armed forces have neither motivation nor training, and always lose in battle, unless they have overwhelming numerical strength and, most importantly, technological superiority over the enemy, like the US military. However, the Saudis and their allies in the "Arabian coalition" also have absolute numerical and technological superiority over the Hosts. But it does not help, because the Saudis are "professionals". Volunteers who are not very good with equipment are fighting against them, but they are excellent with motivation. On the other hand, the conscript Syrian army, which has now become de facto volunteer-recruiting, demonstrates simply phenomenal resistance in a terrible civil war.
If a country is at war or considers the probability of war to be high, then it can only have a draft army. It is obvious. Having canceled the call for purely populist considerations (even under Yanukovych), Ukraine returned to him immediately after the civil war broke out in the country. The call in Ukraine is not very successful, which is due, to put it mildly, to the difficult psychological state of society, but partly offset by the presence of volunteers. As a result, the combat capability of the Ukrainian army turned out to be much higher than could be expected, on the basis of the disastrous state to which the four previous presidents of the country brought it. Lithuania has restored the call, considering a high likelihood of an attack by Russia. In this case, it does not matter how right the Lithuanians are in assessing the likelihood of aggression, talking about the fact that if a country prepares to actually fight, the army should be a conscription. Moreover, such an army is truly popular and it is natural for democratic societies. Today we have two examples of referenda on the principle of manning the Armed Forces. They were held in 2013 in Austria and Switzerland, which are certainly not threatened by external aggression. Nevertheless, in both cases, the population voted to retain the draft. And in Norway, out of the general European trends, the same 2013 introduced an appeal even for women.
Due to the noticeable improvement in the internal situation in the Armed Forces of the Russian Federation, we have talked about the need to create a "professional army", which, fortunately, has almost stopped recently. It became finally clear: the army must be mixed. In this case, it is necessary to finally come to the conclusion that only those who served a full year on an appeal, and then passed a rigorous selection, can become a contractor.
It is also necessary to deliberately seek understanding: the military profession is fundamentally different from all others in that it implies the obligation to die by order of the Motherland. Each potential contractor must be extremely clear about the fact that it is for this readiness that the Motherland undertakes to pay him enough good money. Therefore, the contractor can not choose his duty station in the country or abroad and has no right to refuse to participate in hostilities. Failure to comply with the order should lead at least to immediate dismissal from the Armed Forces under a defamatory article without any payment and without the right to a new contract, as a maximum - to a military tribunal.
The latest military conflicts have once again confirmed that the "professionalization" of the army is more or less equivalent to its elimination. Such an army becomes a kind of simulacrum, which will not withstand a collision with any serious opponent.
The principle of manning the armed forces is still of very high importance because the psychological factor in the war remains the most important. For the same reason: only the military profession implies the obligation to die.
Accordingly, if citizens of a certain country are absolutely not ready to die for any idea, that is, the armed forces and society as a whole are not ready for any serious losses, then there is practically no army. Because it is impossible to apply even for defense.
Due to a significant increase in the standard of living, a decline in the birth rate and domination of the ideology of hedonism, postmodernism, tolerance and political correctness in society, it was such a disaster that happened to almost all European countries. If during the Cold War they were forced to engage in serious military construction, after it ended, the Europeans convinced themselves that there would be no more conflicts, only the "fight against terrorism" and peacekeeping and police operations in the underdeveloped countries remain. Therefore, there was a total transition from conscription armies to contractual ones, the strongest reduction of armaments and equipment intended for waging classical war, as well as military expenditures in favor of social ones. With a general reduction in military budgets, there was a significant increase in the cost of maintaining personnel, because even in peacetime, people are ready to serve only for very large sums of money, and in the military - for huge, but at the same time so that they should not be killed in any way. In addition, modern equipment and precision-guided munitions have become very expensive, so Europe is able to acquire them in microscopic quantities and is not at all ready to lose. The fact that half a century ago was considered an expendable material, now has become literally worth its weight in gold. As a result, Europe has now ceased to be a real military force. The reorientation from the classical war to the "fight against terrorism" has led to the fact that European armies can neither wage a classical war nor fight terrorism. Once again, we are seeing this now, when France (a nuclear power!) Is simply unable to fight alone against the "caliphate", while the rest of the EU member states categorically refuse to help it.
The United States has enormous military potential, and the psychological readiness of society for war is higher there. Nevertheless, albeit with a noticeable lag, America is moving along the European path described above. In particular, the Pentagon has already officially announced that the United States will no longer conduct any ground wars, even limited ones such as the Iraqi or the Afghan. Is that a special operation. The combat capability of the armed forces of Turkey is quite large (since this is not a European country), but Ankara is playing a very complex geopolitical game, recalling its membership in NATO only when it is convenient for it.

Victims of worship
For all these reasons, the "strongest military bloc in the world" has become a purely virtual quantity. Its total potential is formally very large, although it continues to steadily decline, but it is useless - the alliance is ready to apply it only if it is not intended to imply resistance and losses. Moreover, the point of no return is clearly passed - after all, it is impossible to break down the existing psychological attitudes in Western societies and no one is going to do that. On the contrary, the aforementioned postmodernism, tolerance and political correctness in today's West have become the same "only correct doctrine" that Marxism-Leninism was considered in the USSR.
All this was perfectly confirmed by the Ukrainian crisis. Anti-Russian hysteria in the West has become primarily a reflection of panic. NATO was very seriously afraid of Russian aggression, realizing that they were unable to repel it. However, no real efforts were made to change the situation. Both in 2014 and in 2015, NATO continued its general cuts in armaments and military spending. Not a single new military program has been adopted, not a single new military unit has been formed. "Measures to protect Eastern Europe" with the transfer to the region of several infantry battalions or even companies on a rotational basis (so that the "warriors" do not overstrain in the "front-line zone", that is, in Riga and Warsaw taverns) are frankly grotesque.
Russia on paper is much weaker than NATO, but in fact stronger than the alliance. Our qualitative and quantitative lag in armaments and equipment is by no means as great as is commonly believed, but superiority is on our side in some components. Especially considering the fact that in the last three or four years, Russia has been producing more technology than all NATO (including the United States). The main thing is that the Armed Forces of the Russian Federation can be really applied, and on very significant scales and in wars of any type. Society and the army itself is quite psychologically ready for this. That is, Russia has a power tool at its disposal, NATO does not.
As a result, as events in the Caucasus, Ukraine, and Syria showed, if someone (even "unrecognized") chose Russia as its ally, then he is guaranteed real help and protection in a critical situation. If a country or an opposition group chose NATO as its ally, then it is guaranteed to be severely beaten by Russia, with the complete absence of help from "the most powerful alliance in
stories
».
The author is not engaged in propaganda, he only states the obvious facts. Continuing in the world, including in the post-Soviet space, the cult of NATO is more and more like a religious one. Precisely because it directly contradicts the obvious facts. However, this cult has very experienced priests. Not only in Washington and Brussels (their motivation is obvious), but also in Moscow (our leadership really needs an external enemy as a scarecrow for the population). But it should be noted: continuing to talk endlessly about NATO military might, our country is thus increasingly harming itself. As the same examples of Georgia, Ukraine, and Syria show, not only ordinary people, but also people in authority, often think in myths and cliches, not facts. Inflating the NATO myth, Moscow itself is pushing toward NATO some countries that, if they were looking into the truth, could become our allies.
In recent years, Russia has suddenly and abruptly switched to a new geopolitical quality, since it is ready to use power tools, unlike the weakened "hegemon." At the same time, there is no need to flatter yourself - the transition to a new quality is primarily due not to our successes, but to the gross mistakes of the West. The big danger is that our traditional undisturbed "Western Centrism" can lead to the repetition of their mistakes, which we will take by inertia as the "best practices of civilized countries." You can't sacrifice quantity for the sake of quality and most importantly a normal army for the sake of a "compact professional". We must not forget that the most expensive army for the country is the one on which they save. And in general, you can't invent your next "only right doctrine" contrary to common sense.