Today
British Times newspaper
It comes out with material that will seem like a sensation to the western man in the west, but not for the Russian, or even for the Ukrainian. The publication says that the Prosecutor General's Office of Ukraine is considering a case on the alleged participation of Prime Minister Arseniy Yatsenyuk in a multi-level corruption scheme, which leads to a loss of budget funds amounting to about 90 million dollars a year.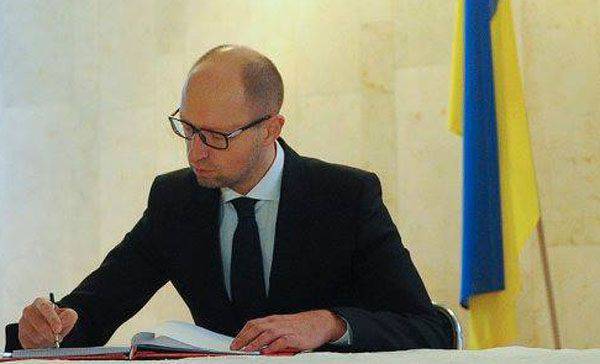 It is noteworthy that the chief prosecutor of the Odessa region (he is the deputy prosecutor general of Ukraine) David Sakvarelidze, who is close to the Odessa governor Saakashvili, told Yatsenyuk about the possible involvement of Yatsenyuk in the corruption scheme.
Sakvarelidze declares that it is a scheme that leads to the theft of the profits of the Odessa port plant. According to the Deputy Prosecutor General of Ukraine, there are certain facts that it is Yatsenyuk who is an active participant in the implementation of the corruption scheme.
Apparently, the confrontation between Saakashvili and Yatsenyuk has once again manifested itself. The first one is clearly dreaming of the post of the Ukrainian prime minister, and now he has decided to involve the leading Western media in disseminating information about Yatsenyuk, a corrupt official. Earlier, Saakashvili said that Ukrainian corruption eats about 5 billions of dollars in funds that could be in the budget.
In the office of Arseniy Yatsenyuk, they are trying to refute the information provided by Sakvarelidze, stating that it "has nothing to do with reality".
In the Times, they write that if Yatsenyuk were "pure and efficient as a prime minister," his political rating would hardly be 2%