On December 2, from St. Petersburg to Kronstadt for carrying out factory running tests, the new base minesweeper "Alexander Obukhov" was transferred in tow, the blog reports
bmpd
.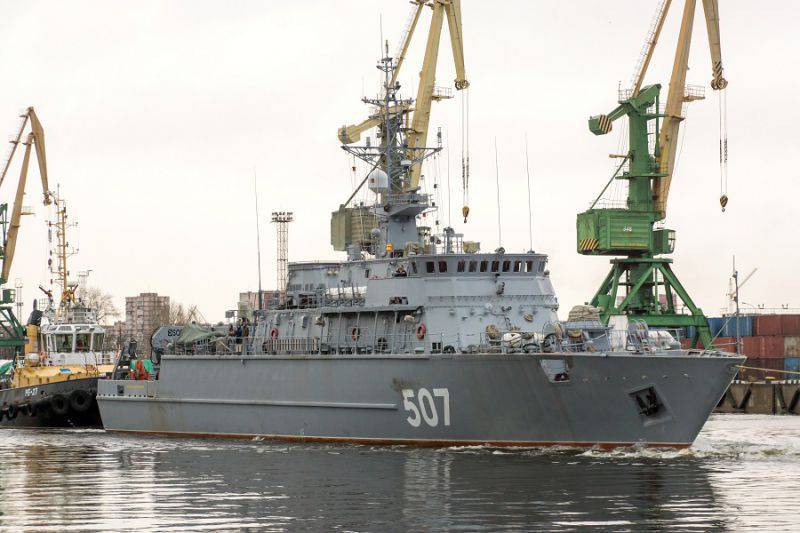 The head base minesweeper "Alexander Obukhov" of the 12700 project is transferred from St. Petersburg to Kronstadt to undergo factory road trials
The Alexander Obukhov was built at the Sredne-Nevsky Shipbuilding Plant (St. Petersburg) and is the lead ship of the 12700 project.
The project was developed at the Almaz Central Metallurgical Bureau. The official ship laying (building number 521) took place in September 2011.
"The minesweeper (the total displacement of about 800 tons) has the world's largest ship hull made of monolithic fiberglass, formed by vacuum infusion. The hull formation in the matrix was completed in December 2012 of the year, the hull was removed from the extension to the open site on 26 in March on 2014, and launched on 27 in June on 2014. The mooring trials of the ship were launched on February 1 of the year 2015, "the blogger reports.
The contract for its construction was signed in 2007 and renegotiated in 2014. In total, the enterprise must build 4 such ships (three of them are serial with construction No. 522-524). Planned dates for the transfer of minesweepers
the fleet
- from 2016 to 2018