Another terrorist act occurred in Sinai (Egypt). TV channel
Sky News Arabia
reports that the explosion thundered near the hospital. Militants blew up an armored vehicle, killing at least four Egyptian soldiers. Four more were injured of varying severity.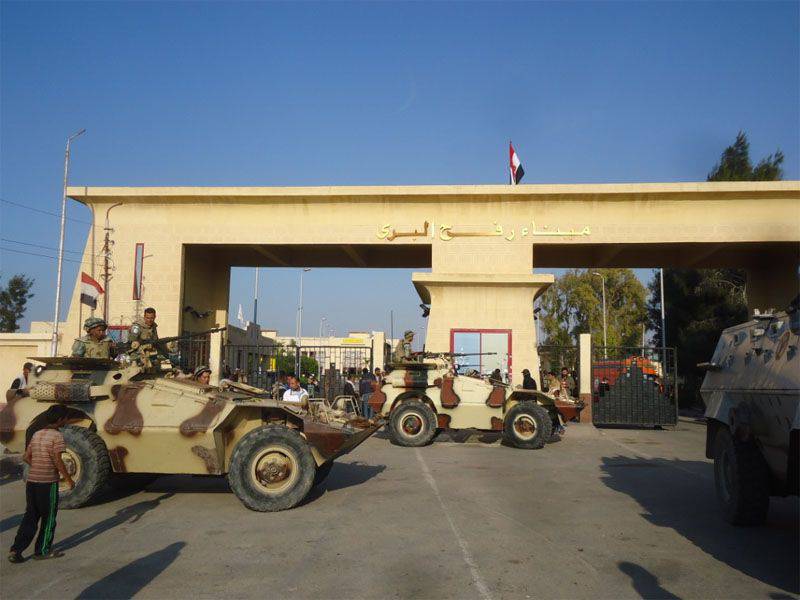 The terrorist act, which is exactly how the Arabian-language media write about the incident, occurred near the border of Egypt and Gaza Strip - in the area of ​​the Egyptian settlement of Rafah. According to some information, the militants of the so-called "Vilayata Sinai" may be involved in the undermining of an armored car. They carry out attacks and attack the Egyptian police and military in the northern part of the peninsula.
For a long time, the Egyptian authorities have kept the border crossing at Rafah closed. On Saturday, the checkpoint was completely closed. On the eve of the authorities of Gaza called on the official Cairo to open the border crossing. During a press conference in the Gaza Strip, the Minister of Information for Autonomy stated:
We call on the Egyptian authorities to fulfill the promises that were previously made in respect of citizens leaving Gaza.
Official Cairo appeals Gaza disregarded. Earlier, the Egyptian authorities stated that to fully open the checkpoint in Rafah, full coordination with the authorities of the Gaza Strip is needed, but there is no such coordination yet. Gazans decided to storm the border crossing - up to several hundred Palestinians attacked the checkpoint and broke into Egyptian territory.
After some time, an explosion thundered in Rafah. Whether local members of the DAISH cell were involved in it, or was it the work of the "guests", the Egyptian investigation finds out, which has recently been forced to intensify work in the north of Sinai.