To Russian
aviation
Erebuni base in Armenia received a batch of Russian helicopters. We are talking about seven rotorcraft - transport Mi-8MT and strike Mi-24P. Helicopters were delivered to the Transcaucasian airbase from the Krasnodar Territory, and now the composition of the Erebuni airbase has seriously increased.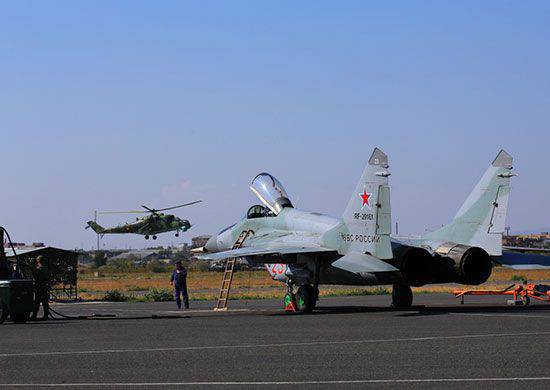 This year, the Russian airbase in Erebuni celebrates its 20 anniversary. It was created in 1995 year. Russian fighters appeared at the 1998 air base. In 2001, the 3624 airbase was officially formed, which became one of the important components of the Russian military base stationed in the Armenian Gyumri. The personnel is in combat duty in the format of a unified air defense system of the CIS and CSTO.
Press office
The Southern Military District reports that by the end of this year another helicopter batch will be delivered to Armenia. Helicopters are deployed in specially designated areas of the airfield, where MiG-29 fighters are already based. The report says that in the near future flight crews will begin scheduled flights.