The head of the Ministry of Internal Affairs of Ukraine, Arsen Avakov, in his "Facebook" reported on the upcoming entry into service of the National Guard and the police units of the CORD "Warta" ("Guard") armored vehicles with enhanced mine protection. This is reported by the blog.
bmpd
.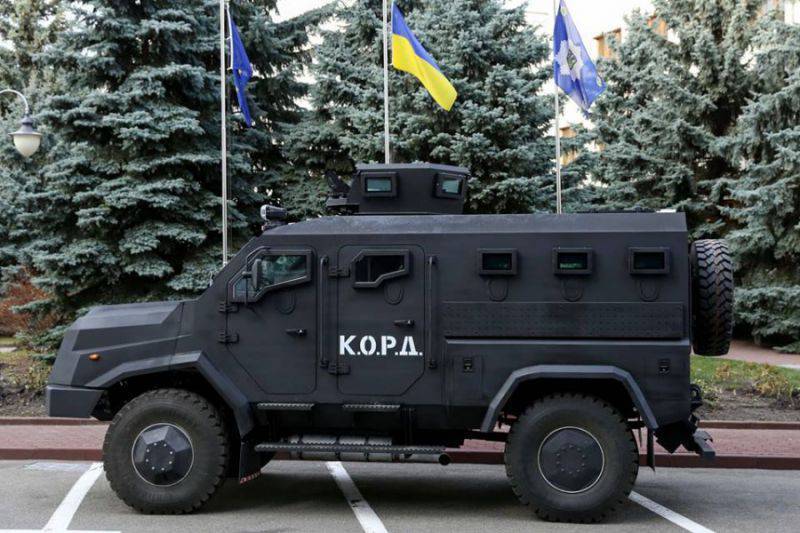 "Before the New Year, we will get the first 10 armored vehicles. Manufacturer "Ukrainian armored vehicles" with the participation of Belarusian engineers, taking into account the requirements and technical specifications of the military officers of the ATO. After field trials, the decision will be taken on the purchase of a larger batch of armored vehicles, "writes Avakov.
"By" Ukrainian armored vehicles ", it is probably meant the concern" Armored vehicles of Ukraine "based in Kharkov. This association was created in 1999, however, with the transfer of the main specialized Kharkov enterprises from its composition (KMDB, Malyshev Plant, etc.) at the end of 2006, the Ukroboronprom group of companies, Armored Machinery of Ukraine, dragged more than half-virtual existence, nominally including only a number of small enterprises, "the blogger comments on the message.
"In view of this, the true origin of the Varta armored vehicle design is unclear, and, apparently, this was not originally a Ukrainian design," he notes. - According to a number of Ukrainian sources, the car was developed with the participation of Belarusian developers and using the units of MAZ cars. The engine is also delicately denoted as "MAZ specification" (which, as you can guess, means JAMZ produced by the Yaroslavl engine plant Avtodiesel). "
Now that Avakov himself writes about the car:
"Today, the guys from the Kulchitsky Battalion, Azov, Donbas, and other units of the National Guard after the state awards ceremony at the Ministry, threw out a crowd and surrounded the car. They praised, asked, tried to take the Smiley "smile" with them. Were glad that we would soon get in the part of such beauties!

The main advantages of the armored vehicle of the WARTA project, noted by our officers and engineers who have experience of military operations:

1. A more powerful and maintainable engine was used (270 hp and 1128 N * M in comparison with 176 hp of the Kozak armored car engine), in the future it is planned to install a modern Cummins engine with 300 hp;

2. In the armored car "Varta" not only the V-shaped bottom was used (like other domestic armored cars), but the V-shaped geometry of the armored capsule itself. This protection allows you to withstand the undermining of a charge with a power of 6 kg in TNT, and also allows you to replace it in the event of damage to the bottom, without replacing the armored capsule;

3. Swedish steel with 560 hardness is used for booking, unlike other domestic armored vehicles that use steel with 500 hardness. This made it possible, without reducing armor resistance, to reduce the weight of the vehicle capsule by 11%, as a result, the payload increased. The armor protects the crew and landing force from an 7,62 * 39 mm armor-piercing cartridge;

4. The armored car is equipped with modern anti-mine seats for the crew and landing with a shock-absorbing effect. Similar seats are used by such world leading manufacturers of military equipment as BMC, FNSS, Otockar, etc .;

5. To improve speed and off-road performance, not only reinforced springs (as on the Kozak armored car) were installed, but also reinforced shock absorbers;

6. For the first time in Ukraine, in conjunction with a domestic manufacturer of bulletproof glass, a modern exterior method of installing bulletproof glass on a combat armored vehicle of this class is used, which makes it possible to produce quick disassembly and assembly if the bulletproof glass is damaged and increases the strength of the frame on which the bulletproof glass is mounted;

7. Installed reinforced dust / waterproof winch. The power of the winch is 9979 kg complete with a synthetic cable 27,5, with which it is possible to work without gloves, the cable itself does not break off in cold weather from the cold, besides the synthetic cable is lighter than the metal one by 85%;

8. Due to the change in the gear ratio of the main pairs (from 6,49 to 5,49), the dynamic performance has significantly improved when driving both on the highway and on rough terrain. The maximum speed on the highway is 120 km / h;

9. Added the ability to centrally swap wheels from the driver's cab. The control unit pumping wheels allows you to choose different operating conditions (highway, dirt road, sand, swamp, etc.);

10. To improve off-road qualities, Continental tires are installed on the Varta armored car; in the future, it is planned to launch a mass production of domestic production in cooperation with the Belocerkovsky tire factory;

11. Walls and roofs are designed for installation on the roof of a crown tower or machine-gun installation with a total weight up to 500-550 kg. It is possible to install a combat module with a 7,62 mm, 12,7 mm machine gun, and a BP-1 turret, similar to the turret, which is mounted on BTR-70 / 80 and BRDM-2 and armed with mm 14,5 and 7,62 mm machine guns, which makes this machine a serious machine support infantry and defense block posts, and also unifies the installation under any permissible type of combat module.

12. Due to the fact that the most repeated weak point in domestic-made armored vehicles is the armored door locks that do not withstand daily operation, handles and locks from the global manufacturer TriMark, which can withstand the daily use of a weight up to 500 kg, were installed on the Warta armored car. "