Only once did Dasha Horny be scared the same way as now, when a bull ran after her with a funny nickname Roby. A healthy bull, stubborn, menacing, everyone was timid before it. The children were afraid of him like fire, and even adults tried to avoid it. On that distant day, the malicious Robya noticed Dasha in the meadow when she was walking home. He set up sharp horns that looked like a huge grip, and, threatening menacingly, moved behind the girl ... Fortunately, the shepherd did not sleep. He noticed an impending disaster in time, shouted at Roby, snapped the whip and calmed the obstinate. But at least that day everything ended well, since then Dasha was afraid to come close to the cows and bulls.
... And now she is much worse than then. She and her mother and grandmother leave home and it is not known for how long. Adults call this the sonorous and incomprehensible word "evacuation", and children with someone's filing - "blind nettle". Nettle - because you do not know how and when fate will burn you on another side. And the blind - because you do not know where you are going for a long time and where your father's house will be from now on ...
The road they walked on was not deserted. People who had not managed or did not fit in special cars were evacuated from Yelets and the surrounding villages. And those who are just afraid to wait for these cars, losing precious time. People walked on foot, like Dasha and her family, or rode in old carts. And everyone was talking about one thing: the Germans were coming. They cursed the Germans, talked about how they are brutal, capturing our villages, ruining and killing us. And because the word "fit" sounded worse.
The wind hit in the face, whistled. And suddenly the bees loudly boomed. Dasha raised her head: in the sky, far, far away, three black swarm flew. They then approached, as if talking to each other, then diverged again. Bees - now, in the last days of the autumn 1941 of the year? ..
- Airplanes! Germans! - shouted mother.
The panic began. People scattered randomly along the road, hid behind carts, pressed into the snow. They are not yet accustomed to bombing and did not know how to behave. And Dasha also lay down, and her mother covered her with herself. But the girl still managed to see that the three black swarm are three planes.
There was a rumble, a whistle, a huge black pillar soared upward nearby. "A fascist swarm stung our land," thought the girl in awe. Someone shouted, again something loudly began to whistle ... And suddenly, amid this desperate turmoil and screams, Dasha heard a loud mournful moo. It was not at all what the girl was accustomed to. The cow seemed to be trying to say something.
Dasha freed her head - an unknown cow rushed along the road from somewhere unknown. Probably, she strayed from the common herd, when he was hijacked, and then, hearing people, went to them. The animal was very scared, it rushed from one pillar to another, fell once, but rose again. And she mooed, she mooed so wildly and heart-rendingly that it immediately became clear to the young villager: it was not only fear. Dasha looked at the udder, rather out of habit, rather than by guesswork ... And she understood: yes, you need to milk a cow! It seemed insane, completely unreal - here, in the cold, hungry, but with milk. And she is torn between people in trouble and asks them for help.
Dasha pushed her mother away, jumped to her feet and rushed forward across the field. She no longer remembered how she had previously feared the terrible bull, Roby, and she was not afraid of the black bees that curled threateningly in the gloomy sky.
- Stop !! It is impossible !! - shouted mom.
But the girl did not stop. She stumbled to the rescue of the cow.
- Honey, honey! she called a frightened cow. - Come here, rather!
But, of course, the cow did not go - she simply could not make out the assistant in the girl. Dasha ran to the cows. Her hands trembled, her heart pounded. Previously, the girl herself, without help, never had to milk the cow. But she had seen Mom many times, and several times they milked the cow together. "You need to gently but firmly press," Dasha remembered and set to work. She didn't have a bucket or a bowl with herself - who knew what she would have to milk under the bombing? Hands at first did not obey - it required strength. But after a while it went. Precious milk dripped right onto the dry land. The cow stood quietly, only shuddered when a new explosion was heard. She tolerated the inept hands of a girl and even seemed grateful.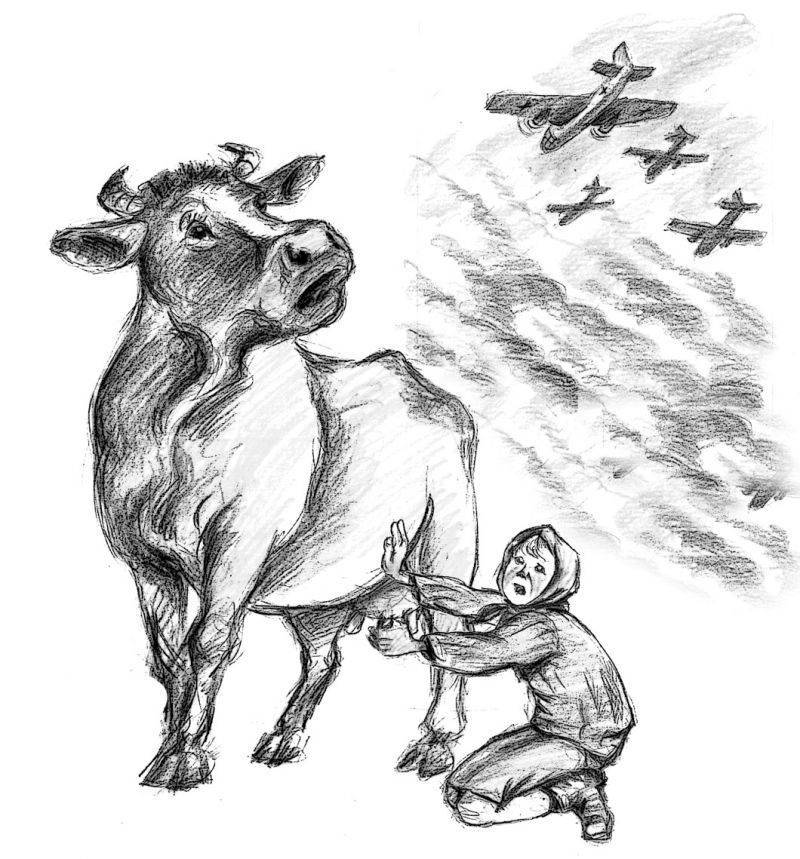 Soon my mother arrived and began to help Dasha. And then they all together (not to throw the cow!) Hurried to the road, where people still lay trying to escape from the bombing. The cow no longer moaned, although the evil black bees were still flying over the field — now they simply frightened them and stopped bombing. She knew that from now on not one ...
... The Rogovs family survived the evacuation in one of the villages of the Lipetsk region, the front line did not reach here. And then they returned home, to the outskirts of Yelets. Returned along with the cow, who lived in this family until the end of his days.
Dasha grew up and became Darya Mikhailovna Kalintseva. For many years she worked as a milkmaid at the Znamya Oktyabrya state farm in the Yeletsky District.
Picture by Viktor Nelyubov