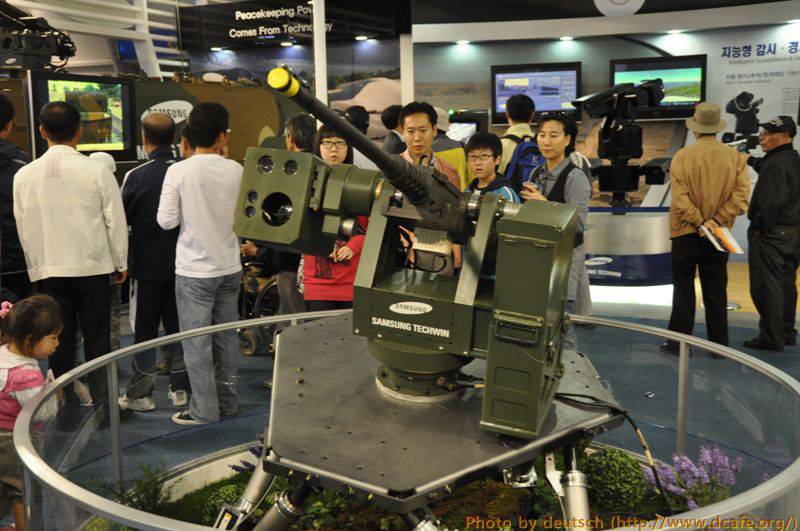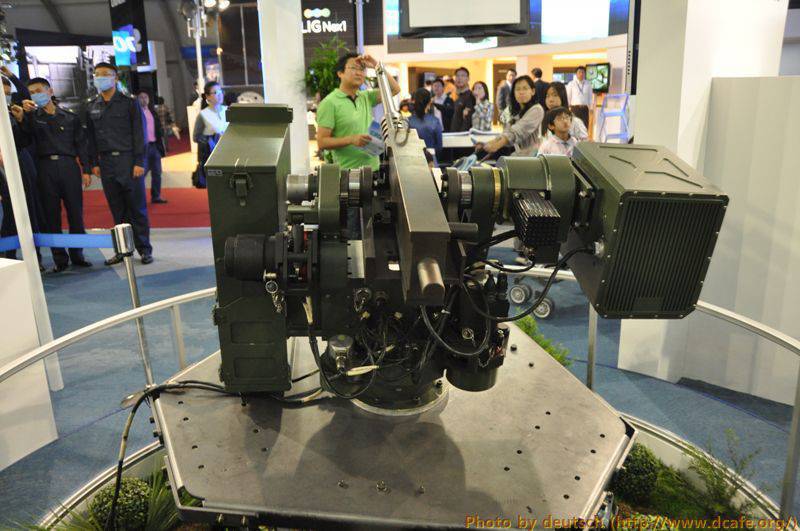 Remotely controlled combat module with 12,7-mm machine gun M2, created by Samsung Techwin
Samsung Techwin, a South Korean company, has developed a medium-weight, remotely controlled combat module (SDM) that can accept 7,62-mm and 12,7-mm machine guns and 40-mm rocket launchers and uses Samsung's extensive experience in optical-electronic technologies and servo drives. The system is designed primarily for the South Korean army, but is also available for overseas markets. Samsung Techwin offers its system for installation on vehicles, on sea and river vessels and on stationary guard posts.
OUBM from Samsung Techwin consists of a light turret with weaponry, a remote display and a control panel.
The turret is mounted on the car's roof on the trunnion and rotates by means of an electric motor installed vertically in the right part of the module. This allows the module to rotate continuously on all 360 °. The turret assembly provides the inclination of the armament installed in the center of the base. An electric drive mounted horizontally on the left side of the module allows you to raise and lower armament in the range from –20 ° to + 60 °. The maximum transfer speed is 60 ° / s and the maximum vertical movement speed is 75 ° / s. Slow speeds of horizontal and vertical pickup are less than 0,15 mrad / s.
The system can take weapons of various types, in particular 7,62-mm machine guns, 12,7-mm machine guns and 40-mm rocket launchers. Ammunition is supplied from standard boxes mounted on the left side of the combat module. Store capacity 200 7,62-mm cartridges, 100 12,7-mm cartridges or 32 40-mm grenades. As an option, Samsung Techwin offers two anti-tank missile launchers mounted at the top of the combat module.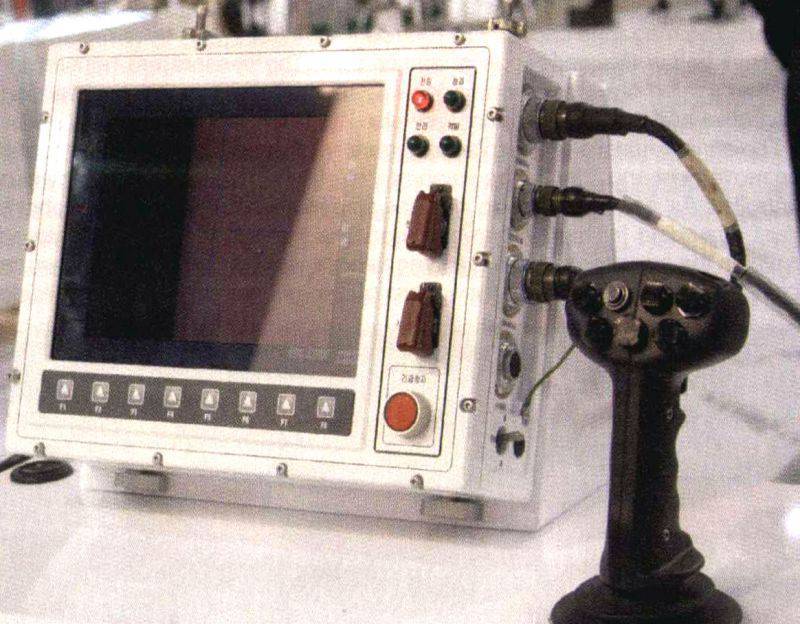 Samsung Techwin DUBM Control Panel
On the right side of the module there is a touch container. It includes a daytime CCD camera with a detection range of 10 km, a thermal imaging camera with a detection range of 5,4 km, and a laser rangefinder safe for eyes with a range of 5 km. Images from these sensors are displayed on a remote 12,1-inch LCD display. The shooter has one or two hand joysticks next to the monitor. The firing of weapons is carried out remotely using an integrated fire control system, if necessary, the fire can be conducted in manual mode. The fire control system can be integrated with a remote radar to improve surveillance capabilities. The fire control system also has self-diagnostic software.
The combat module is ready for production when orders are placed on it.
TECH SPECSArmament:
7,62-mm medium machine guns, 12,7-mm heavy machine guns and 40-mm automatic grenade launchers
Ammunition:
200 ammo for 7,62 mm; 100 ammo for 12,7 mm; 32 grenades 40 mm
Angle of rotation:
nx 360 °
Vertical guidance angles:
From -20 to 60 °
Maximum transfer speed:
60 ° / s
Maximum speed in elevation:
75 ° / s
Minimum Reverse / Vertical Speed:
0,006 ° / s
Touch Kit:
Day CCD camera, uncooled thermal imager, laser rangefinder with a range of 5 km
Resistance to mechanical and electromagnetic effects:
conforms to MIL-STD-810 and MIL-STD-461 standards
Materials used:
www.samsungtechwin.com
www.wikipedia.org
military1047.rssing.com