The well-known group of hackers CyberBerkut publishes material, which says about the sale by Ukraine of Soviet air bombs in a state like Qatar. Representatives
CyberBerkut
report that the Ukrainian company SpetsTekhnoExport (part of Ukroboronprom) contacts the Polish Level 11 to implement certain types of
weapons
and ammunition to foreign "partners". One of these partners, according to the publication, was Qatar, who, despite the security of this state, suddenly became interested in the Soviet-style bombs.
Through the offshore structure "Blessway Ltd" in Cyprus, Ukraine leads the delivery of Soviet air bombs to the customer, which is the Qatar Ministry of Defense. The CyberBerkut asks a reasonable question: why did Qatar need Soviet aerial bombs if it has Western-made airplanes, including French multi-role fighters. Moreover, Qatar acquires this kind of ammunition (old OFAB) at the price of 700 dollars apiece, which is higher than the market value.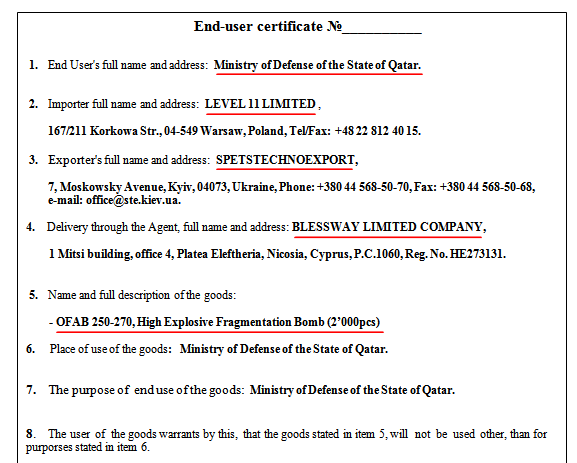 Fragment of publication on CyberBerkut site:
It is worth noting that the high-explosive fragmentation bomb is not at all necessary to be dropped from the aircraft - it can be undermined on the ground, if there is such a need. This means that the option that these munitions can surprisingly end up in Syria and explode in some lively place in order to accuse Russia of bombing the civilian population cannot be ruled out.

In any case, non-transparent deliveries of Ukrainian weapons through front companies and offshore to Middle Eastern countries, taking into account the current difficult situation in the world, are extremely untimely and short-sighted. But as they say, to whom is war, and to whom is my mother.
At the same time, representatives of the CyberBerkut say that the Soviet-made deliveries of Soviet-made air bombs by the Ukrainian company became known from the correspondence of the head of the above-mentioned Polish company "Level 11" with Ukrainian partners.