A photo appeared on the Facebook page of the notorious professional Crimean Tatar Lenur Islyamov 5 December, in which, as he himself reports, representatives of the ultranationalist grouping of Turkey "Gray Wolves" joined the blockade of Crimea. From the message Islyamova:
Turkish Patriots from the organization Bozkurtkar (in fact, the name sounds like Bozkurtlar - note "IN"), Turk ulkuculeri in the people, simply - Gray wolves, visited us on the Blockade. The blockade ring is compressed.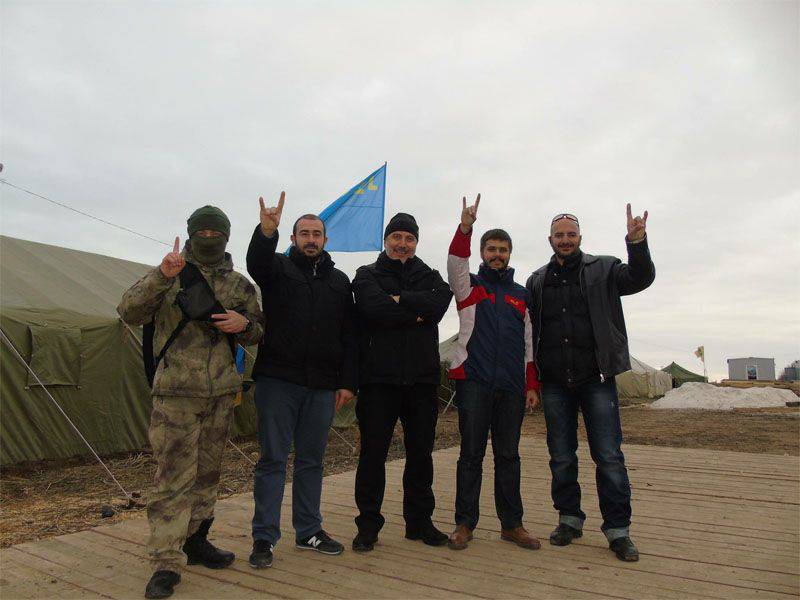 Interestingly, in Ukraine itself, the interests of which Mr. Islyamov seems to represent, the number of comments on social networks is growing, calling the actions of this person a blatant provocation or idiocy. A number of users of the Ukrainian segment of Facebook write that only a frank provocateur or an idiot could guess to undermine power transmission towers, so that later the first thread of the energy bridge to the Crimea was launched by Russian President Vladimir Putin, and after that even the Turkish fascists could take pictures of themselves.
For reference: the Gray Wolves organization (Bozkurt) is the right-wing organization of Turkey, professing the ideas of fascism and so-called Pan-Turkism. On account of the "Gray Wolves" a huge number of terrorist acts committed not only in Turkey, but also in Italy, France and other countries. A member of the group Ali Agj in his time made an attempt on the life of Pope John Paul II.