Information Agency
Bloomberg
reports that Turkish Prime Minister Ahmet Davutoglu announced Turkey's desire to strengthen "interaction with Iraq for anti-terrorism purposes." At the same time, the Turkish Prime Minister added that "Turkey does not intend to cast doubt on the sovereignty of Iraq and the territorial integrity of the country."
Earlier, the Turkish authorities said they were going to send an additional contingent of military personnel of the Turkish Armed Forces to the Iraqi city of Bashik in the province of Ninawa. On the eve, Davutoglu said that "Turkey no longer intends to send its military to Bashik. At the same time, the head of the Turkish Cabinet added that "Turkey had previously informed the Iraqi authorities about the assistance that official Ankara is going to provide to the Iraqi military" in the form of training and instruction in combating terrorists DAISH (ISIL).
Meanwhile, the Turkish authorities expressed, as reported by the BBC, "indignation at the fact that a Russian soldier was" seen with a grenade launcher "on board the landing ship" Caesar Kunikov "en route through the Bosporus and the Dardanelles. Turkish Foreign Minister Cavusoglu called this a "provocation":
If a soldier on a Russian military ship parades a grenade launcher or something else, like air defense missiles, then this is pure provocation.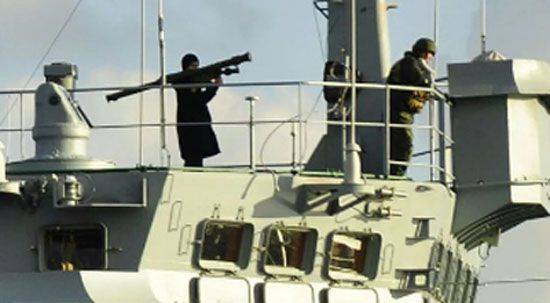 The first who drew attention to the man with MANPADS in his hands, was the representative of the German edition of "Bild". In Turkey, after the publication of the pictures, they said that the Russian military "are threatening the civil air fleet with their provocative actions."
It is strange that neither Bild journalists nor the Turkish authorities express outrage and fear that terrorists stroll through the streets in Turkey, who are not only cured in Turkish clinics, but also arming, equipping and preparing for new terrorist actions. But the protection of the Russian ship caused a strange reaction.