The coast guard in many countries is considered a reserve of the armed forces, mainly
fleet
. Japan is no exception. Its Coast Guard owns more than a hundred ships (including many large ones, more than three thousand tons of displacement) and a comparable number of aircraft. In articles on military subjects, this structure, as a rule, is not mentioned, since it refers not to the Ministry of Defense or even to power ministries in general, but to the Ministry of Land, Infrastructure, Transport and Tourism, which is quite harmless at first glance.
Especially noteworthy are the two ships of the class "Shikishima" (the name inherited from the battleships of the Russo-Japanese War), which are essentially "spare destroyers." The Shikishima standard displacement is 6500 T, the full displacement is 9300 T. The length is 150 meters. Crew - 140 man. The destroyer has a wide helipad and two (!) Hangars for the Eurocopter AS332 helicopter. For comparison, the largest destroyers URO of the Self-Defense Forces of Japan "Agato" and "Congo" have only one hangar.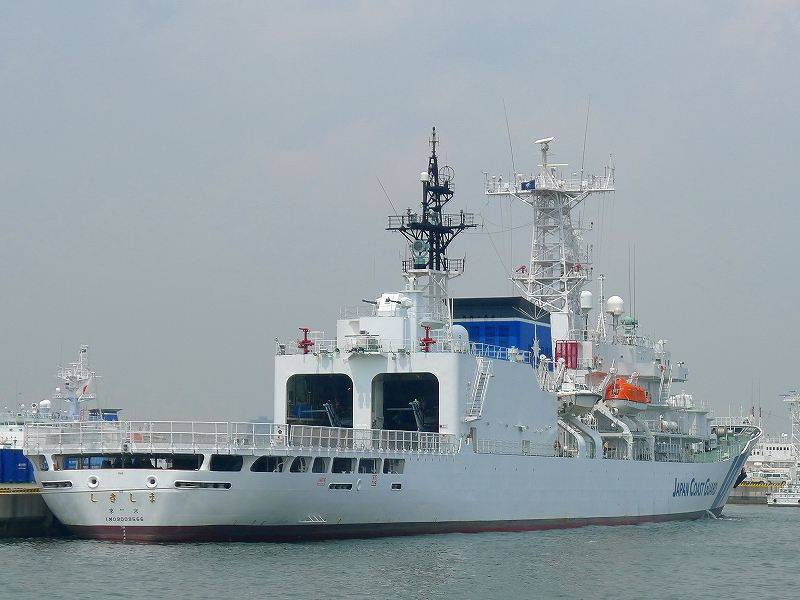 Armed with two robotic 35-mm guns Oerlikon GDF-005, two rapid-fire guns M61 Vulcan, as well as two 40-mm anti-aircraft guns Bofors L60. There are places for the installation of cells with anti-ship and anti-aircraft missiles.
Huge autonomy allows "Shikishime" to make the transition from Japan to Europe without refueling. This quality is actively used to patrol the islands of Senkaku, Okinorishishima Atoll, and the Strait of Malacca.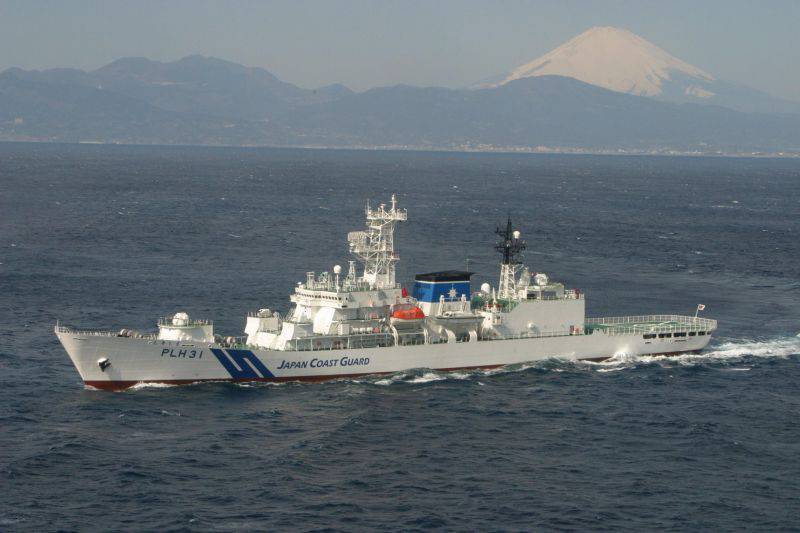 It is noteworthy that if the head "destroyer" "Shikishima" was built in the period from 1990 to 1992 years, the second ship, "Akitsushima", was completed quite recently, in 2013 year.
Until recently, these ships were considered the largest ships of the coast guard in the world, while in 2015 the shipyards of China did not reveal their achievement: the new patrol ship of the People's Republic of China will reach a displacement in 10 000 t. There is a naval race in China only in Japan , but in the number of patrol ships.
Another "spare destroyer" can be called two ships of the Mizuho class, with a displacement of five and a half thousand tons each. Armament roughly corresponds to "Shikishime", the hangars can also accommodate two helicopters. Without additional refueling, everyone is able to overcome 8500 nautical miles or 15 700 km. The order for these ships came after the Iran-Iraq war, when the Japanese realized for the first time that they might have to carry out rescue missions in remote regions of the world.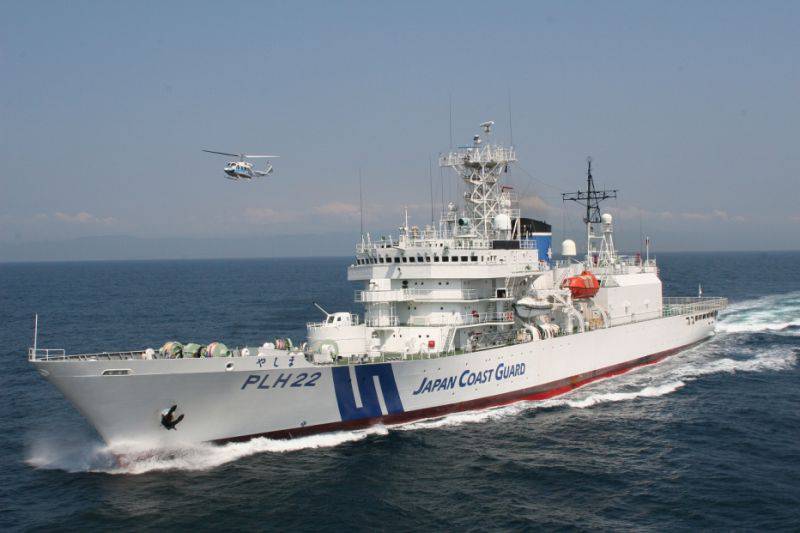 In the future, the Coast Guard will be strengthened with decommissioned ships of the Self-Defense Forces. In particular, for these purposes it is planned to use destroyers of the Hatsuyuk class, from which the Harpoon anti-ship missiles will be removed, as required by law.