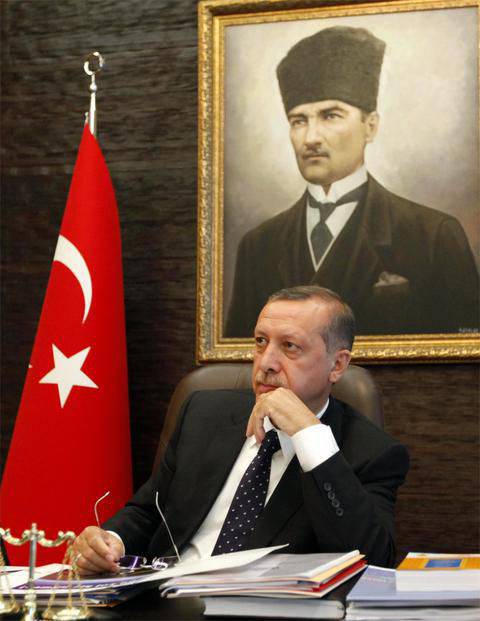 Today I would like to discuss this wonderful Turkish politician - Recep Erdogan. Everyone is well aware of this bright, dynamic, nervous president. The very expression of his face as if says: "Now I will take care of you and you will not like it." Someone, and Erdogan is difficult to blame for the lack of charisma and will. A sort of Nietzschean "man on a horse." Politicians are often accused of duplicity, verbosity, indecision, inconsistency, even cowardice! Anyone, but not Recep Erdogan. This is a man who is not afraid of anyone: neither America, nor Russia, nor Israel, nor the Arabs. Brave man. And most importantly: he is not afraid to talk about it openly, which is perhaps a curiosity for politicians.
To appreciate the courage of this man and the janissary, it is enough to estimate the level of turretlessness and adventurism shown by him at the start of the "Syrian campaign". Consider: Turkey has at that time gigantic problems with the Kurds (by the way, a very militant people, not Ukrainians at all) in Turkey itself and even greater problems with them in Iraqi Kurdistan. Once again, Kurds are on the order of 40 millions, of which in Turkey are on the order of 15 millions. In Iraq, the order of 6 millions. People fighting, hot, energetic. Feel what smells? The largest nation in the world, not having its own statehood. And as already noted, the Kurds are not Ukrainians at all -
weapon
able to hold in their hands. This is not to offend the inhabitants of Lviv, just an interesting fact. Imagine 40 for millions of people deprived of statehood, but ready to fight for it with their teeth. Kurds are fighting even women. And much better than the "cyborg." A terrible thing, I myself would be scared.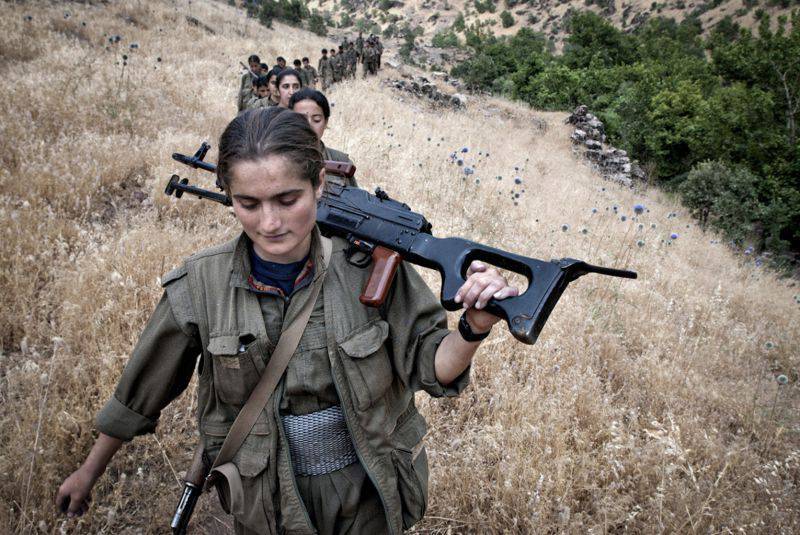 So, the whole of Turkey and Recep our Erdogan had a problem. And a huge problem, almost unsolvable problem. Malignant political hemorrhoids (incorrectly surgically, but it sounds!). You know, in order to better understand one or another politician and his decisions, it's best to mentally move to the very country where he comes from. Just imagine that you are "playing for Turkey", imagine that the Kurdish problem is your problem. Feel this moment. I hope it became clearer? Kurds are not Turks and Kurds are hungry for "independence". So, what is interesting: "all progressive humanity" recognizes the right of the Ukrainian people to self-determination. Nobody wants to recognize the same right of the Kurdish people.
That is, there are no "general principles", "universal values" and "international law". Or rather, almost none. A trader in the market, when you are weighed, also experiences "remnants of remorse of remnants of conscience". But this article is not about the principles of Adam Sita in the activities of small traders of vegetables and fruits. This article is about the achievements of Recep Tayyip Erdogan in the political field of the struggle for the unity of the nation. So, you can look at the Kurdish problem from two opposite directions. First: there are Syria, Turkey, Iraq and Iran - independent, sovereign states with generally recognized borders. And they, too, respect each other, support and keep the Kurdish problem "within themselves". Lepot From the selfish point of view, any prime minister of Turkey is an ideal option. There is a second option: kings and cabbage, or rather oil and dictators. This option implies: invasion, overthrow, ferment ... And the uprising of the broad masses of the working Kurdish population, oppressed by the Turkish bourgeoisie (practically Ulyanov).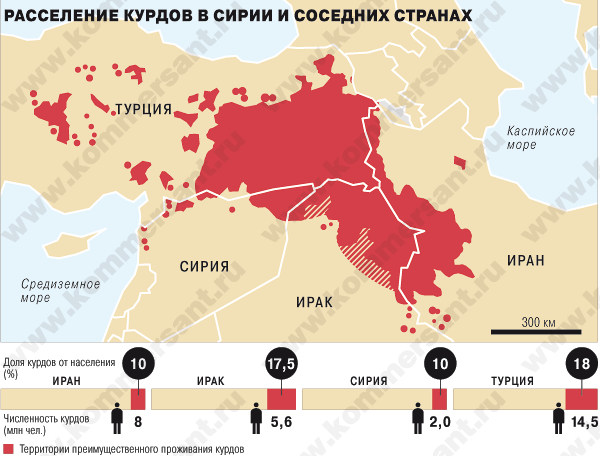 What option would you choose in the place of the Turkish political elite? Naturally, there is no choice for the Turkish patriot (this is not irony), nor can there be. You need to be friends with Saddam, and you need to be friends with Khomeini, and you need to be friends with Assad. Against the Kurds, of course. If you, of course, want to preserve the territorial integrity of the state. As we know, the Turkish political elites agreed to Erdogan's rise to power just before the invasion of Iraq and the overthrow of Hussein. After that, a power vacuum arose in Iraq, and Iraqi Kurdistan became free. De facto free. Bad Saddam brutally suppressed free Kurds, even poisoned with German gas. Good Americans hang bad Saddam by the neck. And began the "poems". Now few people remember that Saddam's Iraq was quite a secular, civilized state. Even your satellite launched. And Iraq moved towards even greater secularism, civilization and technical progress.
Most importantly, Iraq under Saddam is a very strong and fully centralized state. No Al Qaeda and no "free Kurds." But Turkey did not prevent the overthrow of the "dictator". Moreover, it actively contributed to the defeat of Iraq, the result was not long in coming: the last ten years (that is, under Erdogan!), The Turkish army has been actively fighting Iraqi Kurds. Smart people, explain what is the benefit for the Turkish state? And most importantly: the action and its result is not separated in time. You can't say: "But who could have known!" The implications for Turkey were obvious from the very beginning of the adventure in Iraq. And, nevertheless, the decision was made. Yes, Turkey did not allow a second front to be opened, but this is rather a tactical consideration, a demonstration of independence from the United States and "offenses" for the lack of gratitude for the help in the first anti-Iraq campaign.
As a result, the Kurds got a piece of independence, enough to start their "big game". But Erdogan found few of these problems. Next - Syria, formerly part of the Ottoman Empire. Iraq, by the way, also entered. And Western "partners" also decided to "democratize" it. On top of the banquet, the Kurds also live there. As it is known, "one should not try to explain with malicious intent what is explained by ordinary stupidity". Without solving the problem of the Iraqi Kurds (it has no solution), Erdogan climbed into Syria. Yes, of course, the Turkish army did not invade Syria (large forces). But, as everyone is well aware, the military operation of the "opposition" against the "Assad regime" was impossible without direct Turkish support.
Someone had to do the dirty work, and Recep did not hesitate to do it. I like this man! He was not afraid of anything. Of course, I wouldn't go reconnaissance with him, but I was not afraid to send such a frame to reconnaissance. Better in reconnaissance. That's when all this ugliness began (by the way, I repent, I thought that Assad would lose much as before), and so, it seemed to me a very, very wonderful and surprising Turkey's readiness to accept thousands of "Allah's warriors" on its land. It does not happen. In normal countries, such people are not accepted at all, even in handcuffs. It is like taking a load of radioactive waste. It is illogical and wrong. But he allowed them to turn around in their territory - this is something.
After all, even if everything went according to plan, problems with those very "fighters" could not be avoided. Sooner or later. They train in Turkey, make useful contacts there, make connections. By and large, they become a factor in intra-Turkish politics. Serious guys with guns and ties at the top. And with full immunity and extraterritoriality. How can you not be such? Helpful people. And there are a lot of them - thousands and thousands ... And all with "trunks". It seems to me that only an adventurer with the very biggest letter can do this. To use terrorists, you have to be a mega dictator and keep them all behind barbed wire, all other options are deadly. Yes, the Turkish army is the largest in the region and very well prepared, yes, the security services of Turkey also work. But the presence in the "free access" of thousands of professional thugs raises the risk to an unacceptable level. After all, they can easily be used in domestic political games.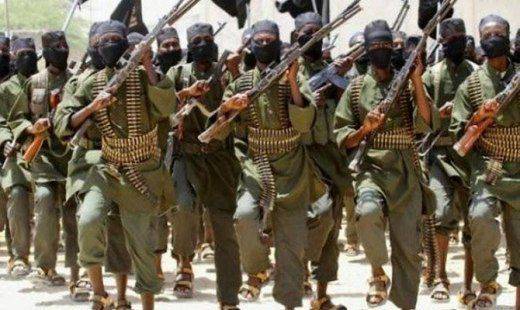 As a result of Erdogan's actions, his beloved Turkey did not become a new Ottoman empire, as he had planned, but an "open system", a courtyard for terrorists. According to his idea, the Islamists were supposed to "drench" Assad and the Kurds. To some extent this is how it turned out, but the terrorists are like a steppe fire, try to control them. They walk across the border to and fro with weapons, rob, blow up, kill, rape. And so, in Syria, they are nasty-pregadky terrorists, and in Turkey they are white and fluffy "freedom fighters". But this does not happen. Even a person as distant as possible from understanding the activities of the special services will suspect that something is wrong. Yes, if the "Assad regime" collapsed after a year and a half, particular problems could have been avoided (possibly). But the "redhead" did not collapse, the war dragged on, and Turkey began to increase security problems. The safety factor of any state system is very, very limited. It's sad, but true. And you should not be tempted by the fate and ultimate strength of your state. And Turkey, in fact, was drawn into a protracted war on its borders, and this in no way can strengthen its system. And the end-edge of that war is not visible. I agree, Assad is very bad, but Erdogan is not much easier - "he summoned forces into this world that he cannot control."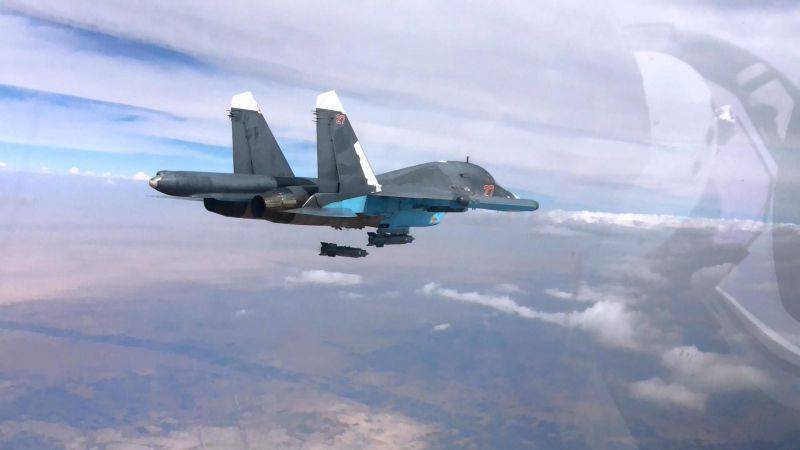 And the operation of the Russian videoconferencing system became for him a "blow in the gut". When a shy hope arose that in the fourth year of the war, Assad could be overthrown ... "Putin falcons" soared into the sky over Syria. I don't think that someone in the Kremlin was counting on a resounding success - the Assad army was pretty exhausted and drained of blood at that time, but the situation changed dramatically in terms of the impossibility of a quick victory for the "opposition". And for Erdogan, this was the last chance to demonstrate "success" in foreign policy. Although it is very difficult to understand what would give Turkey the education in Syria of a "gray zone" of terrorism and statelessness. Erdogan thought that he would be given this territory "for good behavior"? Is he a child? Who to whom and when did these royal gifts? And even with all the desire of the West, it would be impossible to officially or semiofficially "give" Syria to Erdogan. And brazenly climb into a boiling cauldron with terrorists "on bird rights" is already "beyond good and evil." Now there are rumors that Turkey has plans to "chop off" a piece of the border Syrian territory under the pretext of fighting ISIS. Brilliant move! Frankly speaking - in Ukrainian!
Once again, we will honestly try to understand Erdogan's point of view: what could be his interest in the Syrian adventure, what could be the benefit, what return did he plan to get? Syria was not an enemy or even a serious rival for Turkey, moreover, Erdogan was defiantly friendly with Assad. Today it is hard to believe, but it was so.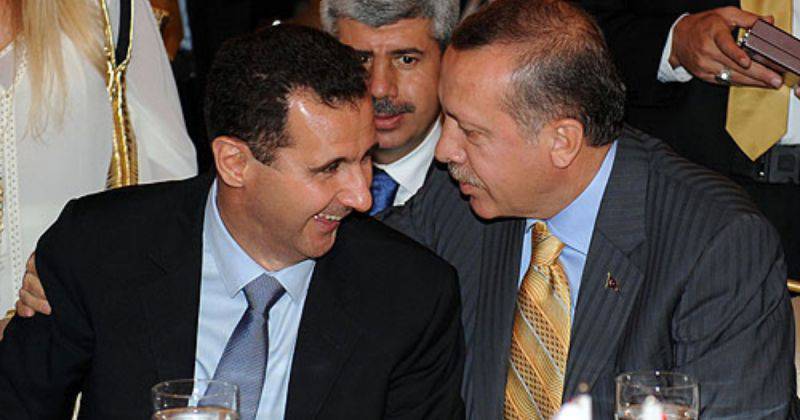 It is clear that Erdogan has much more complete and accurate information on the issues of Syrian politics than all leisure commentators, however, there are no such outright miracles: no one sees advantages for Turkey, but they exist. All the options for the development of the Syrian conflict, which are possible / were possible, carry a mortal danger for the homeland of Erdogan. When a large ship sinks, you can be sucked behind it when the state dies - the consequences for the neighbors can be catastrophic (they can just be bad). If Erdogan's Turkey was something like Kaiser Germany, then it might have been worth the risk, but Erdogan didn't have a superpowerful economy, no "great power" status, no mega fleet, no best industry in Europe, or national unity. Here are constantly heard threats - Erdogan will send the Turkish army to Syria. Terrible threats, but, firstly, the best moment has long been missed, secondly, well, there will be "Erdogan's guys" in the middle of burning Syria ... and what will it give? Will the iron order immediately come? Terrorists and asadovtsy scatter?
If Asad survives and keeps himself in power, he is Erdogan's worst enemy, and an enemy who will stop at nothing. It is almost impossible to negotiate with him to Erdogan, "win" in Syria too. The most unpleasant thing is that the EU, the USA and the Russian Federation do not directly border with Syria. And this is a plus. And Erdogan turned his country into a "front-line zone", and completely voluntarily. And he has millions of Syrian refugees and thousands of terrorists "registered". If you think that he has an excellent relationship with Obama, then you are mistaken - he quarreled with him. As with Israel, as with Russia. A person loudly and clearly says everything that he thinks about his opponents, out loud, "on camera". Couch experts about this usually only dream. And most importantly, he is not afraid to make the appropriate decisions. Everything is good and everything is wonderful, but the results of this policy are very, very sad for Turkey.
I added an article to this place and thought: "what should he do next?". Often there are reproaches (fair) that the author denotes a problem, but does not suggest solutions. And I postponed the article until better times and began to look for "solutions" for Turkey. But Recep our Erdogan showed that he does not sew along a bastard and that the distance between him and the "Internet discourse" is of enormous size. And he did what everyone in NATO wanted, but they were afraid to do. He attacked Putin's regime, attacked him in the air. And here I really understood the poverty of my analytical apparatus. We pick up a "rasp", and a person at the top of power sees better and farther than any of us. Because, from the point of view of an ordinary person, as a result of such an action, Erdogan's position became simply catastrophic. Bulgaria, Greece, Cyprus, Armenia, Kurds ... It's not all friends of Turkey. To varying degrees, but not friends. Turkey cheekily occupies the north of Cyprus, and it has gotten away with it so far. And so, 1 December Lavrov in Cyprus. He discusses various problems with the Greek Cypriots, with the Turks from Cyprus does not discuss. And Lavrov's visit to Turkey was canceled. Funny.
Even more funny, in the West, Erdogan was not actually supported in his insane adventure. And the point is not that they love Russia very much, the fact is that they do not like to solve other people's problems at their own expense. Erdogan played with his "candle factory" on the basis of oil LIH. He was seriously let down by a sort of "parochialism" - for some reason he decided that the whole Middle Eastern policy would revolve around the commercial interests of his family. And when the Russian bombers began to destroy the columns with "his" oil, he came to a wild rage. And made a big mistake. However, he was still many hours after the destruction of the "drying" was convinced that nothing terrible happened. And only through 7-8 hours (according to Peskov) did he call Putin. But it was too late. But understand: he, too, can no longer retreat - the Turkish special mentality. Apologizing publicly, he will show "weakness." In general - a dead end.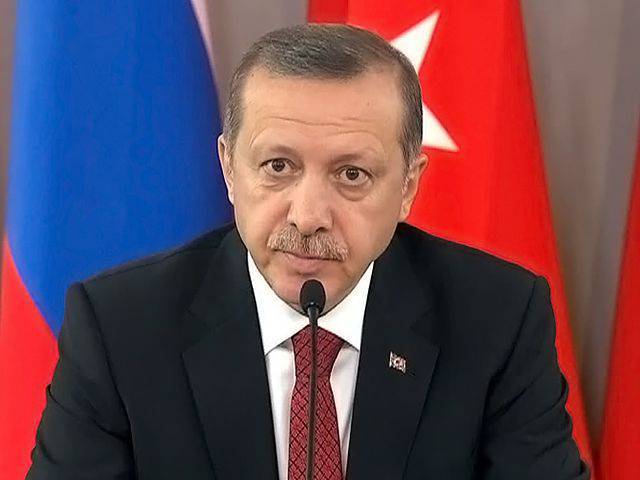 As for the fact that Russia has lost a face in this situation without striking back, the statement is rather controversial - there was a typical provocation. And the provocateur usually calculates everything so as to force you into rash actions in a situation that is unfavorable to you. "Behave" this is rather strange: after the attack, Turkey immediately landed all the fighters on the airfields and ran to complain to NATO and the UN. In fact, the "clever" Erdogan, acting solely in his own interests, seriously set up his people and his country. Typically Eastern approach, when the ruler does not see the difference between "his coat and the state." Recep for some reason absolutely did not take into account the situation that developed after the terrorist attacks in Paris. I say: own candle factory in the foreground, geopolitics - something distant and abstract. But we are all no better off. This is the role of "personality in
stories
". Recep Erdogan is just a living example of how a politician should not behave. Although extras like these things, until a certain point. And yes, he was also a friend of Gaddafi.