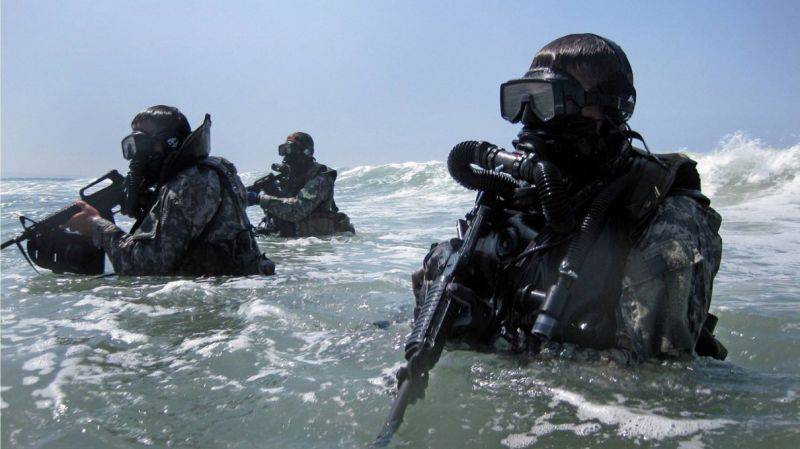 In the military environment, combat swimmers are considered to be the steepest units. They practice the methods of penetration into the enemy's territory by water and under water.
Life and work at sea can be difficult and dangerous. And work under water can be even more dangerous. Those who dare to swim under the waves, but not easy on them, doing what the army expects from them, belong to the elite of special forces - combat swimmers.
Elite status cannot be bought or transferred. To remain in the elite, it is necessary to endure the ordeals that require intense combat training. You need to train beyond what is considered normal. You need to transcend yourself. Among the military, those who belong to the elite do hard work with such dedication and with such skill that they can rightly be placed on the very top of the list. According to a fighter from one of the special units, the main reason why training a combat swimmer is so hard is that "when you take an ordinary person, a breathing creature, immerse him in water and take from him a source of oxygen, this very important, very strong , a very cool person is panic-stricken, he becomes weak. He lost the desire to survive. We are looking for people who can overcome these shortcomings and remain confident in themselves. "
Training courses at the school frogmen underwater operations, part of the command structure of special operations forces (MTR), severe and definitely not for the faint of heart or lazy. They take so much mental and physical strength that the screening process begins even before each class starts its classes. In order to be admitted to these courses, candidates must pass both intense physical training and swimming training in their own divisions, which must be validated by the command documented. But getting there is still half the battle. And even those who went to this school, to training courses for combat swimmers, can not be sure that they will pass to the end. Every third will never finish them.
Among the military courses, in which combat swimmers study the methods of penetration into enemy territory by water and under water, are considered the most difficult and most prestigious.
"What really sets frogmen mtrs from the elite commando soldier - it's determination and commitment to be the best - continued Special Forces soldier. - This is the determination, this is the desire that makes them to be better than others. You hear it in MTR and in special groups. And you may agree that these courses in our armed forces are one of the most difficult, requiring physical and mental strength. "
The community of combat swimmers has made a very large contribution to the war on terrorism, having lost quite a few of its people over the past few years. These combat swimmers are true professionals.
In fact, the majority of candidates enrolling in the aforementioned courses have, as a rule, from four to seven combat operations. But this is more than just preparation for special operations that makes these men professionals. This is the heart, this is the aspiration. This sense of duty, dedication and honor.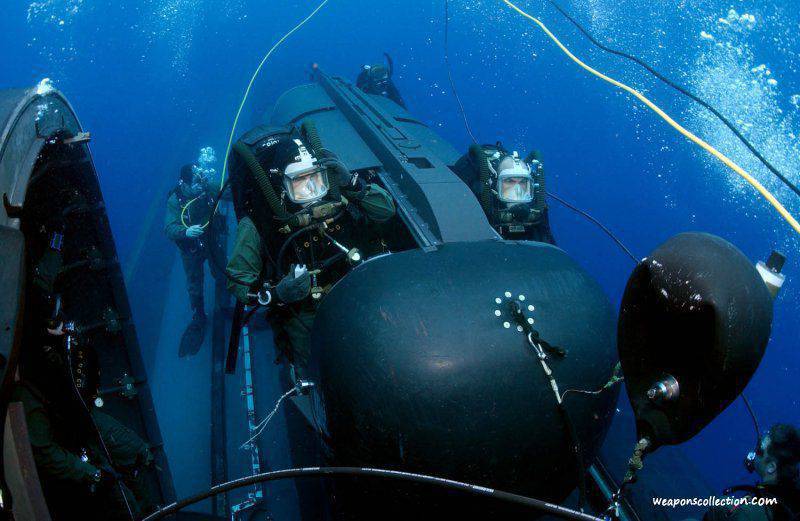 During combat training, a group of scuba divers prepares for descent one of the delivery vehicles of SDV (SEAL Delivery Vehicles) combat swimmers, mounted on the back of the American PHILADELPHIA class submarine LOS ANGELES
Apparatus for transporting swimmers and goods
Combat swimmers must perform a wide range of covert operations. In many cases, the area of ​​operations is a few miles from their launch site, they must take a certain amount of equipment with them, they need to maneuver in shallow water in order to land on the shore or go to the port waters.
The SDV (Swimmer Delivery Vehicle) delivery swimmers delivery vehicle allows combat swimmers to travel long distances in a relatively short transition time. This vehicle provides enough space for at least two people and their equipment inside a sealed enclosure, it protects against heat loss and allows you to save physical strength for a real task. SDV can be deployed from any offshore platform, including submarines, since the complex telescopic mechanism allows two such devices to be placed in the torpedo room.
The SDV must transport the pilot, co-pilot, and a group of combat swimmers and their equipment to and from designated marine facilities on or offshore. The pilot and co-pilot are often included in the group of swimmers. For long-haul missions, SDVs can have their own supply of compressed air on board to replenish air cylinders or swimmer's breathing apparatus.
There are two types of devices. In the "wet" type of device, combat swimmers sit in an untight cabin, in essence, in water. Such devices include, for example, the delivery vehicle of the US Navy SEAL Delivery Vehicle special forces groups.
In the apparatus of the "dry" type swimmers sit in a dry sealed cabin. This type includes, for example, the advanced delivery system of the US Navy Special Forces groups Advanced SEAL Delivery System.
SDVs are used for such tasks as, for example, the penetration of combat swimmers into an enemy port or placing magnetic mines on the hull of selected ships. They are also used for covert landing of swimmers on the enemy shore to perform combat missions on land. After completing the task, the team may return to the SDV in order to return to the home ship. For long-term tasks on land, the group can receive the necessary supplies from other vehicles sent to them.
Ways to bring swimmers to their destination
Underwater towers, scooters
The most common types of DPV (diver propulsion vehicle - underwater vehicle for transporting divers) tow a swimmer who holds the handle on the bow or stern. They are quite effective, because swimmers float in a stream behind the propeller in contrast to the "riding" scheme, which increases the hydrodynamic resistance and shortens the battery life. Underwater towing vehicles or scooters are more efficient by placing the swimmer horizontally above the stream of screws; swimmer with the help of straps with carbines clings to the scooter.
Human-guided torpedoes
These torpedoes or "fish-like" vehicles carry one or more scuba divers, who usually sit on top of them or in the internal cavity. The use of human-guided torpedoes by combat divers in World War II is well known. Such devices were also made for divers, workers or sportsmen, scuba divers, but had a more streamlined shape, because they did not have a battle charge ahead. Some modern underwater towers, for example FARALLON and AQUAZEPP, have the form of a torpedo with arms in the bow and a raised seat to eliminate the impact of the propeller jet on the groin area of ​​the diver. The Russian PROTEY-5 and PROTON devices transport the swimmer on horseback.

Underwater towing vehicle Protey 5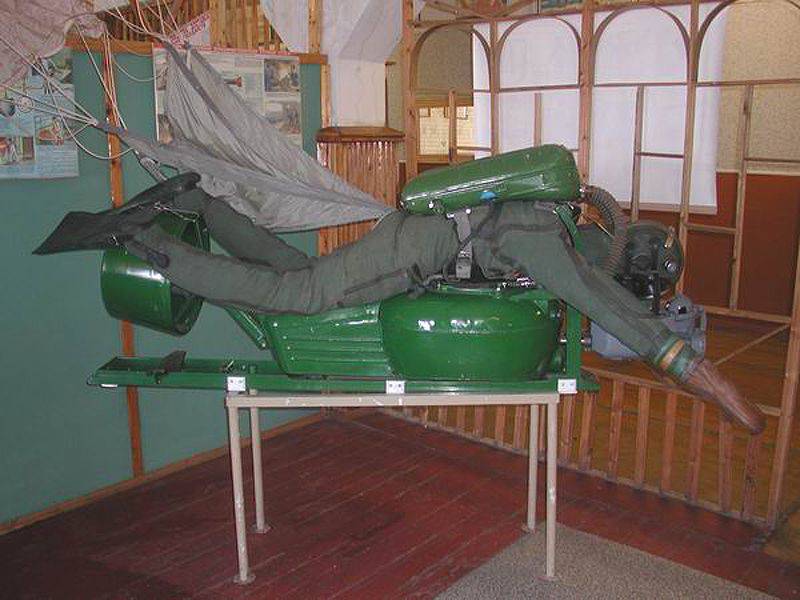 Underwater tug Proton
Diving submersible boats
The divers transporter boat is designed for covert delivery of divers, cargo and equipment to the protected area. When driving on the surface of the water and in the positional position, the boat transporter is driven from the jet propulsion unit, which is driven by the turbo diesel. The diesel engine is installed in an airtight container with low acoustic and temperature conditions. For submerged movement, the boat is driven by electric motors powered by batteries. Batteries can be recharged from the turbodiesel while the boat is moving on the surface of the water. The boat is inflated and deflated, transforming from a high-speed light surface boat to an underwater towing vehicle. The transition from a surface to a submerged position occurs in one minute.
Open Type Submersibles
In underwater vehicles of the open or "wet" type, the cockpit is filled with water and therefore must wear diving equipment. As an example, a universal unit for transporting combat swimmers MRCC (Multi-Role Combatant Craft) manufactured by the American company STIDD Systems can be cited.
Manta boards
It is a board without a propulsor (usually rectangular), towed by a surface boat with the help of two cables. The diver holds her hands and remains under water by adjusting the angle of the steering wheel of a special form. These funds are named for the stingray manta.
High-speed inflatable boats
The rigid inflatable boat RHIB (rigid-hulled inflatable boat) is a lightweight, high-speed, heavy-duty boat that has a rigid body of a certain shape and flexible inflatable balloons on the sides. This design is stable and has good seaworthiness. Inflatable boards provide good buoyancy even when getting on board a large amount of water during heavy seas. RIB hard boats are a further development of an inflatable boat.
These boats are used as auxiliary vessels (providing coastal facilities or large ships), as well as rescue and military vessels, where they are used as patrol boats and for transporting personnel between ships or the coast.
As a rule, RIBs have a length from 4 to 9 meters, although there are boats with a length of 2,5 and 18 meters. A boat of type RIB is often driven by one or two outboard boat motors or an engine mounted on board, which in turn drives a jet or tilt-and-tilt column. In most cases, engine power ranges from 5 to 300 horsepower.
The advantages of boats of this type are a small draft, high maneuverability, speed and relative immunity to damage in collisions at low speeds. RIB-type boats with lengths up to 7 meters can be transported on trailers on public roads, which, in combination with other characteristics, makes them more and more attractive as pleasure boats for recreation.
RIB-type boats have gliding hulls. Due to the small mass, RIB often surpasses some types of boats of the same size and with the same engines, although high-speed boats with fiberglass hulls of similar sizes, as a rule, are faster because they have a smaller weight and a bow more swept form.
As a rule, RIB-type boats do a better job with the waves, although this may be associated with greater trust in them, since it is believed that RIB is harder to sink, as well as better distribution of cargo on flexible cylinders, which makes strong excitement not so terrible.
The maximum speed of boats of type RIB depends on the total weight, propulsion power, length and profile of the hull and sea level.
Advanced delivery system for US Navy Special Forces ASDS (Advanced SEAL Delivery System) groups
ASDS is a small submarine, which was designed for covert transportation of underwater special forces soldiers of the US Navy and the Special Operations Forces Command (SOCOM). The program was closed after the first experimental sample was damaged during an accidental fire.
The detailed design of the first ASDS unit began in the 1994 year, and the hull production in the 1996 year. According to government estimates, the estimated project cost should have been 160 million dollars, with the minimum cost of the first ASDS 69 million device (including design, manufacturing and testing costs) and the cost of subsequent devices for 25 million each. An experimental sample was delivered for testing and evaluation in the 2000 year, when 300 million dollars had already been spent. The construction of five more submarines was planned, but in December 2005, the construction of the second submarine was stopped indefinitely waiting for further decisions concerning not only production and cost, but also solutions to many reliability problems (mainly related to electrical wiring).
In April, 2006, the program for new devices was canceled, reported the company Northrop Grumman. Debugging of the first and only submarine continued until the "serious fire" that occurred in November 2008. In 2009, the SOCOM Command announced that the ASDS will not be restored.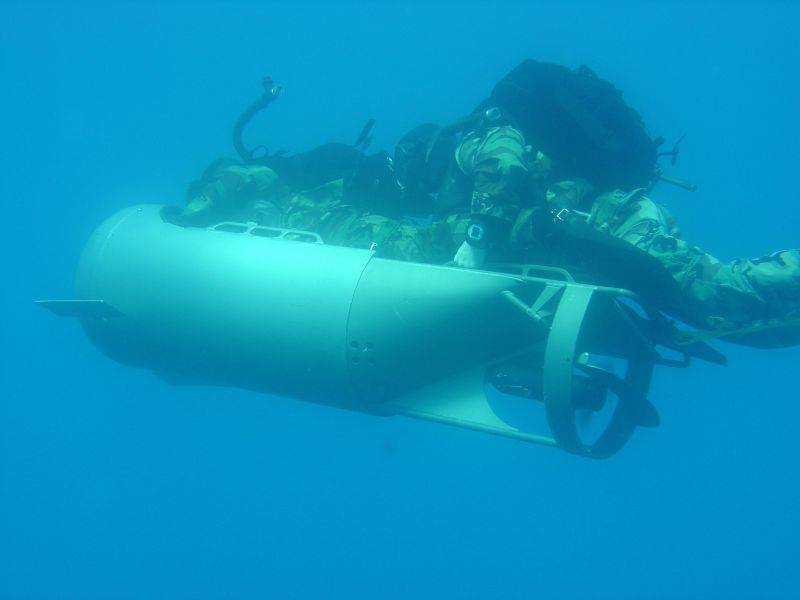 Special Forces Marine Corps with an underwater tug Diver Propulsion Vehicle company STIDD Systems
Gabler Maschinenbau swimmers delivery vehicle
Gabler is constantly monitoring the market and exploring the possibilities of various variants of vehicles and delivery systems, which allows you to create new underwater vehicles with additional or alternative functionality.
Gabler has developed a new underwater tug with improved performance for comfortable transportation of two swimmers with long-range equipment. Its peculiarity lies in the fact that it is placed in the torpedo tube and launched from it. The technical characteristics (speed, cruising range, payload, etc.) of this lightweight and compact system are far superior to those of an ordinary scooter. Thanks to the energy-saving long-distance transport mode, swimmers can significantly increase their range. The ability to carry additional cargo and equipment up to 300 liters also expands the range of tasks performed and opens up new possibilities.

Gabler Maschinenbau Combat Swimmers Delivery Apparatus
Due to the fact that the device is light and compact, it is suitable for transportation and launch from very small platforms. Given this, such systems can significantly expand the capabilities and range of combat use of combat swimmers.
Technologies to enhance special forces
Special operations forces always need to be at the forefront of a wide range of advanced technologies, whether they are inherently military in nature or derived from other areas. And while the budget cuts touched everyone, in the West at least, the special forces feel better than others.
Spenazovtsam need ready-to-use systems and equipment to perform the most complex combat scenarios.
Not surprisingly, advanced batteries and other energy storage devices are at the top of the MTR priority list. There is always a great need for silent generation of cheap energy, power management and energy storage systems that do not require frequent maintenance, which could be used by small units in difficult operating conditions.
There are a huge number of battery technology research programs around the world. For example, the US Department of Defense is actively involved in many DARPA Advanced Defense Research Projects and military laboratories, which often cooperate with industrial enterprises. Here you can call the companies Saft, Brentronics and SFC Energy.
Better connectivity, more programmable radio stations
For submersible delivery of combat swimmers, low-profile, low-profile, and best of all, non-protruding antennas that operate in wide and / or narrow frequency ranges and on one or several platforms are very necessary. Also, funds with advanced capabilities and more power are needed for communication in indirect visibility or in an environment that obstructs the passage of radio waves in combination with the characteristics of LPI (Low-Probability-of-lntersept - low probability of interception) and LPD (Low-Probability-of-Detection). the probability of detection).
Programmable radio stations are a key breakthrough technology that provides all of the aforementioned needs. The SOCOM command purchases them in large quantities from companies such as Aselsan, Codan, Datron, Exelis, Harris, Thales and others.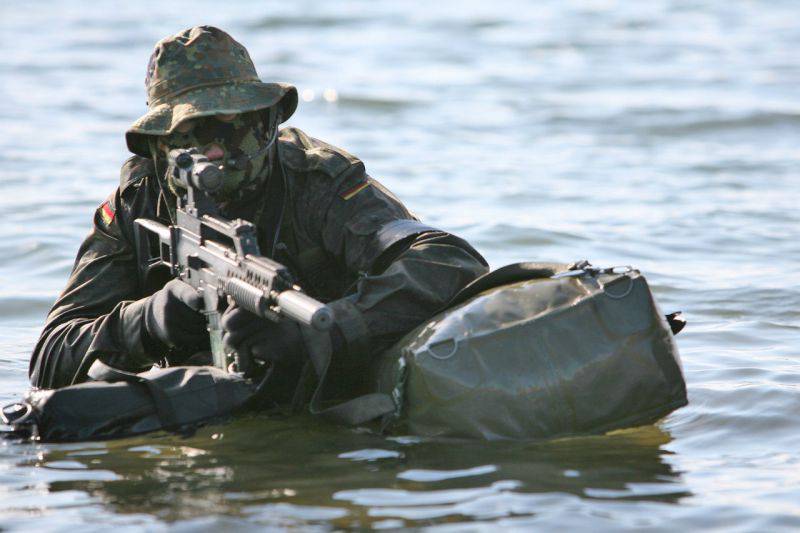 German combat swimmer (Kampfschwimmer)
Less mass, more fire power
The operations of special forces conducted all over the world make it possible to determine the most urgent needs. Improved weapons are needed, including ammunition, as well as field-tested means of communication, command and control, light ballistic protection and miniature reconnaissance and situational awareness sensors. This is especially true of modern threats to the urban environment, military operations in which have shown that the systems for detecting and locating the shooter are necessary in order to give the special forces the ability to quickly pinpoint the source of enemy fire. For example, the PILARw MkII shot detection device from 01dB-Metravib shows the exact position of the arrow on the grid and in real time, allowing you to accurately detect the threat. The radius of the device definition is stated in 1500 meters. An innovative approach is used in the shot localization device for the dismounted soldier Acoustic Vector Sensor (AVS) by Microflown AVISA. The 150 grams device is a small metal tube the size of a writing pen. The first version of the system has already been used by the Dutch army in Afghanistan as a warning device for rocket or artillery shelling. Promising options will be installed on the mini-BLA or assault or sniper rifles.
Ballistic protection with good performance helps the naval special forces survive combat missions. As part of the Helmet System 2020 advanced combat helmet program, which began as part of the Finnish future soldier program, Savox developed a combat helmet with better ergonomics compared to the ergonomics of existing helmets, which allows you to integrate a variety of devices and increase ballistic protection. As a result, Savox showed its Savox THOR system at IDEX 2015, which is a helmet that can be easily fitted with various devices or an additional protective coating.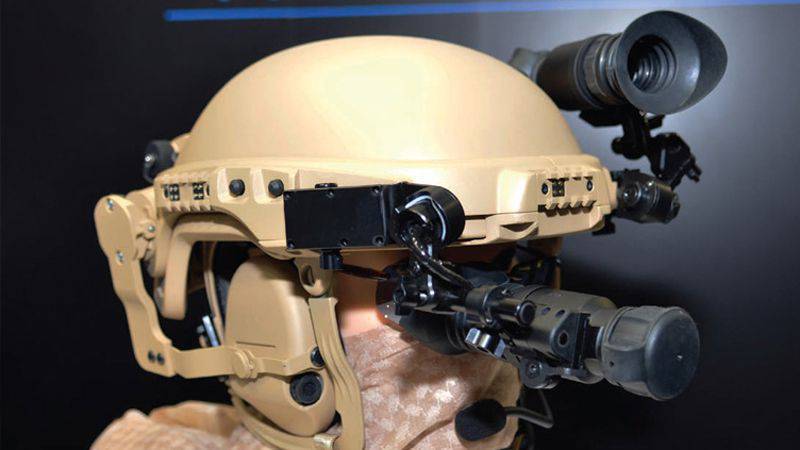 Integrated combat helmet Savox THOR
MTRs always strive to take advantage of developments in the field of small arms.
weapons
and ammunition for it. Among the numerous manufacturers that work closely with special units operating in a maritime environment, one can note the Czech company Zbrojovka, which offers modular automatic rifles of the NATO standard CZ 805 BREN A1 / A2 5.56x45 mm, unlike the A1 option, the A2 option has a shortened barrel and therefore more compact; FN Herstal, offering the FN SCAR family of assault rifles with short and standard barrels in 5.56 and 7.62 mm NATO calibers; Israel Weapon Industries (IWI), which developed the MEGA GUN JERICHO Pistol Rifle Converter 9x19 mm, which allows converting a JERICHO pistol into a short-barreled semi-automatic rifle; Heckler & Koch (H&K), which developed the DMR762-MR rifle, which has been used in Afghanistan since 2012; Kriss Systems offering the Kriss VECTORs family of low-recoil rifles; Primetake, offering door punch cartridges, electric and non-electric detonators, non-lethal ammunition; and finally RUAG Ammotec. The latter has developed the .338 LM / 8.6x70 SWISS P Subsonic cartridge, which can be adapted to various types of weapons, including the 338AWM rifle from Accuracy International. A unique feature of this cartridge is that the case filler and bullet configuration are selected individually for a specific weapon. The maximum effective range of the .338 LM / 8.6x70 Swiss P Subsonic cartridge is 300 meters.
Advanced features, special equipment
Special units need special equipment in order to carry out their tasks under extremely difficult conditions. This equipment ranges from completely new sensors, communication devices, decision-making tools, fuel cells, automatically configured charging stations to swimmers delivery systems and miniature robotic devices designed to work in every conceivable surrounding environment. Jenoptik has developed the new NYXUS BIRD multifunction imager, which combines day / night vision and target positioning capabilities. A device with a monocular day channel and a cooled bolometric matrix operating in the 3-5 micron range weighs less than 1,5 kg. The imager is mainly intended for use by infantry and special units, including combat swimmers.
Since the first show in 2000, more than 300000 Airmpoint CompM2 has been sold to elite special units in many countries. CompM2, also known as M68 / CCO (US designation), is a standard sight of the American Army and Air Force, as well as the armed forces of many NATO countries. Due to its compatibility with night-vision devices of all generations, CompM2 is ready to serve 24 hours. The CompM2 is designed to withstand the harshest physical handling and can withstand the worst weather conditions, operating over a wide temperature range. In fact, the CompM2 scope is fully suitable for underwater use and can withstand pressure up to 2,5 atmospheres, corresponding to diving to depths up to 25 meters.
Materials used:
www.miltechmag.com
www.baesystems.com
www.sealswcc.com
www.oceanos.ru
www.gabler-maschinenbau.de
www.stidd.com
www.aimpoint.com
www.wikipedia.org
en.wikipedia.org