... And the children send everything and send me their essays about their great-grandmothers and great-grandfathers, participants of the Great Patriotic War, to me by e-mail. And it is very nice and commands respect. But before giving them the floor, I will tell an episode that happened to me several years ago.
I invented and conducted something like a child's play, which in fact had a very serious point. She called, presented herself as a specialist of the recently created Russian language support service among schoolchildren and asked to answer a few questions related to different spelling and punctuation rules. In fact, I was interested in not only how good or bad boys and girls know Russian, but in general, their reaction to such a proposal. And first, for the sake of good, I called on "my" numbers - those students who know my face, but are not familiar with the "telephone" voice. And the very first girl (by the way, a very good girl, not stupid, moderately well-bred, in a good school at school) threw me into a stupor. To my question about readiness to answer, she asked: "What will happen to me for this? Diploma, certificate, certificate any? It's necessary for a portfolio "... I honestly admitted that there's nothing - no encouraging documents are provided for. She politely refused and wished me all the best. Here ... And you don't blame the child especially - adults accustomed her to this. It turns out that children participate in contests not only to test their knowledge, but for a document. And in opinion polls - they are already heroes, customers who are always right, they have to pay for it, even if not in a coin.
And here - the case is completely different. I suggested to the guys to write what they know, without promising anything, declaring nothing, without asking anything, they responded immediately and with great desire. And this is very good. And let such examples be as much as possible. And let's keep it up ...
Soldier Kalinin
About our great-grandfather, a veteran of World War II Joseph Denisovich Kalinin, we - two brothers, Ilya and Dima - learned from our grandmothers and grandfathers. Unfortunately, we never saw him, but sometimes it seems to us: life would have been different, and we met - Iosif Denisovich would have learned at once ...
He was born October 10 1918. And in 1938, he was drafted into the army. So Joseph Denisovich became a soldier before the terrible trouble happened.
In the very first days of the Great Patriotic War, great-grandfather was wounded in the leg, but after the hospital he immediately returned to his regiment. In its composition (we are talking about the 196 artillery regiment), he went a long way from Belgorod to Berlin. While still in the training building, the soldier Kalinin acquired the profession of a signalman, and from the very first days of the war he became the assistant commander of communications. He has many awards - more thanks to Stalin: for the liberation of Belgorod, Kharkov, Kirovograd, Chisinau ... And during the crossing over the Oder of Guards, the foreman Kalinin under continuous fire, in harsh conditions, the spill provided our troops with food and delivered the hot food to the soldiers. For this he was presented to the Order of the Red Star.
Home, in the village Ivanovka, great-grandfather returned 25 October 1945 year. What awaited him here ... The village was destroyed, there were no houses. People lived in dugouts. Great-grandfather was appointed chairman of the kolkhoz. What a huge and difficult job it was, my brother and I cannot yet imagine. But when we think that there was a strong famine in the village in 1945 and 46, we do not understand: how did he manage the economy, which had to be restored almost completely? How did he manage to make people not angry, not blaming each other, not looking, who lives easier? Of course, this is not only the great-grandfather's merit. But he is the chairman, the first head means! And it was possible, everything was possible! And survived, and raised the economy.
Joseph Denisovich was everywhere in high esteem. When it collective farm went into advanced areas. He worked all his life for his homeland, did nothing personally for himself. And the family man was very good, raised three children.
After World War II, great-grandfather was awarded four times with government awards: the medal "For victory over Germany", the Order of the Patriotic War, II degree and the Zhukov medal.
Joseph Denisovich died when he was 86 years old. It is a pity, it is a pity that my brother and I have never seen him. Surely much would have learned. But we love him. And we will remember. Strange, true: we have never met, but we will carry the memory of the soldier Kalinin to our children and grandchildren ...
Great-grandsons: Ilyusha Kalinin from the village of Dolgorukovo and Dima Merkulov from the village of Terbuny.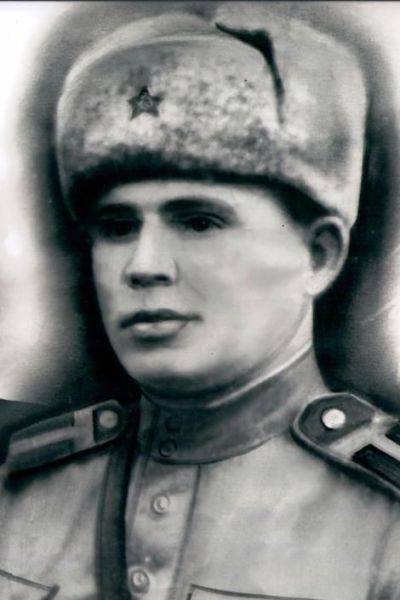 Soldier Morozov
When the war began, my great-grandfather Nikolai Alekseevich Morozov turned only fifteen years old. At this time he studied in Moscow in a vocational school. Having learned the terrible news, he went to the Bryansk Front on an armored train "For the Motherland!", Where he fought in the fifth division. But in heavy fighting this division was defeated, and Kolya Morozov fell into the 1 Guards Division under the command of Major General Russiyanov. However, at the age of fifteen, Nikolai Morozov could not be considered a soldier. Therefore, he became the son of a regiment and began serving in the reconnaissance company. Great-grandfather performed assignments several times in the rear of the Germans. One day he hit a mine. He lay in the hospital, and having barely recovered, he overtook his division already at Stalingrad. But here he was bombarded by a fragment of a bomb: Nicholas was very badly wounded, he could no longer return to the front.
After the war, great-grandfather served another five years at
navy
. Then he worked as a repairman for film installations, in 1952 he was appointed head of the passport office, and later as the state automobile inspector.
Even in peacetime, Nikolai Alekseevich was awarded. He had the badge "Excellence in the Ministry of Internal Affairs of the USSR", the medal "For impeccable service in the bodies of the Ministry of Internal Affairs" and other awards.
Great-grandfather died in 1976 year after a long illness. He was only fifty years old. It is a pity that we have never seen ...
Nastya Popova, school settlement Terbuny.