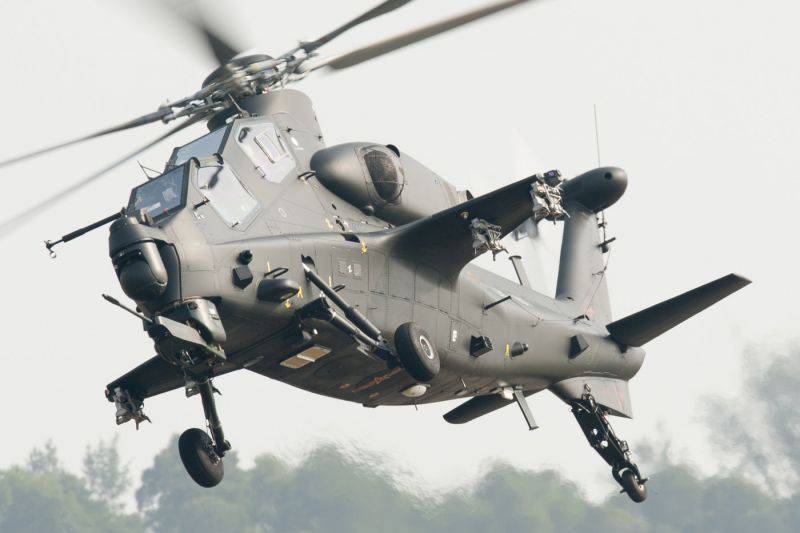 Aviation
Ground Forces (Army Aviation), or Support Forces Aviation (ARA), is a kind of Ground Forces of the People's Liberation Army of China (PLA). It is intended to act directly in the interests of ground forces and includes aviation from military districts and army groups. The main organizational unit is helicopter crews (regiments) of mixed composition. They are armed with combat (anti-tank, fire support), multi-functional transport and combat, airborne transport and special (reconnaissance, rescue, sanitary, control, electronic warfare) helicopters.
As of the beginning of the 2015, the PLA Ground Forces aviation had 150 combat helicopters, of which: Z-10 - about 90 units, Z-19 - about 60 units. They also had more than 350 units of multifunctional (multi-purpose) helicopters, including Mi-17 of various modifications - 68 units, SA342L Gazell - 8 units, Z-9A - 21 unit, Z-9W - 31 unit, Z-9WA - X-NNXX-10-1, Z-9W - 193-1, Z-340WA - X-NNXX-60-1, Z-200W - XNUMX-1, Z-XNUMX-9 - X-NNXX-XNUMX-1, X-NUMX-1 units, Z-XNUMXWZ - XNUMX units. Transport - about XNUMX units, including heavy - more than XNUMX units, medium - more than XNUMX units.
Recently, quite a large number of unmanned aerial vehicles (UAVs), mainly for reconnaissance purposes, including heavy BZK-005, BZK-009 and WZ5, medium-sized ASN-105, ASN-206, BZK-, have been adopted by the ground forces of the PLA Ground Forces aviation. 006 and BZK-007, as well as lightweight ASN-104 and W-50.

IMPACT OF ARMY AVIATION
Combat helicopters are the main striking force of the PLA Ground Forces aviation. They are intended for direct air support of troops during the battle, destruction of ground targets, including armored vehicles, the destruction of enemy personnel, and escorting and transporting combat and transport assault helicopters.
Combat and partially transport-combat helicopters are armed with unguided (NUR) and guided (including anti-tank) missiles and cannon-machine guns. In the Army Aviation of the Ground Forces of the PLA there are also several medium and light transport aircraft.
The Z-10 helicopter, whose shipments to the PLA began approximately in 2010 year, was created by synthesizing modern Western and Russian technologies based on the 041 draft design developed by the Kamov Design Bureau.
Experts from the European helicopter-building companies Eurocopter and Agusta-Westland, as well as the South African company Denel, were widely involved in the development work on the project. Due to this, in terms of its tactical and technical characteristics and combat capabilities, it corresponds to the helicopters of the aforementioned companies, respectively, "Tiger", "Mongoose" and "Ruivalk". The helicopter is designed according to the classical scheme with a four-bladed main rotor and an X-shaped four-bladed tail rotor. The helicopter's crew consists of two people - a pilot and a weapons operator, deployed in a tandem scheme. The power plant includes two turboshaft (TVaD) WZ-9 engines, created on the basis of an unlicensed copy of the engine of the American company Pratt & Whitney. The power of each is 1340 hp. It is possible to install TVaD types TV3-117 or VK-2500, as well as a promising Chinese TVaD WZ-16 with a capacity of 2000 hp, created with the involvement of specialists from the company "Turbomeka".
The on-board radio-electronic equipment (avionics) of this machine is created according to the principle of "glass cabin". At the same time, the Z-10 is the first Chinese-made combat helicopter, whose controls are made in accordance with the NOTAS concept, which allows the pilot to use on-board armament without removing his hands from the controls of the helicopter. On this type of machine, for the first time, navigation and sighting equipment is integrated into a single aiming and navigation complex, which can receive data from GPS, GLONASS, Galileo and Beidou satellite navigation systems. The maximum speed of the helicopter is more than 300 km / h, cruising speed is more than 270 km / h. Armament: one 23-mm cannon, up to eight HJ-10 "Red Arrow" anti-tank guided missiles (ATGM), several TY-90 air-to-air guided missiles, four 57 mm and 90 unmanaged aircraft missiles (NAR) mm The helicopter is equipped with a passive defense system standard for modern combat vehicles of this type. The total combat load of the helicopter is 1500 kg.
The Z-19 light reconnaissance and combat helicopter is based on European and American technologies developed by Agusta-Westland, Eurocopter and Bell. It is intended for aerial reconnaissance, destruction of manpower and enemy equipment, strikes against ground targets, air support and escort.
Crew - two people (pilot and weapon operator), maximum speed - 280 km / h, cruising - 245 km / h, practical range - 700 km, practically ceiling - 4500 m. The helicopter is equipped with two WZ-8A turboshaft engines (Turbomeca Arriel- 1C1) horsepower 848 Each engine is equipped with a system for reducing infrared visibility. Airborne radioelectronic equipment implements the principle of "glass cabin". The body is made using stealth technology. Under the nose of the fuselage is a turret with an optoelectronic aiming system. Guided and unguided air-to-air and air-to-surface missiles, NAR and cannon-armament containers can be mounted on four points of suspension.
In the near future, a new Z-20 multi-purpose helicopter, created by copying Sikorsky-developed civilian helicopters S-70C-2 purchased in the United States, is expected to enter service with the PLA. In terms of its combat capabilities and tactical and technical characteristics, it is in fact an analogue of the famous American UH-60 Black Hawk helicopter, designed on the basis of the aforementioned civilian version. The only difference between the Chinese machine and the S-70C-2 / UH-60 is that it is equipped with a five-blade main rotor and has several large dimensions of the cargo-passenger cabin. The payload mass of the Z-20 helicopter is presumably up to 9 thousand kg (in the cargo and passenger cabin approximately 1 thousand kg, the rest is on the external suspension). The machine can carry up to 15 fighters with weapons and ammunition.

IN PROSPECT, EXAMPLES AND CONVERTO PLANS
It should be noted that at present in China there is an increased interest in helicopter-related topics. Together with the Russian specialists, it is planned to create a heavy class helicopter. Very ambitious projects are carried out by Chinese aircraft manufacturers on their own: R & D on the creation of a heavy convertiplane like the American V-22 "Osprey" with four-blade propellers of large diameter is in full swing. At the same time, a high-speed helicopter is being created, according to the layout scheme similar to the American S-97 "Raider" machine developed by Sikorsky, but having large dimensions, roughly corresponding to the Russian Mi-8 helicopter. The indicated aircraft, judging by the photographs and related materials of Chinese sites, is made according to a coaxial scheme with a four-blade main rotor and two multi-blade propellers placed in the annular channels located in the rear part of the fuselage. It can be assumed that the helicopter will have a speed of more than 400 km / h.
Despite the serious efforts made by China in the development of aviation technology, the Chinese Armed Forces are still seriously lagging behind the leading technological and military powers of the modern world, both in quality and in the number of the PLA ground forces that are in service with the ground forces. As a result, at the present stage, Chinese army aviation as a whole does not seem to be able to effectively solve the tasks assigned to it.