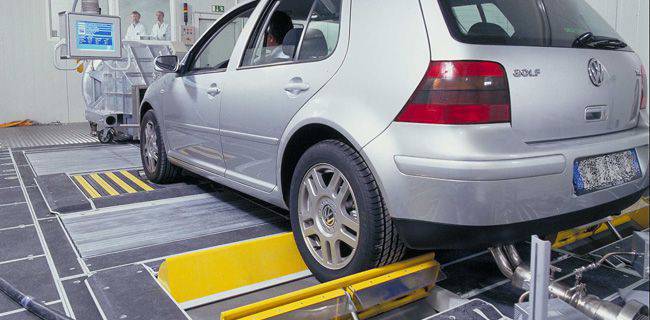 According to the website AUTO.CYRO.RU,
International test of diesel engines found depressing results. The International Clean Transport Council (ICCT), consisting of engineers from the USA, China, Germany and other countries, has checked the 73 diesel car that meets Euro EuroNNX standards for the diesel engine. They then compared the test results between the standard testing procedure and the new testing standard, more closely related to actual operating conditions, and predictably found a huge difference in NOx emissions.

They used the same dynamometer for the conventional European cold engine test cycle (NEDC) adopted in Germany and for the new global standard for the test cycle (WLTC) hot start method. The results show a large discrepancy between the NEDC tests and the WLTC tests in terms of NOx emissions. The results showed that on average, NOx emissions in the WLTC tests were five times higher than in the NEDC test method.

Of the 73 vehicles tested, the Euro 6 requirements for the NEDC test satisfy the 64 of the vehicle, while for the WLTC test, only the 20 vehicles meet.
The meaning of everything written is that the Germans determine the toxicity according to the NEDC standard, and the Americans began to measure it according to the new WLTC method. Which involves simulating car acceleration to 131,3 km / h instead of 120 km / h according to the European test, more frequent and deeper work with the gas pedal and reduced to 13,0% (against 23,7% from the European test) engine idle time. Here, actually, from where roots of diesel scandal with "Volkswagen" grow!
It turns out that the Americans deliberately, without any particular reason, without trying to civilize technical differences in a civilized manner, found fault with the VAG company and imposed a 18-billion dollar fine. What immediately put the industrial ridge of Germany, the company VAG, on the verge of bankruptcy. What is it done for? Now the true goal is clear - that the leadership of Germany should perfectly follow the leadership of the "foreign regional committee". Including the invasion of Syria.
It should also be recalled what happened to the leadership of sovereign France when they threatened the 10 billionth fine to a large French bank, Societe Generale. That's right, Hollande annulled the contract for a total amount of 1,2 billion euros for the transfer of "Mistral" to Russia. It should always be remembered - so does Uncle Sam! And nothing personal ...