Today, the German parliament (Bundestag) officially approved the initiative to join the country's armed forces in an operation against the militants DAISH (ISIS). Recall earlier for consideration by the Bundestag was presented the plan of the Ministry of Defense of Germany, which refers to the support of the coalition allies through the use of electronic reconnaissance aircraft, as well as refueling aircraft in Syria and Iraq. In addition, it says about the readiness for sending to the Eastern Mediterranean "escort ship". According to official Berlin, the participation of German Air Force combat aircraft in the operation is not planned.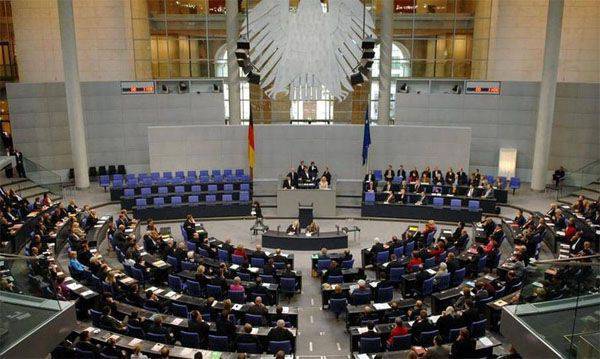 Representatives of opposition forces in the Bundestag spoke against the initiative. Sarah Wagenknecht, a representative of the "Left" faction, states that she had never heard that the initiative to start the operation was born three days before it began without any well-thought-out strategy and preparation. According to Sarah Wagenknecht, "this is madness, which can complicate an already hot situation around Syria."
Radio station
DW
quotes Sarah Wagenknecht:
Such an operation can only worsen the situation in Syria and strengthen the DAISH (ISIL).
It seems that Sarah Wagenknecht knows something about the strategy of the so-called "American coalition" ...
Meanwhile, materials have appeared in the German media that say that the entry of Germany into the Syrian conflict is the first step in the "trap set in the Middle East by Vladimir Putin." So, for example, the browser considers
The World
Thorsten Jungholt. And in the Süddeutsche Zeitung they write that Germany was in a difficult situation, because "Russia and Asad have all recorded terrorists, including moderate rebels." According to analysts of the publication, Germany is being drawn into a conflict, "where there are no German interests."