TV channel
LifeNews
referring to Syrian sources, he writes that on November 26, Turkish army units invaded Syrian territory and erected several of their own roadblocks in the immediate vicinity of the border with Turkey in the Tal-Ziyab area. The construction was carried out by construction crews using special equipment. The process was covered by the Turkish military. The day after the construction of concrete fortifications, three were brought to the roadblocks.
tank
and two infantry fighting vehicles, as well as armored military vehicles.
Official Ankara says that Turkey is taking measures to restore control over the entire length of the border with Syria. If so, then what was suddenly needed (without agreement with the Syrian side) to actually occupy part of the territory of the neighboring state?
The Syrian side believes that Turkey is thus going to cover the flow of stolen oil, which is delivered to the country from the territories controlled by the fighters DAISH (ISIL). Moreover, the presence of the Turkish military in Syrian territory may allow the Turkish authorities to carry out another bloody provocation with unpredictable consequences.
Turkish authorities refrain from commenting on the occupation of part of the territory of Syria.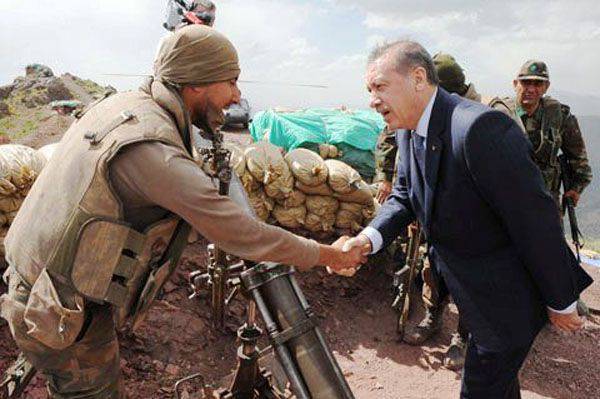 It should be noted that groups of Turkish militants close to the radical Islamist structure of President Erdogan have been operating in Syria for quite a long time - in the areas inhabited by Syrian Turkmen (Turkomans). One of the representatives of such a group in the network said that it was he who shot the Russian pilot Oleg Peshkov when he descended on a parachute - after hitting the Turkish F-16 on the Su-24 of the Russian Aerospace Force.