As you know, yesterday, Russian President Vladimir Putin launched the work of the first line of the energy bridge connecting the Crimean Peninsula with the Krasnodar Territory. This is the first step in the path of non-independence of the Crimea from the unpredictable post-Maid Ukraine. Arriving in the Crimea, Vladimir Putin thanked all the specialists and workers who passed the first stage of the energy bridge even earlier than the announced dates (the Ministry of Energy plans to put the first line into operation on December 20).
Vladimir Putin's visit to the Crimea was not left unattended by the Ukrainian "partners". Initially, Foreign Minister Klimkin stated that he was not aware of any blockade of the Crimea at all, and that, according to his data, Ukrenergo fulfills its obligations, then a protest came from UkroMID in connection with his visit to the Crimea, Vladimir Putin.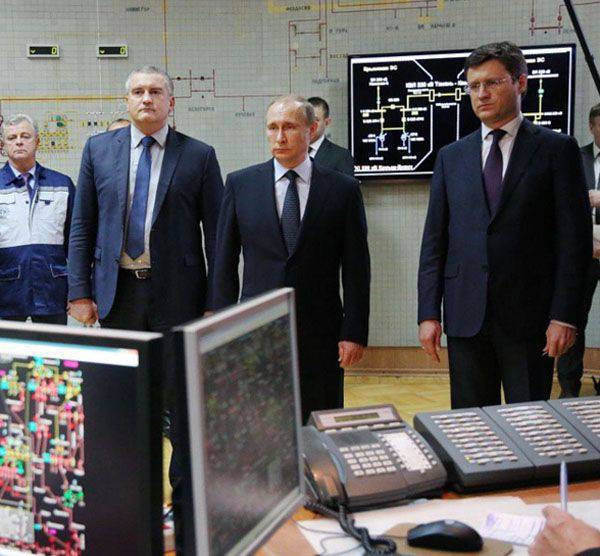 RIA News
cites the text of the statement of the Foreign Ministry of Ukraine
The corresponding note of protest demanding to stop the practice of such visits and explain the reasons for the demonstrative disrespect of the Russian leadership for the current legislation of Ukraine and the norms of international law was sent to the Ministry of Foreign Affairs of the Russian Federation.
At the same time, the Ukrainian Foreign Ministry does not explain how Ukrainian legislation is related to Russian territory, which since last March has been the Crimean Peninsula.
From the appeal to the Crimeans of the head of the republic Sergey Aksyonov:
Dear Crimeans!
Today, the first phase of the energy bridge across the Kerch Strait has been launched. This is the most important stage of the new electrification of the peninsula.
Critical dependence on the supply of electricity from the territory of Ukraine no longer exists. The Kiev regime no longer has the opportunity to mock the population of the Crimea and avenge us for the choice made in March 2014.