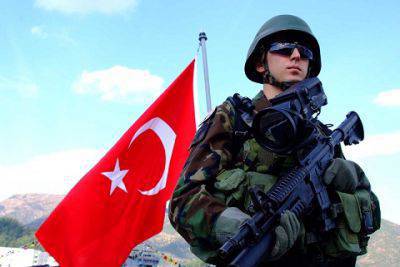 I was curious, so happy to respond to such a proposal, which was received from one of our readers. Alexey suggested that I talk to my friend, with whom he rested every year. Akyl is the owner of a small hotel in Cyprus.
Initially, I planned to make a recording, which then could be laid out for public listening. But after five minutes I realized that it was unreal. I do not speak Turkish at all, Aleksey knows this language in the amount of a tourist, for seven years, it did, and Akyl speaks Russian better than both of us together, in Turkish. But also in the kind of volume. And all three used for a bunch of some idioms that can not be published. And most of all Akyl sinned. But we fully understood him, and it turned out something like a monologue of the Cypriot Turk. That's what happened after long explanations, emotions and swearing were removed.
Not all Turks support Erdogan. And the farther from the capital, the more pronounced it is. No, for the Great Ottoman Empire every second, but so that it affected him only on the positive side. In terms of product markets and the flow of tourists.
In principle, to Akyl, who lives in Cyprus, all our fights are unpleasant.
History
with the plane, he, however, categorically refused to comment. And obviously not because he has some kind of its own position, but because they just do not know. Yes, the plane was shot down. Who is right, who is wrong, he really doesn't care. Russians say one thing; Turks "on the continent" are different. And go figure out who is right? But the consequences cling to life.
To say that the ban on holidays in Turkey for Akla was a serious blow ... At least half of his clients are Russians. Moreover, he has the biggest profit just from ours. For there is a vineyard, the results of cultivation of which bring very tangible results.
And perspektivka not the best. Because the British, bringing their families (from among the employees at the bases) are notorious criminals and brawlers. What the Russian quietly passes by, saying the magic phrase "well, and who is with him", the Englishman perceives as a personal insult. And make up for the Englishman once in 5-6 more expensive than in front of ours. Usually one or two of your own drink was enough.
The coming year is drawn in irrelevant colors. There is, however, a cunning Turk one hope. It seems like the Republic of Northern Cyprus, partially recognized, is not quite Turkey. And the tourist embargo does not threaten him.
From harm, I think I told him that in Russia all very politically savvy (well, not the same lie), and all Russians know that the Republic of Northern Cyprus is recognized only by Turkey. Therefore, because Turkey, the former Turkish Republic of Northern Cyprus, we are all one.
In vain I did that, I guess. Turks, it turns out, are very emotional people. It was not an explosion of emotions, it was more like the eruption of Vesuvius. All references to Islamic saints in the arrangement of the Russian five-storey ... impressed.
After talking, Akyl said the thing that first put me in a stupor. Well, we are attached to them with this Syria? Well, is Assad a friend to you? After all, Turkey has not done anything that Russia would not have done at the time!
Such a turn required more detailed explanations. And then something went that I did not expect.
How do people treat Poroshenko in Russia? Is he perceived by Russians as a legitimate president? No, I answer, he is not legitimate. Just tolerate, because people are sorry. Therefore, we give gas and everything else.
So for Turkey, Assad is also not a legitimate president, it turns out! And he, too, is tolerated, but the Arab Turk is not a brother at all. And clashes between Turkey and Syria - that's about the same as that of Russia and Ukraine. Crimea taken? Taken away.
I decided to explain that I did not take it, but I left. And in general, the Crimea is our land historically. And they passed it to Ukraine back in the USSR when it was wrong.
Here! And the so-called Northern Syria from us after the war (First World War. - Comm. Aut.) Is also incorrectly taken. It is also our land was historically. And we also want her back. You want to take yours from Ukraine, and we want ours from Syria. We do not want the whole of Syria. Only the part that has always been ours.
Russia is not at war with Ukraine, Turkey is not at war with Syria. And everyone wants his own. But we do not climb to Ukraine? What do Russians forget here?
Well, firstly, not here, not in Turkey, but in Syria. And secondly, as if the Syrian president called for help.
And if Poroshenko called us "help", and we would come to Crimea? How would then Russia behaved?
Here again neskladuha. Poroshenko called you. (Surprise unlimited.) In a sense, all called NATO defend Ukraine from Russian aggression. Only NATO did not go. So everything is fine here. Turkey to NATO? So they called. And if hypothetically you'd go in there ... read the story, right?
And in this way the conversation went. In addition to the passage about Ukraine - nothing special. Yes, the comparison is still, of course, but that is, that is.
At times it seemed that I was really talking to ukrom. Moreover, Akyl, as it were, will be more educated than many. And the stubbornness in their opinions can be exported instead of tangerines. Well, temperament too.
But temperament over the air warms. Turkey is far away, and Cyprus has enough problems. And all political clashes ordinary Turk to turbans. The main thing is that tomorrow should be no worse than the previous one.
I understood it this way: "it has not come yet". We would have to wait a bit. Quickly cooked only liquid shurpa. That's all that carries the coming year the Turks, and show who they really are. Still Ottomans, or already on 100% Turks.