On Wednesday in Ulyanovsk, the third serial military transport aircraft Il-76MD-90А, produced by Aviastar-SP for the needs of the Ministry of Defense of the Russian Federation, was handed over to the customer in a solemn ceremony, the blog reports
bmpd
with reference to the press service of the enterprise.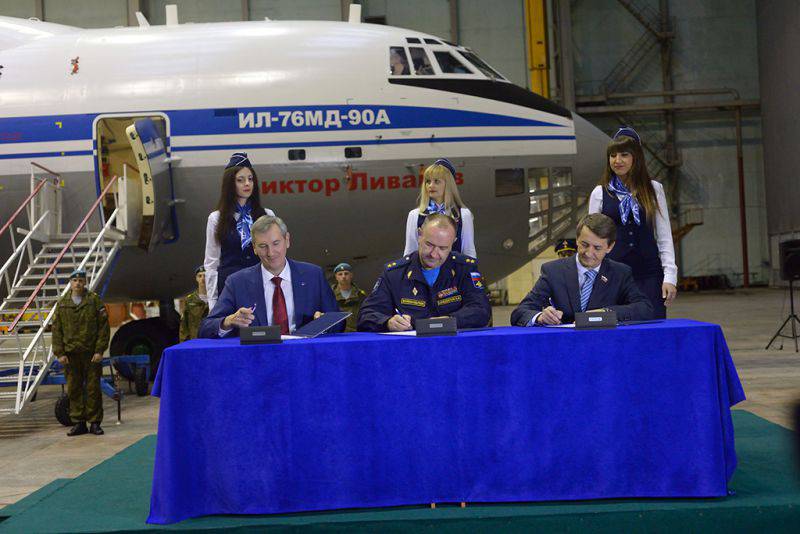 "The solemn ceremony of the transfer of the aircraft took place 2 December 2015 of the year in Ulyanovsk at the airport Ulyanovsk-Vostochny." The governor of the Ulyanovsk region S.I. Morozov, Commander of Military Aviation Industry VV Benediktov, General Director of JSC UAC-TS V.Kh. Zinnurov, General Director of Aviastar-SP JSC Dementiev, Deputy General Director for Program Management of OAO Il, S.N. Artyukhov ", - said in a release.
"Today, we are proud to ship this aircraft to the customer. The next IL-76MD-90А (0108) aircraft is in a high degree of readiness. In general, the plant's team faces big tasks in supplying the military and civilian versions of this aircraft, "the press service quotes Dementieva.
Commander of the military transport
aviation
Benediktov was handed a symbolic key to the plane.
"This aircraft meets all the characteristics that we hoped to get. They were proven during the tests. IL-76MD-90А has great prospects. This is not to say that this is just a new aircraft, this is a prototype of a new series of aircraft. At its base, other types of aircraft will also be developed, such as tankers and other specialized aircraft that will enter the air force and the military space forces, "said Benedict in a reply.
Today, the aircraft was relocated to Ivanovo at the 610-th Center for Combat Training and Flight Training.